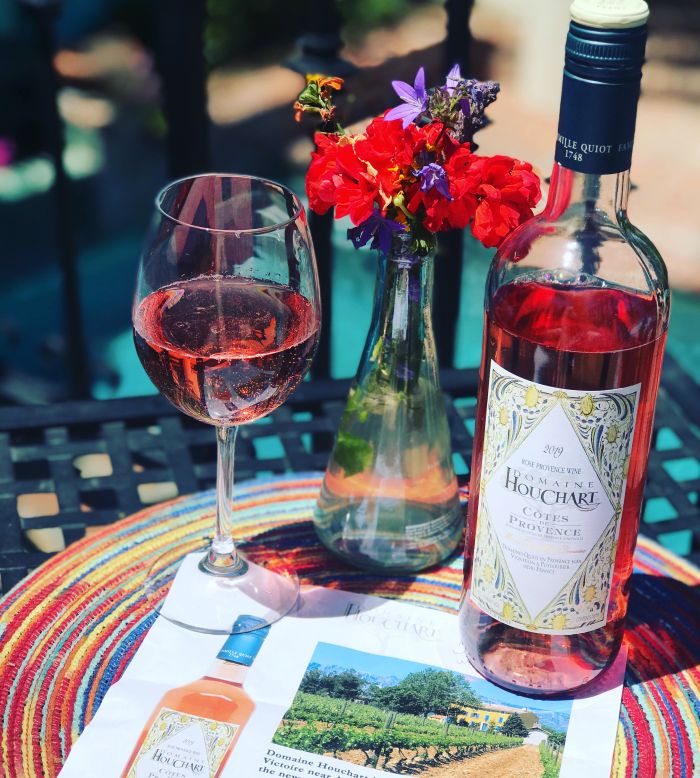 Jill Weinlein
Winning the TOP 100 BEST BUYS award in 2018 & 2019, Domaine Houchart Cotes De Provence Rose served chilled is one of the most satisfying rose' wines on the market. It's an ideal summer wine to drink offering beautiful salmon color highlights, with hints of red berry and strawberry flavors. Notes of pear and peach, with a touch of goji berry and grapefruit give this wine an extra flair.
The Domain Houchart is a 200-acre estate with 10 grape varieties located in Provence at the foot of Mount St. Victoire. The estate produces 55% rose', 40% red and 5% white wines.
Geneviève Quiot's family has owned the estate for over 200 years. When her husband winemaker Jerome Quiot passed away at the end of 2018, Geneviève, son Jean Baptiste and daughter Florence now own, run and create the wonderful wines of the Famille Quiot.
WINE NOTES
Grown: Gravel and limestone soil on mature vines that average of about 25 years.
Varietals: Grenache, Syrah, Cabernet and Tibouren.
Food Pairing: Enjoy as an aperitif, with a salad, savory tarts, grilled fish or chicken.
Alcohol Content: 13.5%
Drinkability: Easy and pleasing. Perfect for an outdoor picnic with a cheese board and charcuterie.
Price: The Domaine Houchart Cotes de Provence Rouge is around $12 to $15 a bottle. Imported by USA Wine Imports, David Milligan Selections.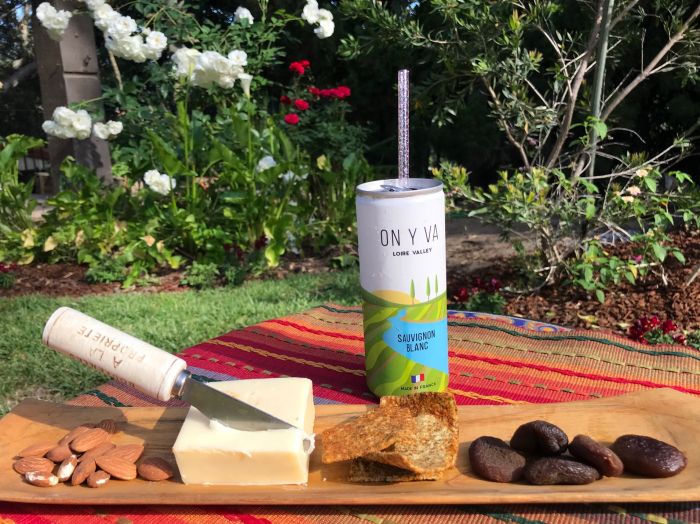 Jill Weinlein
On Y VA in French means ' Let's Go' and that describes married couple Alex and Julie Milligan. They share a love of fun and unique experiences. From cooking classes, hiking, biking and painting while sipping their wines. They run a family French-wine import company together - David Milligan Selections.
Since canned wine has seen a huge uptake in popularity, On Y VA small batched Loire Sauvignon Blanc in a can is one of their favorite collaborations.
The Eastern Loire Valley French Countryside is noted for it's Sauvignon Blanc. The Milligan's partnered with a sustainably farmed, family winery in this area to produce an exquisite white wine in a brightly colored can.
Popping open the top, one doesn't need a corkscrew and can pour out a perfect 4.2 oz portion in a glass or just sip with a straw. It's easy to put in a picnic basket, cooler, or serve in a bucket of ice.
WINE NOTES
Grown: Top vineyards across the Eastern Loire Valley, mostly Touraine.
Varietal: Sauvignon Blanc with an average vine age of 18 years
Tasting Notes: A bright white fresh wine that balances a hint of grapefruit with gooseberry notes, and a touch of herbal flavors, including a hint of thyme. It's crisp, refreshing and enjoyable to sip.
Food Pairing: a goat cheese salad, grilled asparagus, steamed artichoke, briny oysters, delicate fish, such as filet of sole and take out Thai food.
Alcohol Content: 12.5%
Purchase 250ML cans - four to a pack or 24 cans per case. Retail $8 a can, $30 a four pack.