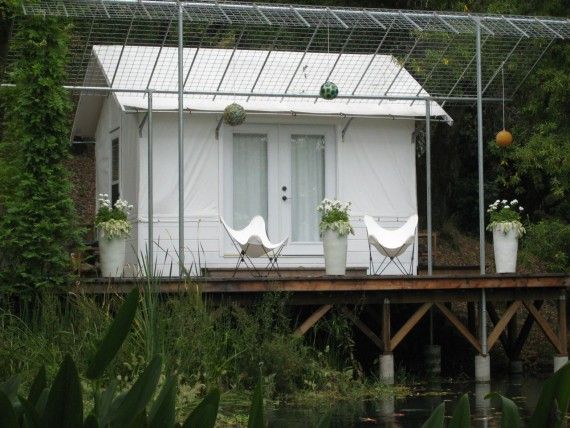 Photo Courtesy of Sweetwater Bungalows
The best part of
camping
is getting to enjoy the great outdoors and feel a real connection with nature. The worst part of camping is feeling exposed to the elements and feeling far away from civilization. The solution is a Sweetwater Bungalow, which brings luxury into the great outdoors — or the backyard.
Sweetwater Bungalow's prefabricated semi-permanent structures can be used anywhere, for any reason; whether you want a quiet getaway in the backyard or wherever else your adventures take you. In the summer months, it could even be used as a creative guesthouse (intrepid bungalow owners have even been known to install toilets and heat sources). The new addition to the family-run business is the Sweetwater Vista, which has extra special touches that provide a more spacious feeling, thanks to double French doors and sliding windows. Unlike tents and teepees, the Vista has real doors and windows, no flaps.
"We wanted to create a bungalow that felt more open and offered better views," said Blair Paterson, co-founder and partner of Sweetwater Bungalows. "In order to accomplish this we gave the Vista taller walls which allowed us to re-orient the position of the door and add an additional window."
A lightweight fabric, sturdy frame and closing windows make the portable structures a welcome getaway, rain or shine, thanks to an eave and awning system. The new Vista is available in either 12' x 14' or 14' x 20' sizes with 7-foot tall walls and a gabled roof that peaks at 11 feet. The envelope is polyester/vinyl and canvas combined: canvas on the ceiling, which allows the structure to breathe and vinyl for the walls and roof (rain fly) which is very weather resistant, durable and easy to maintain.
Each bungalow includes all the hardware necessary to build the convenient getaways, as well as instructions to allow the structures to be built and rebuilt. To move the structure, it can be taken apart and reassembled, depending on how far it is being moved; only some disassembly may be required.
"These bungalows have a way of making people feel like they are on a romantic adventure," added Paterson. "Even if it is in your backyard they have a way of making you feel closer to nature without giving up any creature comforts." Sweetwater Bungalows range from $4,500-$9,400 and have various add-ons available, such as extra windows. For more information about Sweetwater Bungalows, please visit their website at
SweetwaterBungalows.com
.
See our picks for
Best Outdoor Furniture