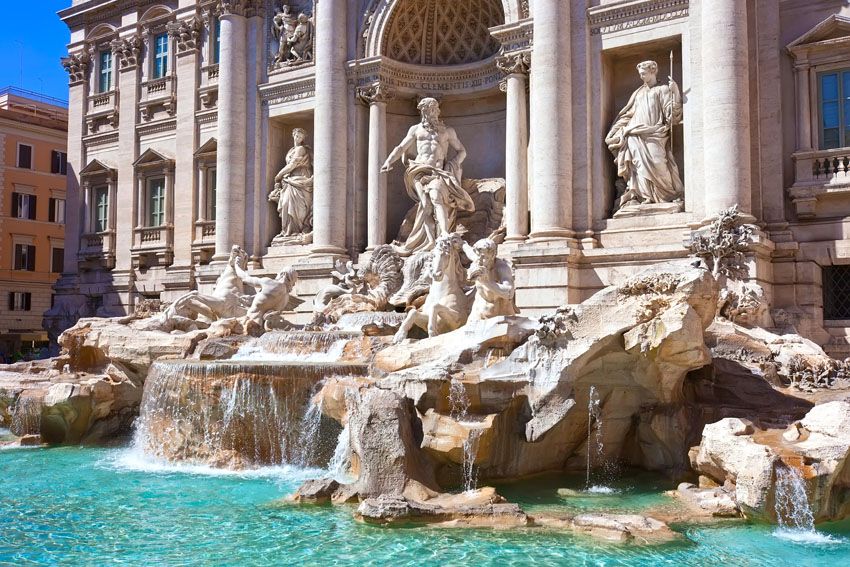 Photo Courtesy of Shutterstock
With the downturn of the Italian economy, government funds that are normally set aside for restorations and repairs on the country's cultural landmarks have been reduced to nearly nothing, leaving many falling apart and in disarray. This leaves officials asking for private donors and investors to help rescue the rich historical wealth in Italy. With more UNESCO world heritage sites than any other country, Italy has reached out to fashion for relief efforts and luxury brands are now doing what they can to help give back to the country that has been their home and inspiration for so many years.
Photo Courtesy of Shutterstock
Fendi for Fountains
Close to celebrating its 90th anniversary, Fendi's connection to the city of Rome is deep rooted in history and culture, and to celebrate that connection they have started the Fendi for Fountains project in which the luxury brand will be donating funds to restore the ancient fountains of Rome—starting with the iconic Trevi Fountain. "We are proud of being tied to the city, but I believe not everyone knows, and this is a great occasion to do something for the city that hosts us," Fendi chief executive Pietro Beccari told Vogue UK. "Rome is a home of Made in Italy. There's an incredible savoir faire, but as well it's a source of inspiration for many." In total Fendi will be spending €2.18 million (approx. USD $2.97 million) on the Trevi Fountain and €320,000 (approx. USD $435,268) on Le Quattro Fontane. The Trevi Fountain project has begun renovations and is expected to be completed by 2015.
Photo Courtesy of Bulgari
Bulgari & Rome's Spanish Steps
Another of Rome's most famous landmarks, the Spanish Steps, will be restored in 2015 thanks to famed jeweler Bulgari. Marking its 130th anniversary, the brand decided to give back to the community with a €1.5 million (approx. USD $2.04 million) investment to refurbish one of Italy's most famous landmarks. CEO Jean-Christophe Babin spoke of the luxury retailer "adopting" the 18th century Spanish Steps that stand at the Via Condotti, the location of Bulgari's first store. In a press release he stated, "the incredible artistic beauty of this unique city and its rich heritage of archeology, art and culture have always been an inexhaustible source of inspiration for our collections." The Spanish Steps restoration is expected to be completed by 2017.
Photo Courtesy of Shutterstock
Prada & the Tuscan Road
With most of their products being manufactured in the Tuscan region of Italy, Prada has done its part for the area over the years—since 2009 it has spent €100 million (approx. USD $136 million) in the area creating 150 new jobs for locals. And now it's going to be spending another €88 million to construct a road that will connect the city of Terranuova Bracciolini to the A1 motorway in the Arezzo area of Tuscany. The new connection will not only help Prada have a more direct route to their manufacturers (reducing carbon emissions and creating jobs for construction workers), but will make it easier for those employees commuting in and out of the area. Partnering with Prada, the Region of Tuscany has agreed to take on the bureaucratic paperwork while the luxury designer funds the project. The road is estimated to be completed by 2017.
Photo Courtesy of Shutterstock
Tod's & the Colosseum
After three years of bureaucratic red-tape, restoration to the Colosseum began late last year thanks to luxury brand Tod's. President and CEO of Tod's, Diego Della Valle, gave €25 million (approx. USD $34 million) to help with restoration projects that will include cleaning, repairing, structural reinforcements and returning the façade to its original white color. In addition to the restoration, a new visitor's center will be constructed outside as well as refurbishment of internal structures and the hypogeum. With excessive restoration needed for the crumbling structure, there is no estimated completion date, but the landmark will remain open for the duration of its construction.
Photo Courtesy of Shutterstock
Diesel & the Rialto Bridge
Diesel offered €5 million (approx. USD $6.8 million) to fund the reconstruction of Venice's historical Rialto Bridge. Signing a deal last year, the luxury company is hoping its contributions to the 400-year-old bridge will help restore it to its former glory, as it's beginning to crumble due to time, elements and around 20 million tourists trampling over it each year. Work on the bridge is scheduled to start in 2014 with the restoration efforts estimated to take 18 months to complete.
While it's great to think that fashion is doing its part to help give back to the community, it's not done selflessly. Luxury brands are choosing some of the most famous sites in the country with millions of potential customers visiting each year. Some deals are more straightforward than others, for example Diesel will be allowed to use up to 30 percent of the Rialto Bridge for advertising and branding, while others are subtle such as Bulgari's contribution which will undoubtedly be mentioned in on-site brochures, tour guides, press releases and programs that are handed out to tourists. Fendi will be allowed to have signage up around the Trevi Fountain for a period not to exceed four years, while Prada will undoubtedly benefit from its own interconnecting road. Tod's wants their contribution to be an act of Italian patronage and "will not have any economic or advertising/commercial return for the company." But advertising or not, the pros far outweigh the cons. It might not look historically inaccurate to have Fendi Buggies hanging from the Trevi Fountain, but the world should be able to put up with a few years of advertisements to save some of humanities greatest cultural achievements.