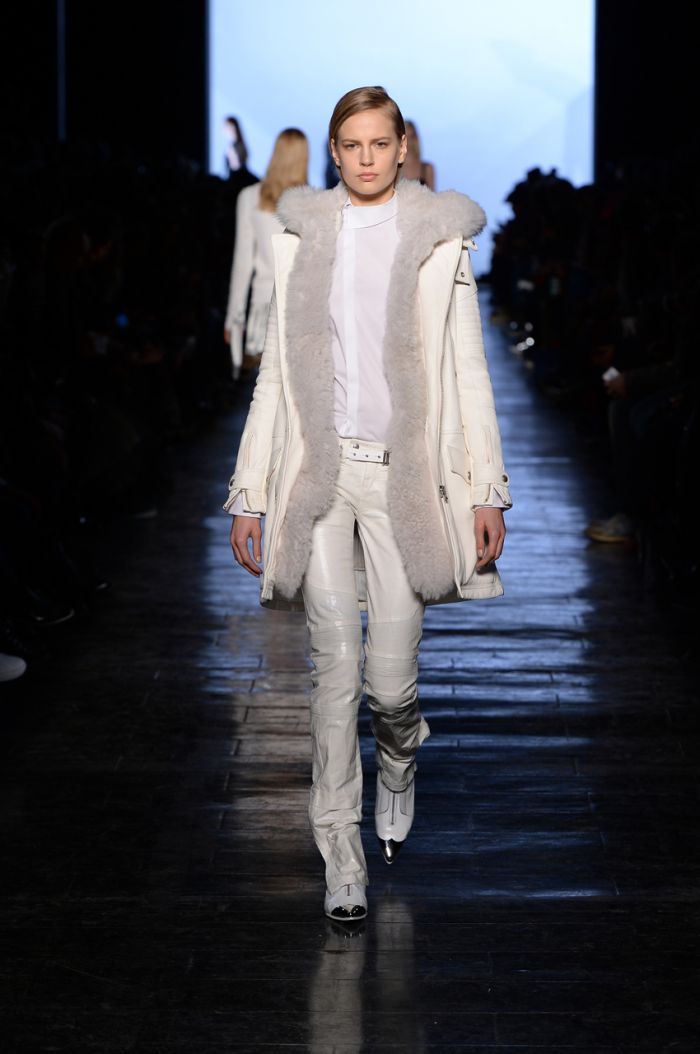 Photos Courtesy of Diesel Black Gold
Fashion and science may not go hand in hand (although designers still find a way to do it), but every now and then it converges so seamlessly that we almost don't notice. The Diesel Black Gold Fall 2014 collection at New York Fashion Week was effortless, stylish and made us wonder how something so cool almost went overlooked. The collection was entirely inspired by space—and not in a Big Bang theory sort of way, but as astronauts exploring the final fashion frontier.
Shapes and patterns played with the styles of current astronaut uniforms and historical futuristic ideals, in an attempt to create a distinctive look that merged the two together. Puffy metallic jackets and leather pants are imprinted with textures that replicate space suits, while skirts and dresses are trimmed or blocked in mirrored studs that are meant to bring to mind "futuristic armor," but are more reminiscent of Tom Ford's Spring 2014 mirrored pieces.
While we can honestly say we've never seen any space cadets that look quite this good, we are glad Diesel went more scientific explorer than Barbarella space adventurer. That's not to say these suits are lacking in sex appeal. Mini dresses, zippered bustiers and skintight pants brought a little feminine sensuality back to the collection.
The accessories consist of metallic belts, heavily-bucked, flat boots and large square satchels, used to carry whatever it is that astronauts need to bring into space—lipstick perhaps. Being 270 miles above Earth is no excuse not to look your best. Fur, zippers and studs are added onto otherwise detailed pieces giving the effect of excess even with minimal layers.
While the monochromatic, rock 'n' roll influence that we see so consistently from Diesel Black Gold is still there, it's been transformed into something a little less grunge, and looks sleeker than the basic leathers and bad-ass attitude we're used to seeing. It's a move in the right direction, and gives us hope that the brand won't continue to be so redundant in upcoming collections. Now all we need is a little color—but that's probably pushing it.