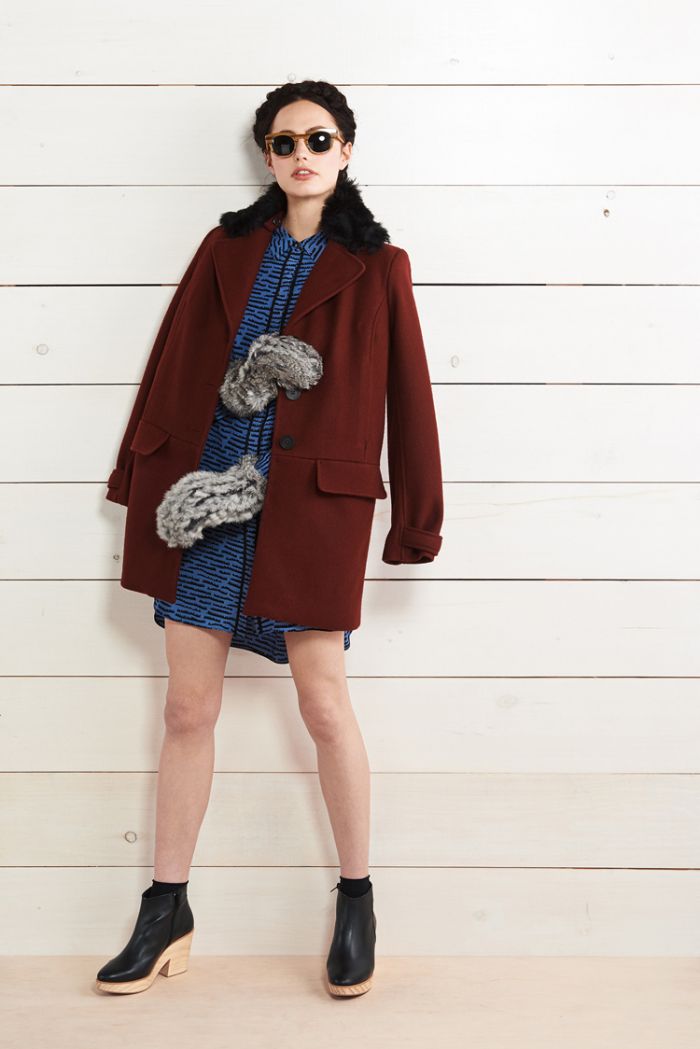 Photos Courtesy of WHIT
The thing about being Kate Spade's niece is you get quite a bit of perks in the fashion industry—showing at New York Fashion Week is one of them. It doesn't hurt if you have some talent and a penchant for style, and so far it seems Whitney Pozgay, designer of WHIT, has a little of both. For WHIT's Fall 2014 collection, she presented a collection worthy of girls like Alexa Chung and Zooey Deschanel who can pull off that school girl-cool without thinking twice. She took ready-to-wear quite literally with a collection that could be styled right off the runway.
Fit and flared silhouettes were heavy in the collection, coming in both skirts and dresses that were paired with everything from trendy crop tops to Hawaiian-print shirts. Leather was used in light, playful ways—cut as pair of shorts or tank top instead of a heavy jacket. Shirt dresses, A-line cuts and boxy shapes were popular in the presentation. There was a clear blend of Madewell meets Kate Spade with fun prints in girly silhouettes and simple well-structured basics.
While it's a very easy collection and would be flattering on almost any body type, it also lacks creativity. Most of the pieces are reminiscent of something we've seen elsewhere—we could walk into any Bloomingdale's and already find the same look on the racks. A girl can never have too many of these effortlessly flattering pieces, but as WHIT is now in its fourth year, there needs to be a little more push from Pozgay.
But what it lacks in innovation it makes up for in its simplicity. Don't know what to wear out to brunch? Grab one of these skirts. Having nothing to wear for date night? There are more than a few dresses to choose from—throw on some funky shoes and swing a jacket over your shoulders and you're street style ready. We'll keep an eye on WHIT to see how the brand progresses, but right now we're pretty sure we've found a new favorite.