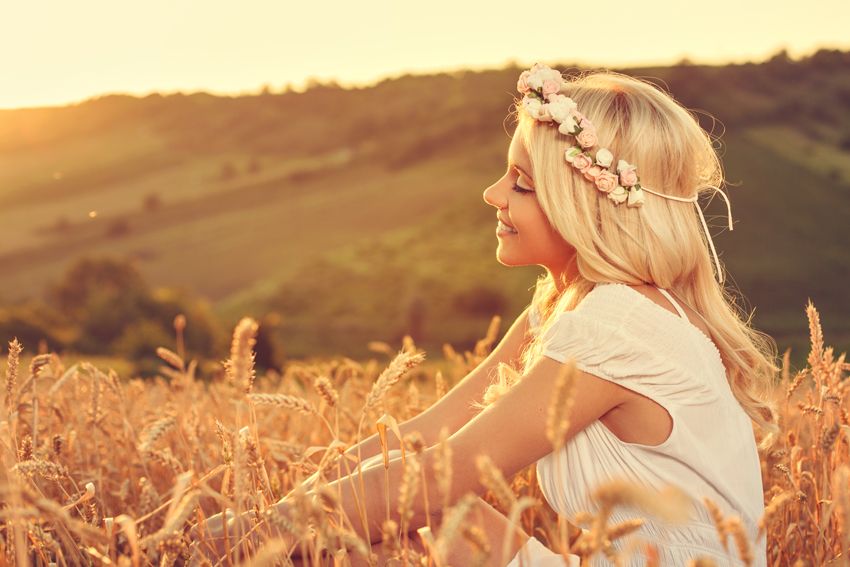 Photo Courtesy of Shutterstock
Now that Earth Day is here, you might be thinking about all the ways you can do your part to help out Mother Nature. Maybe volunteer at a local animal shelter? Pick up litter on the beach? Bike to work and leave the car at home? It's great to take initiative and do what you can for the environment, but what about the other 364 days a year? And while there is clearly more we can do to help the planet, switching up the clothes in our closet isn't a bad place to start. Obviously we're not suggesting you toss your favorite Fendi heels or that Balenciaga bag you just added to your collection, but making a few environmentally-conscious choices when adding pieces to your wardrobe can make a huge difference—and think about how great you'd feel all year long. With luxury eco-fashion picking up traction, many brands are creating beautiful, fashion-forward designs that are totally legit—no more hemp maxi dresses. In celebration of Earth Day we've curated a list of our favorite eco-friendly brands to help you find new pieces you'll love to wear while saving the world.
Photo Credit: Honest by.
Honest by.
This brand was hard to research without stopping every few minutes to add another piece to our cart. Started by designer and art director Bruno Pieters, Honest by. was created to be the first 100% transparent clothing brand and does so by breaking down company operations from manufacturing details to design costs. Wanting to create the smallest eco-imprint possible for both health and earth, they are mindful of their impact on environment and production working conditions. Refusing to sell leather or fur goods, the only animal by-products used in production are wool and silk, and fabrics are certified organic. Each collection is collaborated on with an up-and-coming designer and 20% of profits go to the charity of the guest designer's choice. Clothing collection ranges from €36-€1,760 (approx. $50-$2,431).
Photo Credit: Beyond Skin
Beyond Skin
It's not too often you can find eco-friendly shoes, and even with the green trend, most of them we wouldn't be caught dead in—that is until we found Beyond Skin. Creating a line of handmade, vegan shoes, every collection is manufactured to be "kind to our fellow humans, animals and wherever possible our precious planet." Working closely with production facilities in Spain, they make sure of fair working conditions and source materials close to factories to reduce the amount of environmentally-harmful transportation. Each season they hunt for new eco-friendly fabrics to introduce into the collection as a way of expanding variety, style and improving their ethics. Celeb vegans like Natalie Portman, Anne Hathaway and Leona Lewis have all sported their shoes. Collection ranges from £62-£210 (approx. $104-$353).
Photo Credit: Alabama Chanin
Alabama Chanin
Born and made in the USA, Alabama Chanin was founded by designer Natalie Chanin in 2000 as a way to bring production back to America. Holding a degree in Environmental Design, she started her line with a handful of American artisans who began making handmade, environmentally responsible pieces. Each artisan runs their own business and produces on their own time. Alabama Chanin uses 100% organic cotton jersey fabric that is sustainably sourced "from seed to fabric," and is deep-rooted in the Slow Design movement. For the most eco-friendly fashion mavens, a DIY collection is also offered, where ready-to-sew fabrics and materials are delivered directly to the consumer so they can hand sew their own garment. Collection is priced from $205-$6,985.
Photo Credit: M. Patmos
M. Patmos
We could take this whole collection in a heartbeat, but that might not leave any room in our wardrobe for the rest of the labels on this list. Launched in 2011 by Marcia Patmos, M. Patmos walks a line between high-fashion and environmental design. A portion of each collection is made in the USA and uses eco-friendly practices and sustainable fabrics whenever possible. In 2011 M.Patoms was awarded the Ecco Domani Fashion Fund Award and was recognized in 2012 when she received formal acknowledgement for environmentally friendly design practices by the CFDA/Lexus Eco-Fashion Challenge. She was also named one of the "top 50 most innovative fashion companies in the world" by Fast Company magazine. Collection is priced from $295-$1,650.
Photo Credit: Maiden Nation
Maiden Nation
This brand is totally the hippie of the group, but it's such a cool concept and has such a wide range of awesome products that we're suddenly thinking about starting a drum circle. Founded to "empower women through ethical fashion," designers, entrepreneurs, activist and "maidens" from around the world—including big names like Yoko Ono, Rachel Roy and Gloria Steinem—come together to create a site and brand dedicated to environmental causes and strengthening women. Designers collaborate with Maiden Nation to create one-of-a-kind accessories, all of which are ethically sourced, with profits reinvested into women's entrepreneurship projects. Activists can come to the site to share their causes, while "citizens" can talk about "their ideas and goals," and the site will soon play host to investors that can fund female entrepreneurs around the world. Collection is priced from $10-$3,400.
Photo Credit: Feral Childe
Feral Childe
Despite the intense sounding name, Feral Childe has a modern take on casual femininity. Filled with sheath dresses, loose fitting shirts and some pretty funky fabrics, the brand has the look of casual weekend-wear down pat. The collection has been sustainably sourced and adheres to a list of standards that each piece has to meet two or more of including: use of a natural fiber, a recycled fabric, a mill-end fabric, manufactured in the USA, use of domestic printer in a water-saving dyeing process, responsible disposal of production waste, use of vintage deadstock buttons or those made from natural materials or a limited run order to ensure no overproduction. Their specific sourcing and manufacturing information is also available to any consumer that requests it to provide transparency to clients. Collection is priced from $88-$396.
Edun
It doesn't really matter if you're a fan of the band or not, you can't deny U2's Bono is doing what he can to save the entire world from behind those rose-colored glasses. He and wife Ali Hewson started Edun in 2005 as a way to promote trade in Africa by sourcing directly from the continent. While Edun joined LVMH Group in 2009, their mission statement remains the same: "Edun is building long-term, sustainable growth opportunities by supporting manufacturers, infrastructure and community building initiatives in Africa." The new creative director, Danielle Sherman, who was appointed in April 2013 has created a fashion-forward collection (which include some of our favorite eco-friendly pieces), and produced 85 percent of it in Sub-Saharan Africa. Collection is priced from $95-$2,980.