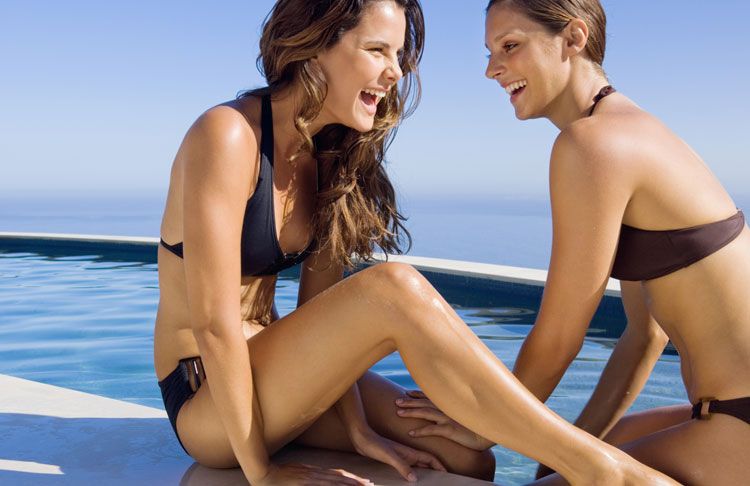 Photo Courtesy of Jupiterimages/Pixland/Thinkstock
There's something about a bronze glow in the dead of winter that warms our hearts— and our
luxury makeup
palettes. And while we love looking as though we never lost our summer tint, we're well aware of the dangers of tanning beds and the effect they have on our skin. That's why we're all about sunless tanning methods that don't include harmful UV rays or dangerous sunburns. Here, we put together a list of some of the best methods for achieving a healthy, sunless tan so you can remain looking your best well into the winter.
Sunless Tanning Lotions
There are a number of reasons why we love suntans that come out of a box. Not only are you saving your skin from being harmed by the sun's rays, but by using a sunless tanning lotion, you're actually moisturizing your skin at the same time— basically, it's a win-win situation. One of our favorite sunless tanning brands is
Infinity Sun
, whose line includes an exfoliating dead skin removal, a Glow on the Go sunless tanning lotion, and a hydrating, extending product.
Photo Courtesy of Infinity Sun
Sunless tanning lotions go on smoothly, but if you prefer a less greasy option try towelettes. They're fast-drying, non-greasy and are typically odorless. People love at-home sunless tanning products like these because they tan the skin gradually so you don't show up to work one day in the middle of January looking orange. Better yet, you can apply sunless tanning products in the comfort and privacy of your own home, which is a big plus for a lot of people. Best of all? Sunless tanning lotions are fast and effective, and there are a number of different products on the market that you can use.
Airbrushing
Airbrushing and Mystic Tans are popular because of their convenience and ease. What could be simpler than leaving the house in baggy sweats, driving to the tanning salon, and stripping down for an airbrush machine? While the airbrush effect may be a bit drastic at first, an upside to sunless spray-on tans is that they add color to your skin that typically lasts seven to ten days— depending on your skin type, activity, and how well you take care of your tan after your session. These days, there are even portable airbrushing booths that can be brought to your house by professionals who will set up a tent and have you looking like you just stepped off the beach within 30 minutes.
Photo Courtesy of iStockphoto/Thinkstock
Bronzing Makeup
One of the most tried and true methods of getting a glow quickly and safely is by investing in a good, quality bronzer. Makeup is best when you're seeking a one-night tan or are going after a specific look. Using bronzing powder also gives you more control over where the tan will be applied, meaning you can cover up blemishes if need be or highlight specific features for a truly natural sunkissed look. Best of all, makeup can be washed off at the end of the day for those who like to be color chameleons. Our favorite is by Estée Lauder. The brand's
Bronze Goddess Soft Matte Bronzer
has a luxurious and silky fine powder texture that gives you a deep, natural glow— and its one shade can be worn by any skin tone.
Photo Courtesy of Jupiterimages/Brand X Pictures/Thinkstock