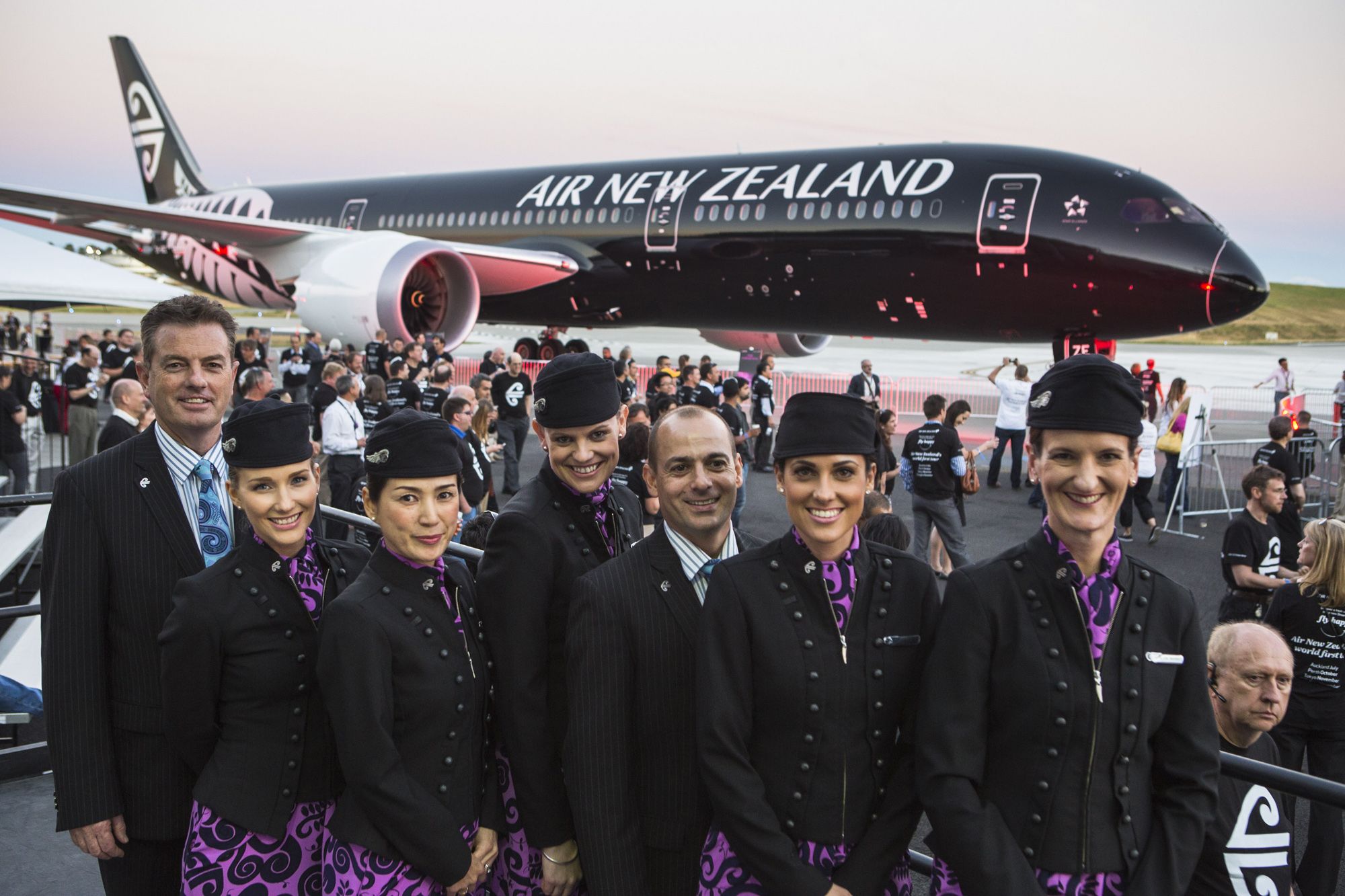 Photo Courtesy of Air New Zealand
Air New Zealand will be the first airline to fly Boeing's second generation 787-9 Dreamliner. Having had taken delivery of the first of these new planes in June, the airline hosted a press event this week in Seattle at Boeing's Everett Field to show off the shiny new jet before flying it down to its new home base in Auckland today. This is the first of 10 Boeing 787-9's the airline has on order.
Air New Zealand (ANZ) plans to fly its new aircraft—the first one is in sharp all-black livery, while the rest of the 787-9's will be in black and white—on test routes from Auckland to Sydney, Melbourne, and Brisbane before officially debuting it on the route from Auckland to Perth starting October 15. ANZ will follow up that inaugural route with additional ones from Auckland to Shanghai and Tokyo, and from Christchurch to Tokyo.
Rob McDonald, the CFO of Air New Zealand, says that the 787-9 is a crucial part of their strategy going forward thanks to the unique needs of the airline and the advantages with which the new plane presents them. As a key part of ANZ's business model of flying long-haul routes (what else is there to New Zealand?) with relatively small traffic numbers, the 787-9's size and efficiency are well-suited to moving fewer passengers on longer routes with more flexibility and route schedules that change seasonally.
Photo Courtesy of Air New Zealand
The Specs
The plane is about 20 percent more fuel efficient than comparably sized aircraft thanks to lighter-weight plastic composite materials and a new electrical system that weighs less than those on older aircraft models, as well as more efficient General Electric and Rolls-Royce engines. The 787-9 is about 20 feet longer than the first-generation 787-8 and can carry up to 38 more passengers for a total of up to 280 in a three-class configuration. It has a range of about 8,300 nautical miles (which is 450 more than the 787-8), and modifications to its tail means that it will be even more fuel efficient than its predecessor. This will be the last version we will see for a while since Boeing's 787-10, which is already in the works, is not set to debut until 2018 (it will seat around 320 passengers).
"Our flights tend to be 11-13 hours in general based on New Zealand's location and where we fly, so it is important to have an efficient fleet," says McDonald. He adds that they specifically made the choice to move the fleet toward twin engines instead of aircraft like the Boeing 747 and A380, which have four engines. "To us, the 787-9 is the next generation of 777 and 767 in our fleet, and will be what helps us grow the airline. […] Growth is hugely important to us. You can't shrink your way to prosperity, and this aircraft will let us grow again, consolidate and deepen our roster of destinations in the coming years."
Photo Credit: Eric Rosen
The Routes
Fliers will see 787-9's on several other airlines, including Air Canada, Air France, American, All Nippon Airways and British Airways, but Air New Zealand is the first launching customer and it pays to be the first to market.Though there are no immediate plans to fly the 787-9 to Air New Zealand's destinations in North America—which includes Los Angeles, San Francisco and Vancouver—McDonald says it is not out of the question as the airline replaces some of its older 777's, but there are no immediate plans to bring it there. Instead, McDonald affirms that the airline is using its new purchases to focus on Asian markets where the airline is expanding.
"This specific aircraft and this configuration is meant to bring new passengers from Asia to New Zealand, and vice versa. Fliers to and from Asia have a lot of choices, both of airline and destination, and we see this aircraft as a major selling point, not just of Air New Zealand, but of New Zealand itself as a destination," he says. McDonald also says that environmental impact is more than just a secondary consideration and as the new 787-9 replaces older 747 and 767 models, the airline aims to lower its carbon footprint by about 10 percent in the coming years as it expands its reach.
Photo Credit: Eric Rosen
A Look Inside
Boeing and Air New Zealand's event on Wednesday was also the first look inside the new plane. The interior looks a lot like that of ANZ's 777-300's, with four types of seating: Economy, Skycouch, Premium Economy and Business Premier. Like the 787-8, the 787-9 offers larger windows than conventional jets, while an advanced cabin pressurization system keeps the altitude lower and humidity higher than other aircraft. However, the 787-9's technology is more advanced and theoretically reduces the typical wear-and-tear fliers suffer on long-haul flights, including the effects of jet lag.
Business Premier is found in rows one through six in the front cabin. The 18 seats are in a herringbone-style configuration of 1 x 1 x 1—this is a change from the 777-300ER, whose Business Premier cabin is in a 1 x 2 x 1 configuration. The Business Premier seats will recline to full lie-flat beds with 79-80 inches of pitch (they recline to 77 inches) and are 22 inches wide (33 inches in bed position), with 11-inch HD flat screen entertainment systems. The seats are in the airline's signature creamy chalk-white leather and offer full-size pillows, memory-foam mattresses, and purple duvets for sleeping.
Photo Credit: Eric Rosen
Victoria Bamford, Air New Zealand's Aircraft Interiors Manager, was on hand to talk about the specifics of the plane. In the Business Premier cabin she pointed out some special features of the middle row of seats, including a slight lip over the head portion of the reclined bed which creates an extra sense of privacy when a passenger is sleeping.
"The 787-9 is narrower than the 777, so we only have three seats abreast in Business Premier. That gave us the opportunity to create different spaces for different passengers. Those who prefer a secluded experience and want to be left to themselves have the privacy of the left aisle, while others who want to connect socially and have a more engaged experience can opt for the center and right aisles," she says.
McDonald pointed out that the Business Premier experience on board will measure up to the same high standards ANZ's fliers have come to expect on its 777-200 and 777-300 aircraft. "Business Premier is one of the best business class experiences in the world. We consistently have fliers tell us they would rather fly our business class than many others' first class, and that's the standard we strive for," he says.
Photo Credit: Eric Rosen
A New Premium Economy
The plane also holds an entirely new Premium Economy cabin. Unlike the 777-300ER, Air New Zealand's 787-9 will not have the airline's futuristic "Spaceseats"—they wouldn't fit in this narrower-bodied jet. Rather, the new Premium Economy spans three rows (numbers 23-25), 21 seats, and are configured in a 2 x 3 x 2 arrangement. The seats are slimline leather recliners with 41 inches of pitch, 19 inches of width, and nine inches of reclining space. They also feature the same 11-inch HD screens as in Business Premier, which are mounted in the seatbacks. The cushy black-leather seats have integrated leg rests with extendable foot supports and extra-wide five-inch armrests, so you can avoid bumping shoulders with the person next to you.
Found directly behind Business Premier and separated from regular Economy by a section with lavatories and a galley, Premium Economy will be served by its own specific crew members and feature a specific food and wine menu. The airline plans to install these new seats on the 777-200 aircraft it is currently refurbishing as well, so this will become ANZ's standard when it comes to Premium Economy.
Photo Credit: Eric Rosen
Economy Seating
The Economy cabin has 263 seats in a 3 x 3 x 3 configuration, and two different seating options. Rows 34-43 (seats A, B and C) as well as rows 36-41 (seats H, J, and K) will be the airline's signature Skycouch—so there will be 14 of these total. Air New Zealand made a splash a few years ago when it introduced this new type of seating, which it dubbed "cuddle class." Passengers can purchase airfare for these three-seat sections for the price of two and a half seats because they extend to form a narrow bed.
Like other Economy seats, these slim-line chairs will be 17.2 inches wide and recline five inches, though they will have 33 inches of pitch compared to the 31-32 of other Economy seats. All seats in Economy will have nine-inch HD flat screens and two power and USB outlets per three seats.
Photo Credit: Eric Rosen
The airline is also introducing a new in-flight entertainment (IFE) system first on its 787-9's and progressively rolling it out to 777-300's and 777-200's. The touch-screen system utilizes Panasonic technology for a new interactive experience and will feature more than 2,000 hours of content, including movies, television and music. In a first for any airline, Air New Zealand has also partnered with TripAdvisor to create an app that will allow fliers to research their destinations while on-board directly from their screen. Fliers can expect to see this app launch in August.
The new aircraft shows how Air New Zealand has continued to refine its cabins to reflect the evolving needs of international travelers, all while maintaining its high service standards. With its efficiency and technological advances, the Boeing 787-9 is suited to the airline's long-haul needs and growing route network, representing a major shift for the company and a glimpse of its mission going forward.
Photo Courtesy of Air New Zealand