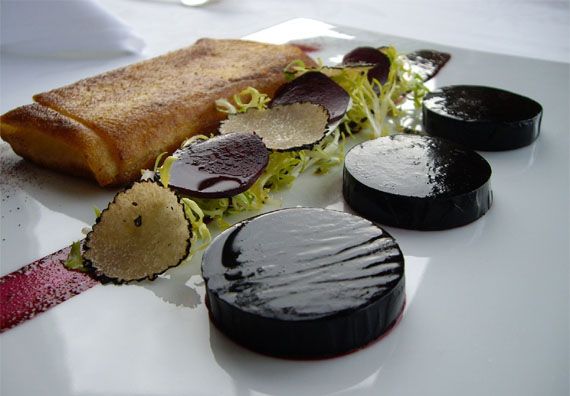 While exploring the
Australian Yarra Valley
wine region, I was able to experience the five star, heritage-listed Victorian mansion. Chateau Yering, sitting on 250 acres, is a member of
Relais & Chateaux
. In the parlor, while enjoying scones and tea, I discovered Head Chef Mathew Macartney.
Mathew oversees the Sweetwater Café and Elenore's, a One Chef's Hat in The Age Good Food Guide. Elenore's has won numerous awards since Mathew arrived. He has also been a celebrity chef on
Silversea's cruise line
the past two years. Chef Macartney's talent speaks for itself in the recipe he chose to share.
Crisp Parcel of Persian Feta, Shaved Beetroot and Black Truffle Salad, Beetroot Jelly
For the parcel:
600g (about 21 oz) Persian feta or goats cheese

250 g (about 8-3/4 oz) cottage cheese or ricotta

2 egg yokes

1 tsp chopped thyme

Salt and pepper

16 sheets brick pastry

200 mls (about 10 tbs) clarified butter

Method for the feta filling:
In a food processor combine feta, cottage cheese, egg yokes and thyme process until mix is very smooth season with salt and pepper (not much salt as the feta acts as the primary seasoning).

Remove feta mixture from the food processor and spread evenly 1cm thick onto a tray lined with cling film, refrigerate until the mixture is firm.

Turn the feta mixture out onto a chopping board and remove the cling film. With a hot knife cut the feta slab into 10cm x 5cm rectangles.

To construct the parcels:
Place one sheet of the brick pastry on a work surface and brush with room temperature clarified butter.

Place another sheet of brick pastry on top and brush with the clarified butter, again.

Place a rectangle of the feta mix lengthways in the middle and wrap the pastry around the feta mix to create an envelope, ensuring the feta is completely encased in the pastry. Repeat the process with the remaining feta and pastry to make 8 parcels.

For the beetroot jelly:

1 lt (about 1 qt and .25 c) beetroot juice (fresh)

1 tbsp sugar

3 tbsp sherry vinegar

11 sheets gelatin soaked in cold water (gold leaf gelatin)

Salt and pepper

Method for the beetroot jelly:
Combine all ingredients in a heavy based pot and bring to the boil then turn down to a simmer allow to simmer until liquid is reduced to 50 mls and becomes quite viscose remove from the heat and store at room temperature.

For the truffle vinaigrette:

2 tbsp sweet French mustard

1 tbsp sherry vinegar

1 tsp truffle paste or finely diced scraps from the shaved truffles

50 mls (about 2.5 tbsp) truffle oil (combine with the extra virgin olive oil)

100 mls (about 5 tsp) extra virgin olive oil

Salt and freshly cracked pepper

Method for the truffle vinaigrette:
Combine mustard, sherry vinegar and truffle paste in a bowl and whisk together, gradually adding the combined truffle oil and extra virgin olive oil. Season with salt and freshly cracked pepper.

To construct the dish:

3 cups of frisée lettuce

8 Persian feta parcels

24 beetroot jelly disks

8 peeled baby beetroots

50 mls beetroot paint

1 Périgord truffle

100 (about 2.5 mls tbsp) truffle vinaigrette

Vegetable oil

Method:
Place a non stick frying pan over a moderate heat add enough vegetable oil to cover the base of the pan.

Place the feta parcels into the pan and cook on both sides until golden brown, remove the parcels from the pan and place on absorbent paper and season with salt and pepper place on one side of the plates.

Alongside the parcel with a pastry brush paint a thin strip of the beetroot paint, beside the paint place the beetroot jelly (3 per plate).

In a bowl combine frisée and truffle vinaigrette. Then with a truffle slicer or a sharp mandolin, slice the baby beetroots and truffle and add to the frisée and truffle vinaigrette.

Season with salt and freshly cracked pepper and place a small amount of the salad between the feta parcel and the jelly distributing the raw sliced beetroot and the truffle evenly between the plates.

This post originally appeared on CityRoom.com