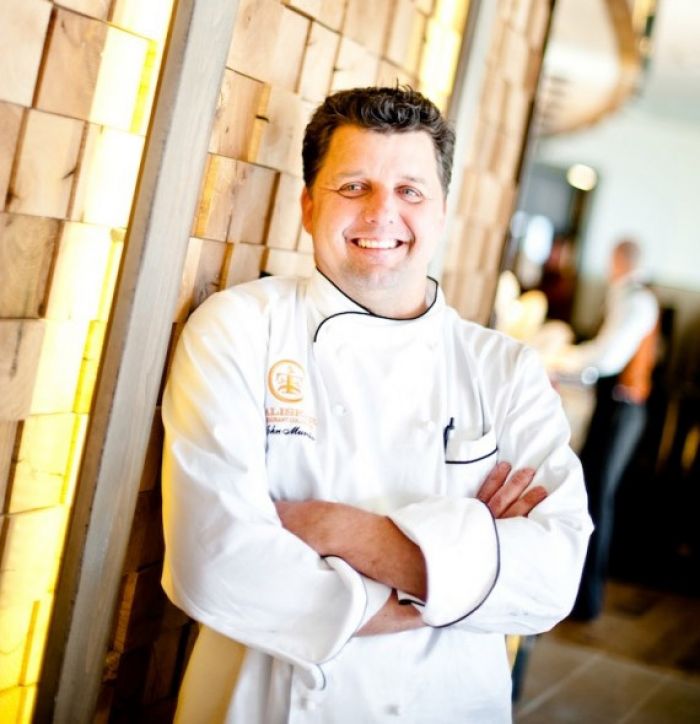 Photo Courtesy of Canyons Resorts/Susan Kime
The discrete movement from theory to practice sounds like the beginning of a philosophical treatise, not a story on an artisanal food sourcing journey. But the popular, yet still edgy locovore/farm-to-table idea did indeed become real when I went on a food sourcing journey, with Executive Chef John Murcko, from
Canyons in Park City Utah
.
I have written about Canyons Park City for JustLuxe before, as it is an enclave combining five major ski resorts. Executive Chef John Murcko is Vice President of Culinary Services for Canyons Resorts and for Talisker, a high-end club/community that includes Park City resort neighborhoods. Chef Murcko was a semi-finalist for James Beard Best Chef Award 2012 and winner of the 2012
Salt Lake Magazine
's Best Chef In Utah.
He asked me and food journalists to travel to Northern Utah with him, and explore some small, artisanal food purveyors. Then, the next day, back in Park City at Slopes, the fine dining restaurant at the Waldorf Astoria, he was to create an exceptional meal from the food he purchased on the trip.
"My goal," said Chef Murcko, "is to explore the connection between the food, the farm environment and the dining experience. And that connection is the story." This intriguing idea of stories about food from artisanal purveyors, reminded me of an idea discussed ten days earlier at the American Express Publishing Luxury Summit in Florida.
Zoe Gardens
A brand designer said the meaning of a true luxury brand is the distinguishing story associated with it. He was talking about his brand, Patron Tequila, but the idea of a distinguishing story is a potent and scalable concept and should, but usually doesn't, include food. Yet on this trip, I had the opportunity to see this process in action, and also see and taste its consequences. Did this two-day process make the five course dinner taste better? Yes, certainly. Will this sensory education journey be the beginning of many other future chef/consumer trips? Yes, hopefully.
First stop was Zoe's Garden in Layton, Utah, about an hour north of Park City. Zoe's grows over 600 varieties of fruit, vegetables and herbs, over 60% of which are heirloom. All of Zoe's Natural Garden produce is grown in accordance with the principles of sustainable agriculture. David Chen is the owner, and is an active part of the CSA, the Community Supported Agriculture movement.
Slide Ridge
CSA programs directly link local residents and nearby farmers, who sell directly to the residents. Chef Murcko was able to acquire asparagus, morels, porcinis, parsley, beets, radishes, kohlrabi and green garlic. He was able to combine these and other vegetables into five of the six courses for our dinner the next evening.
Second stop was for lunch in Mendon, Utah, at the Slide Ridge Honey Farm. Mendon is about an hour from Layton, and is almost due north, a small community that lies at the base of the Wellsville Mountains. It is family owned—Martin James and his family have been working with bees since 1994, and makes non-pasteurized honey, honey wine vinegar and a new product: wine.
Susan Kime
Slide Ridge calls its wine CaCysir, and is made from a blend of seven different apple varieties all grown in Utah. Originally blended to create a tart apple cider, honey is added for sweetness and is fermented for about a year. It is not on the general market yet, but will be soon. Chef Murcko acquired the honey and the wine, and for our meal, used the honey as a condiment to the Spring Asparagus salad; and for the dessert, created honey pound cake, along with a Zabayon, with the CaCysir wine instead of the ususal Marsala.
Third stop was the Mountain Valley Trout Farm near Smithfield, Utah. This family owned company has been in existence, raising Rainbows, Brook, Brown and Tiger trout since 1924. They have a catch-out pond on their facility, where we saw the Rainbow trout being caught, fileted and packed on ice. The gentleman who fileted the fish was the owner, LeLand Barker. The next evening, Chef Murcko created an exceptionally delicate Rye Crusted Rainbow Trout, for our second course.
Susan Kime
Fourth stop was the Rockhill Creamery in Richmond, Utah. With a family of only six brown Swiss cows, one of whom is named Abigail, the owners of Rockhill, Jennifer Hines and Pete Schropp, produce hand crafted cheeses from raw milk. This creamery has eight different cheeses, and each is offered at three different ages and is aged on site in their cheese cave, and produces 200 pounds of cheese a week. The first course of Chef Murcko's dinner included a tasting of Rockhill creamery cheeses.
And the fifth and last stop was the Willis Ranch/Niman Ranch, outside of Laketown, near Bear Lake, Utah. The Clark Willis family has been ranching in Cache Valley for decades, raising exceptional grass fed, free range lamb. He and his wife, Patty, manage a herd of 1,200 ewes in the mountains near Bear Lake.
Here is Chef Murcko's Menu from our artisanal farm journey:
First Course:
Cheese tastings from the Rockhill Creamery, with roasted beets, apple crisps, Zoe's parsley
Susan Kime
Second Course:
Rye crsuted Rainbow Trout from Mountain Valley with vichyssoise, sorrel, ramps, and microradish salad with vegetables from Zoe's
Susan Kime
Third Course:
David's spring asparagus salad from Zoe's, a farm egg, also from Zoe's, and 26-month Zwister Gouda from Rockhill, and honey from Slide Ridge
Susan Kime
Fourth Course:
Spring lamb chop with honey cured belly, both from Willis Ranch, with kohlrabi, green garlic, morels and porcinis from Zoe's
Susan Kime
Fifth Course:
Honey pound cake, with honey-wine zabayon, all from Slide Creek