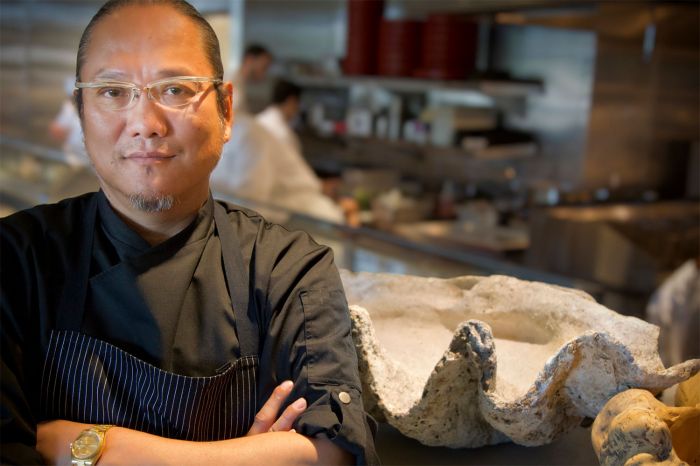 Chef Masaharu Morimoto—known to many as the star of Iron Chef and Iron Chef America—now has more than 10 restaurants around the world and a best-selling book called, Morimoto: The New Art of Japanese Cooking. This month, he opened a new 5,542-square-foot restaurant in Las Vegas featuring an integration of Western and Japanese ingredients.
After working at New York's famed Nobu, Morimoto opened his first namesake restaurant in Philadelphia in 2001. Today, he has restaurants across the globe including Chicago, New York City, Napa Valley, Waikiki, Maui, Boca Raton and South Beach. Internationally, Morimoto has eateries in Mexico City and two award-winning Wasabi locations in Mumbai and New Delhi, India.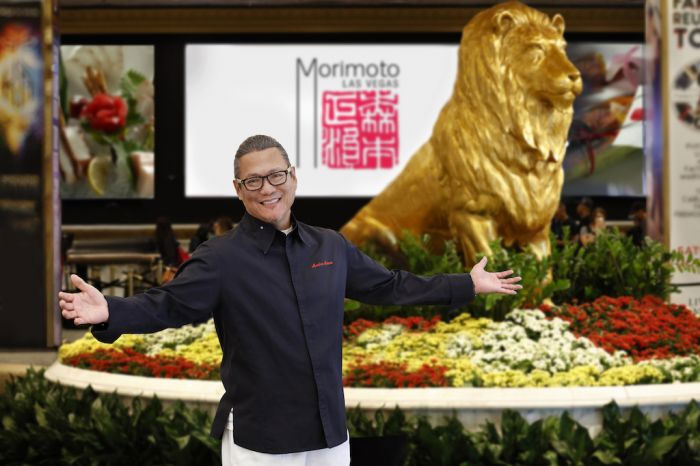 Like the city itself, the menu at his Sin City restaurant is surprising and memorable. Morimoto's taste combinations are sometimes characterized by using vapors, or subtle forms of smoking such as with his yellowtail Hamachi. For the dish, he collects vapors from cooking brown sugar, coriander, anise, hibiscus, and pint peppercorns in a wine glass then uses it to smoke the fish, and afterwards, the glass becomes the vessel for his own Morimoto Sake.
And, there are more vapors with the cocktail called Fool Me Once. To prepare the drink, Chef torches hibiscus and pink peppercorns in a bowl and places a glass on top to catch the smoke. Then he combines chilled Shochu, a distilled liquor made from sweet potatoes, with barley and rice and Amaro Averna. The latter is an Italian liqueur made from, among other things, citrus peels, with a dash of walnut bitters. The mixture is poured into a rocks glass and garnished with a wheat sprig.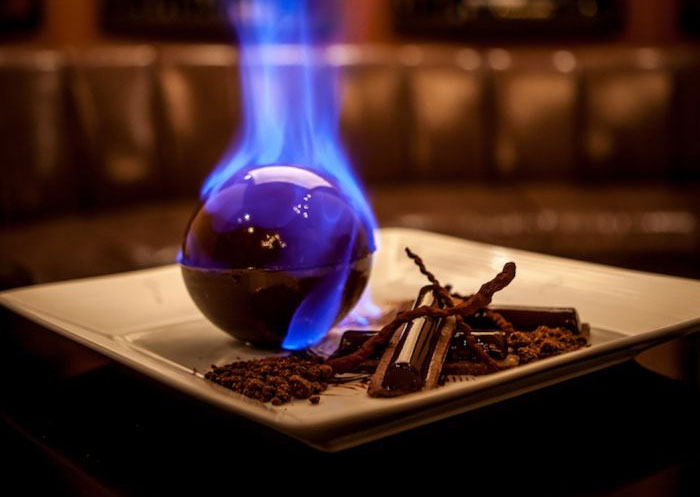 Another signature dish of his is his dessert called the Fiery Salty Caramel Chocolate Tart. The dish is a sphere of dark chocolate filled with marshmallow, and salty caramel ganache. It is covered in a spiced rum and then lit ablaze tableside. The creation eventually melts down exposing the marshmallow and mixing the ingredients together. We recently sat down with Morimoto to discuss his culinary techniques, how observing diners enhances his dishes and what to expect at the new Las Vegas restaurant.
JustLuxe: Where and from whom did you first learn to cook? Was your early learning from a passion to learn, or was it from a necessity to eat well?
Masaharu Morimoto: Both. It was one of my childhood dreams to become a sushi chef, as much as I dreamed of playing baseball for Hiroshima Carp. Unfortunately shoulder injury blocked my path to become a professional baseball player, but I was able to pursue my career to be a sushi chef. As I was growing up, my family was not very well-off. However, every once in a while we would go to a sushi restaurant to have family dinner, and it was most warm and comforting time of my childhood. That experience left a very strong impression on me and that's why I wanted to become a sushi chef.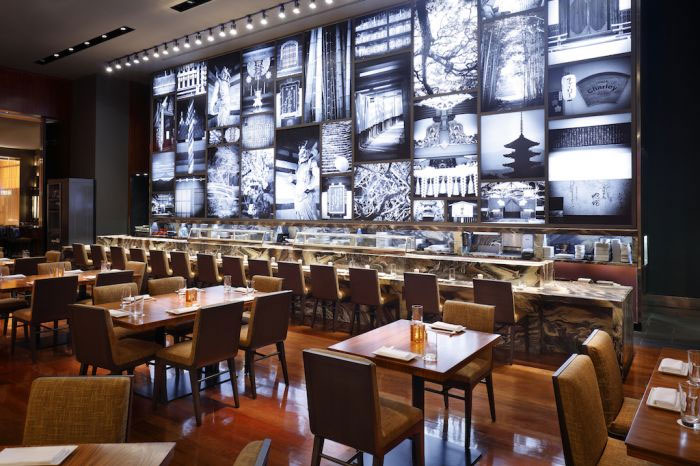 JL: You have become a major cuisine brand in a relatively short time, creating not only great restaurants but also products and knives for purchase. How long can you stay out of the kitchen, and not prepare great meals?
MM: I don't want to stay out of the kitchen for too long because I don't want to lose my instinct for the kitchen arena. I like to be there to cook and serve for my guests as much as I can. It will help me stay keen. I wish I had more time to do that.
JL: What have been some of the culinary lessons you have learned over the years? In other words, what would you do now that you would never have done when you were just starting out?
MM: Observe the guests. You might not get it the first time, but as you gain more experience you can start profiling their palates, needs, expectations. It will help you enhance the quality of your dishes. Now, this is possible only when you cook at the counter, not in the back kitchen where you can't see the guests. That's one of the reason I like to cook at the counter face-to-face with my guests.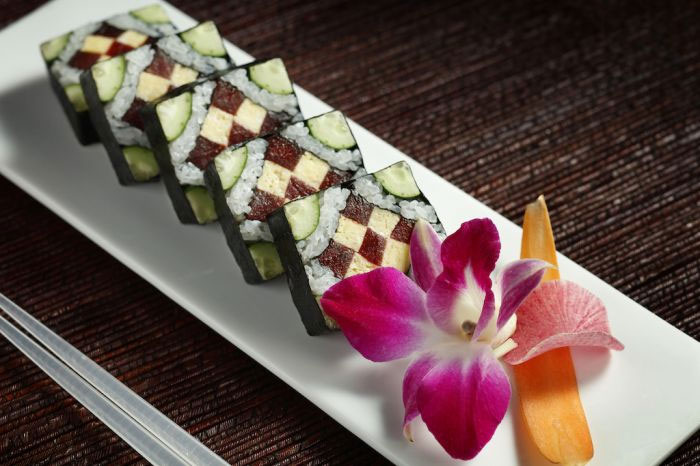 JL: You are known for participating in the Iron Chef programs and winning, what lessons did you learn from working with cuisine and in competition with others on TV?
MM: I don't cook for the judges or the audience when I participate in the Iron Chef. The true opponent I challenge is myself. I push myself to the edge to raise the bar. Every small thing counts and could be determinant factor of winning and losing. I want to put this kind effort to all the dishes I make, regardless of location or quantity. One of the lessons I learned from Iron Chef challenges is how to conceptualize the taste of the finished product without tasting.
JL: Then, how strong is your taste memory? How easily can you conceptualize complimentary tastes before actually creating a plate that includes them? What are some truly diverse taste combinations that have worked well at Morimoto?
MM: It's not difficult to conceptualize tastes for me. I can't think of any particular menu items right now, but diverse taste combinations are in every dish you see on the menu. One simple example is a combination of salt and sweetness. When you want to make something sweet, adding a pinch of salt will bring out the sweetness.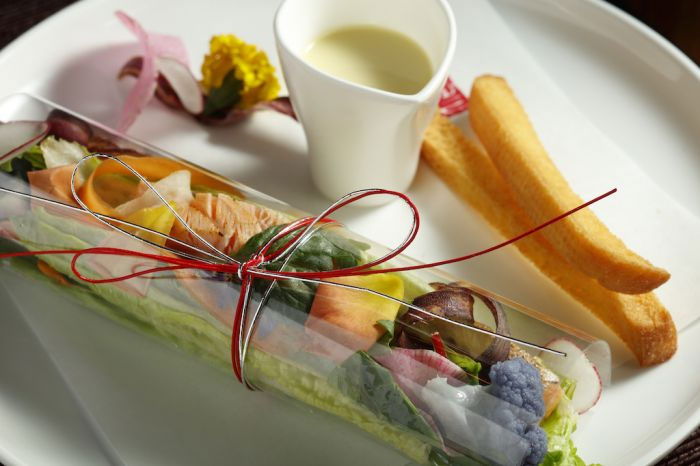 JL: As you know, the five general tastes are sour, hot, salty, sweet, and bitter, and then there is Umami. What are some of your favorite culinary creations that exhibit Umami? [Editor's Note: Umami refers to a strong meaty taste imparted by glutamate and certain other amino acids, characterized as "savoriness."]
MM: Umami has become widely recognized but it's not new to Japanese cuisine. Dashi made from Katsuobushi and Kombu is one of the very basic components in Japanese dishes that exhibit umami. It's used in almost all dishes. Therefore, it's essential to know how to prepare clean tasty Dashi. The soup of noodles on the menu is full of umami too. It's not Dashi based, but another very good example of umami.
JL: What are some of your favorite colors, spices and textures that you will enjoy working with at Morimoto Las Vegas?
MM: Let's just say generally my favorite color is white. White is the color that you can do so much with, but at the same time it's one of the most difficult colors to work with. If you once mess it up, it's an absolute mess.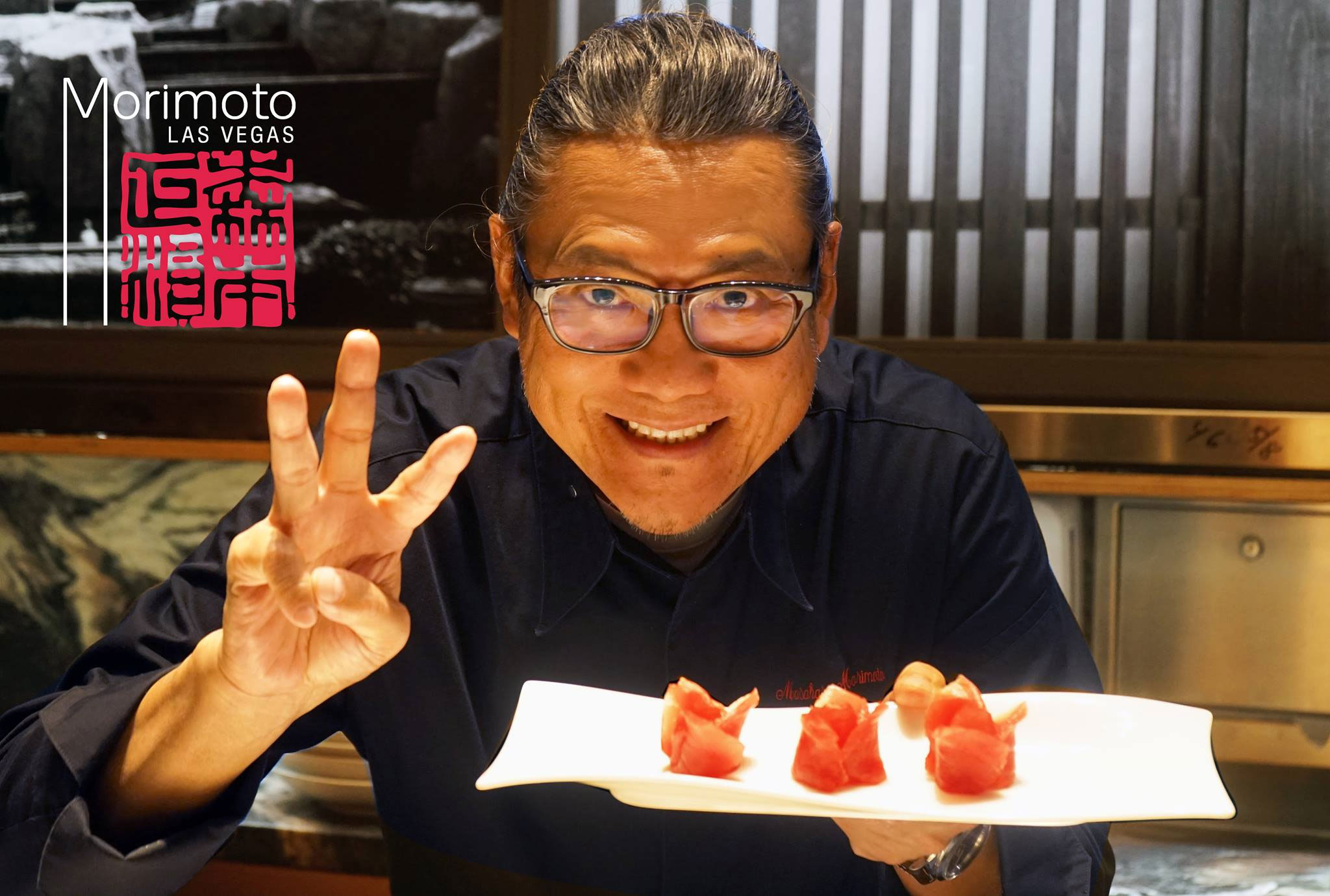 JL: Finally as regards the Morimoto Las Vegas cuisine, what are some of the more unusual ingredients that will be in the dishes you and your colleagues will prepare? Should we as guests bring our most adventurous palates with us?
MM: No unusual ingredients. What's unusual is what we are able to make out of given ingredients. Of course, our ingredients are most carefully selected but we don't consider that effort special. It' our standard since I first created the brand Morimoto. So you don't have to gird up. We will offer our best to meet your expectations.