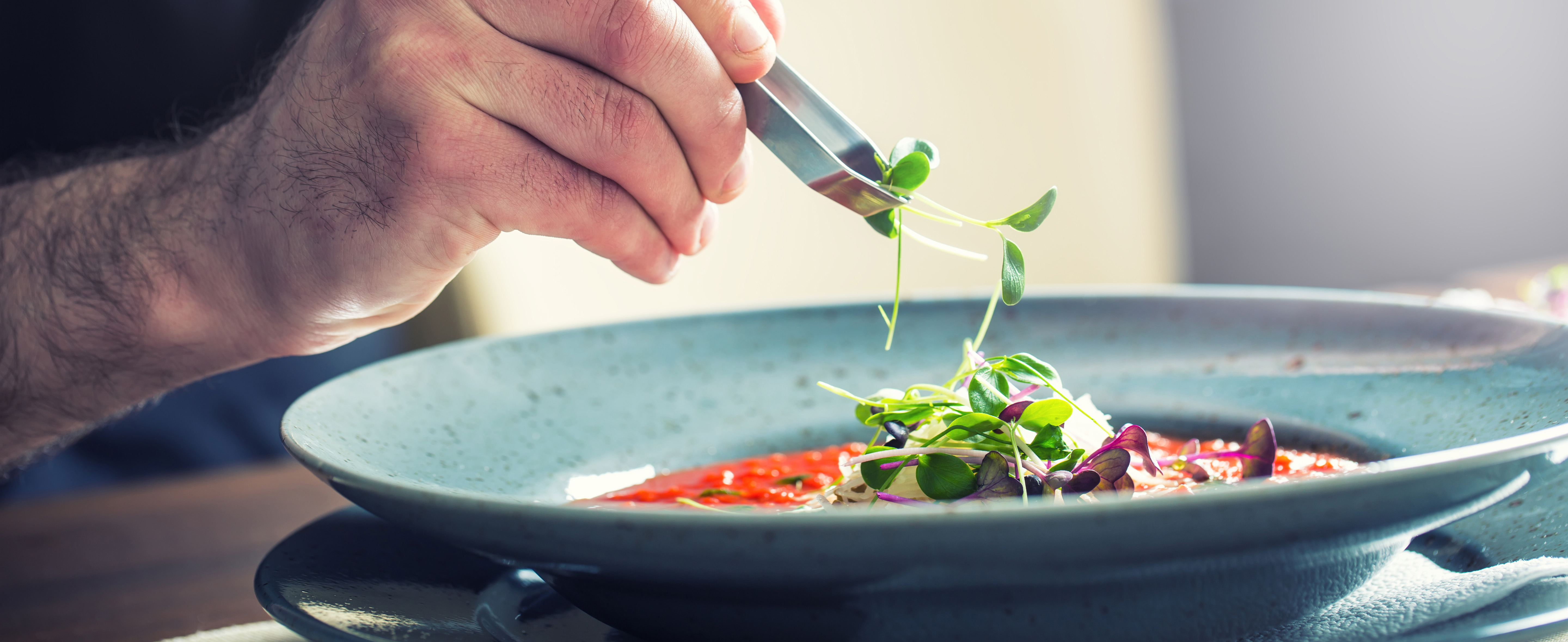 Photo Credit: Shutterstock
The nature/nurture argument will often emerge when discussing young, Millennial chefs. Was it the age they were born into, Millennials preferring authenticity and transparency, always moving beyond artifice, or was their education, who their mentors were, and how those influences affected them. No matter how this is considered, these four young Las Vegas Executive Chefs bring a degree of heightened sensitivity, design, and taste, and yes, whimsy, to the table.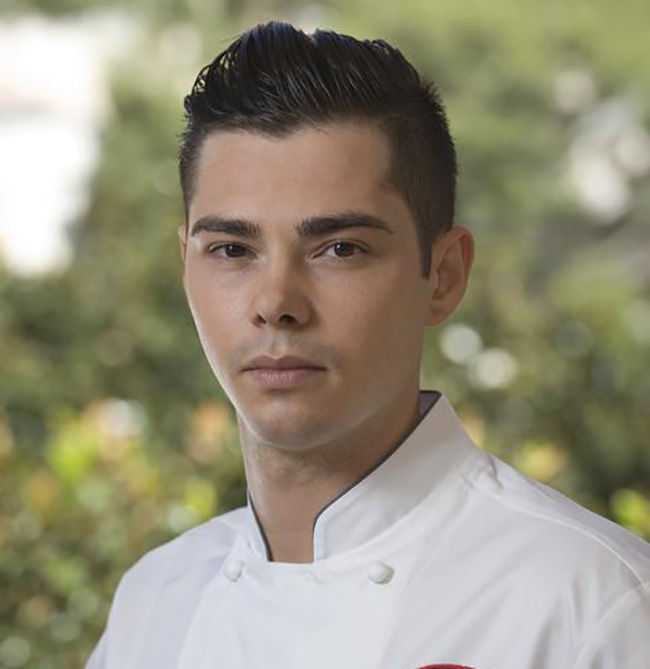 Photo Credit: Bellagio/Le Cirque
Chef Wilfried Bergenhausen – Le Cirque – Age 30
This was our second time eating at Le Cirque Las Vegas, and each time, we were amazed—literally by the one-of-a-kind, creative presentations conceptualized by the young Chef Wilfried Bergenhausen. His edible landscapes are works of art, so much so that sometimes, you may feel somewhat guilty eating them at all.
We spoke with Chef Wil, and we asked how he had thought of these miniature works of art. He replied, "A few years ago, I was thinking about how we forget what we eat. Often, in our world, we eat something, and 30 minutes later, we have forgotten what it was. I came to see that this made no sense at all. I wanted our guests to look at the food, and think of its origins. I wanted them to see every single ingredient, so I began thinking of how I could create something that could be a memorable design, as beautiful to the eye as it is to the palate, and somehow the edible landscapes idea evolved."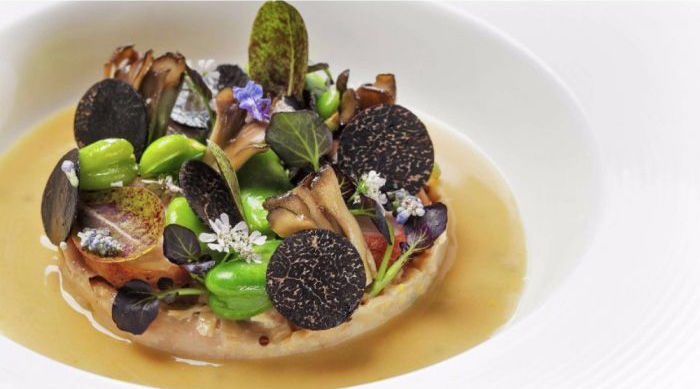 Photo Credit: Bellagio/Le Cirque
At our dining experience, we had seen and eaten, small gardens, full of tiny flowers, leaves, and small vegetables, a she-crab dish that included tiny shrimp, and caviar.
As Chef Wil said, his landscapes change with the seasons, and sometimes in weeks within the seasons. "I use the perfect leaves and herbs from miniature gardens, and create individual designs in bowls, glasses and plates.
"And, I am constantly reinventing, just like the seasons." he said, "Right now, I am working with late Spring and early summer produce: fresh Morels, sweet peas and wild strawberries. Even though we are in Las Vegas, we can get anything. It is easier than in New York."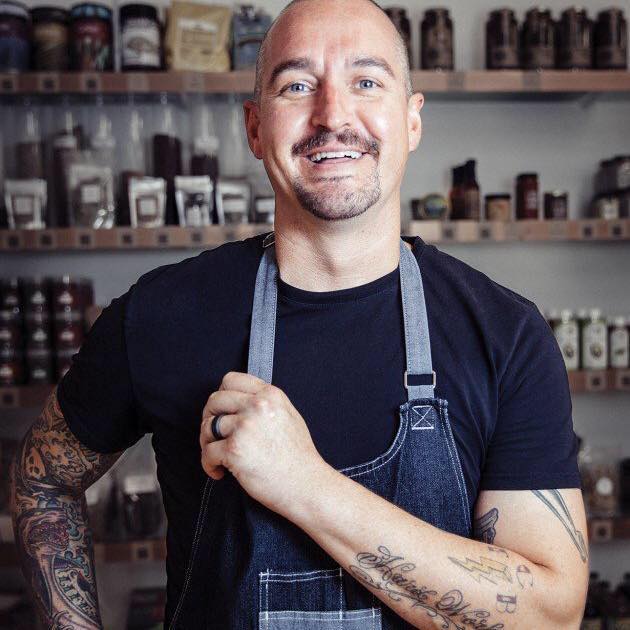 Photo Credit: Mandalay Bay/Charlie Palmer
Aureole, Executive Chef, Johnny Church, Age 39
At Mandalay Bay, Charlie Palmer's Aureole is the flagship fine dining venue. Late last year, the restaurant underwent renovations—but thankfully, the renowned grand wine tower still remains. The menu was also renovated, all under their new Executive Chef, Johnny Church age 39.
Mr. Church has a diverse culinary history in Las Vegas fine dining, having been educated at Andre's, RM Seafood, Downtown's MTO Café and the innovative Artisanal Foods Café. At Aureole, he returns to a kitchen where he served as sous chef in earlier years.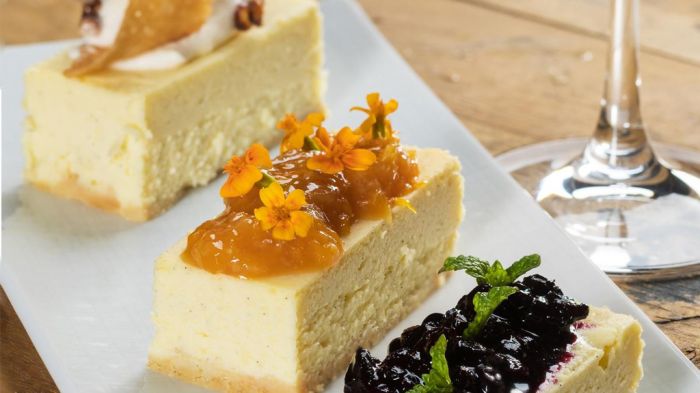 Photo Credit: Aureole/MandalayBay
We recently talked with Mr. Church, and discussed how his assorted experience translates into such a diverse menu. "As I worked in many venues, I was developing my palate, and now, we are always changing. We have eleven different dishes on the Spring Menu, and will be changing things as the seasons change. Our Summer menu becomes available on June 1st. Of course, the staples don't change, but seasonal foods do. When you work at this level, our seasonal cuisine is based on what is fresh and new."
"That said, however, our Aureole menu is focused around food's three natural foundations: Root, Surf, and Ranch. The menu positions eight dishes in each category, listed from light to robust."
Our experience with Aureole's robust flavour combinations were so memorable. The Pork Belly with tomato jam and egg, jam, the herbed flatbread with Baba Ganoush, Hummus and Tzatziki, and the desserts were unique: the Rhubarb tart, the Coffee infused Panna Cotta, and then, the cheesecake: I have never heard or, much less tried Blue Cheese, Brie and aged Cheddar Cheesecake. They were exceptional, new tastes that lingered on our tongues and memories.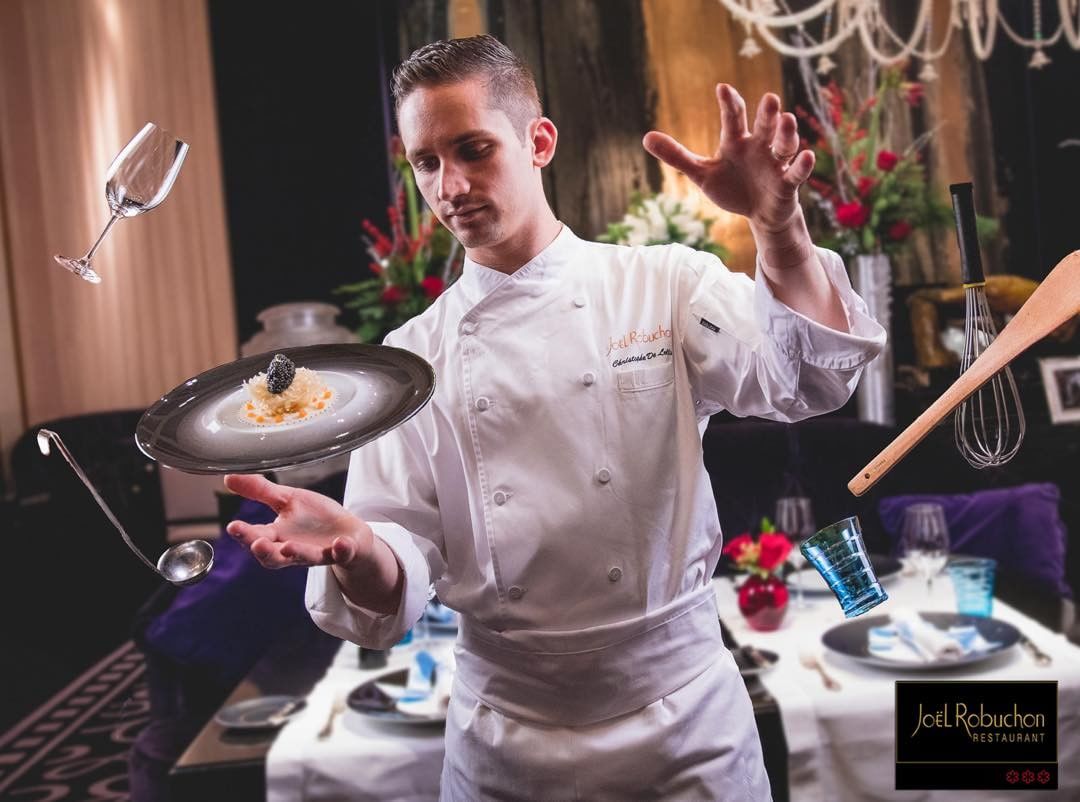 Photo Credit: Bellagio/Joël Robuchon
Christophe de Lellis – Executive Chef, Joël Robuchon, age 28
We were fortunate enough to dine on a quiet Sunday evening at Joël Robuchon, exceptional restaurant, conceptualized by Robuchon himself. But, the responsibility for the cuisine falls to Christophe de Lellis, the young Executive Chef.
We had the honor of dining in this restaurant, and discussing, with Mr. de Lellis, the mission and vision behind the exceptional food we were served. As I was tasting our first course, the Oscetra caviar served atop of king crab in a crustacean gelée dotted with cauliflower puree
I asked him about the ease or difficulty he has found in educating the American palate to the tastes of classic French cuisine.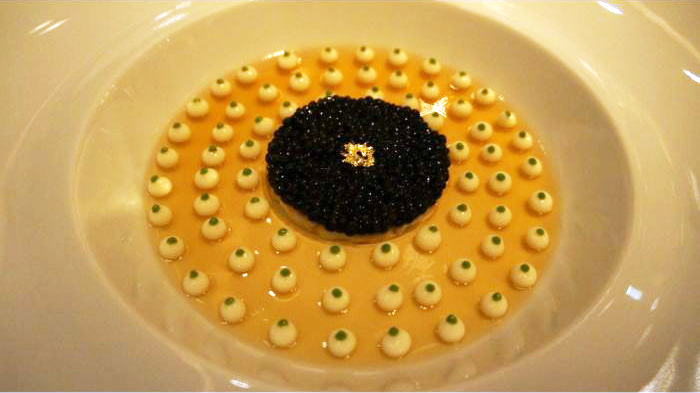 Photo Credit: Susan Kime
"This is something I was able to learn from Mr. Robuchon," he answered, "We take into account the palates of the guests, and we do try to build our menus to satisfy every guest—from vegans to more adventurous diners."
He further explained that menus are changed more than once a season, "… because we are constantly conceptualizing new and inventive dishes, as well as the freshest, in-season produce.
"A classic example is the morel mushrooms which are currently in season. We will be highlighting them alongside a gorgeous veal that we found in Pennsylvania.
"But then," he added, "One of the most exciting new finds that will soon be incorporated is a 6-month old Salt Meadow Lamb which is dry aged for 7 days. It has an amazing texture and flavor profile which we weren't able to get in the U.S. until now. Because of the constant evolution in farming techniques, we are on receiving end of these exciting new products which constantly challenge us to present them in innovative ways."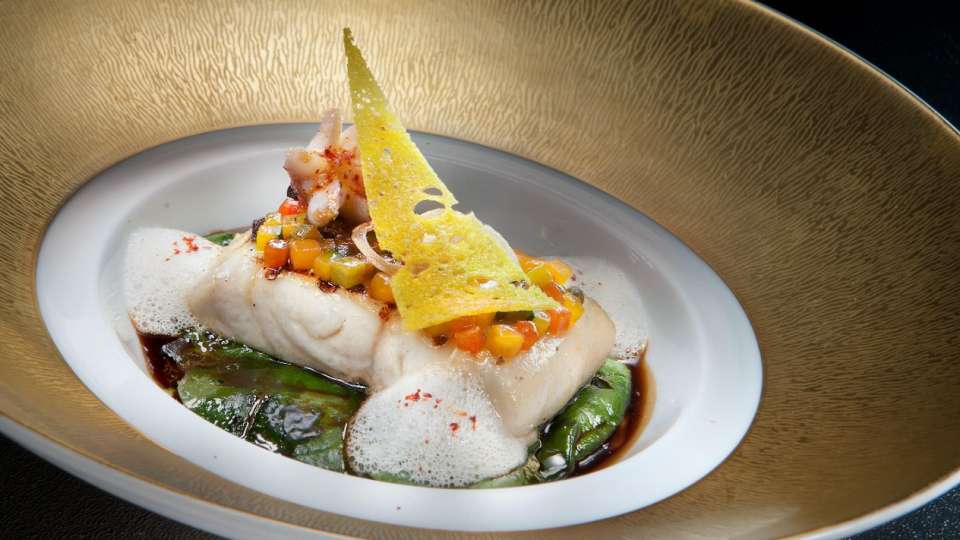 Photo Credit: Joël Robuchon
Finally, I asked about what he learned in a recent, high end culinary education enclave in Washington D.C.
He explained that one of the great facets of working for Joël Robuchon is the knowledge that "…what we do every day can continually be perfected. I'm currently working with our pastry chef, Salvatore Martone, to see where we can introduce and utilize the technique of cryo-concentration to form a 'perfect' macaroon every time."
"This technique is a glimpse into the future of the culinary world as it allows us to extract an extremely concentrated flavor out of any fruit or vegetable. We have the capability with this technique to also limit food waste, which is an important part of our attempt to improve not only our business model, guests' experience and food quality, but the sustainability of our restaurants. It is an exciting time!"
Jamaal Taherzadeh – Executive Chef, Libertine Social, age 34
Though Jamaal's name is Persian, he was born in Texas, where he grew up in a family of great cooks and restaurateurs. Taherzadeh started his career as a sous chef at Ciudad C.F. in Dallas, and then moved to Las Vegas to be a line cook at Nobu, and then a sous chef at the now-defunct Simon Kitchen & Bar at the Hard Rock Hotel.
He is now the Executive Chef at Libertine Social, a great, high end-Gastro-Pub at Mandalay Bay in Las Vegas. His tastes, by his own admission, have a worldly texture to them. They are unusual combinations of tart and less tart. A perfect metaphor for his unique ways of flavor combining is the most unusual Caviar Fried Egg. The presentation was memorable: in a hardened boiled eggshell. The top of the sliced egg shell had Kaluga caviar but below it was a slightly sweet concoction that tasted familiar but foreign. Discovered it was a soft corn pudding. Quite unusual, yet the tastes blended together well. It takes a risk-tolerant chef to combine corn and caviar.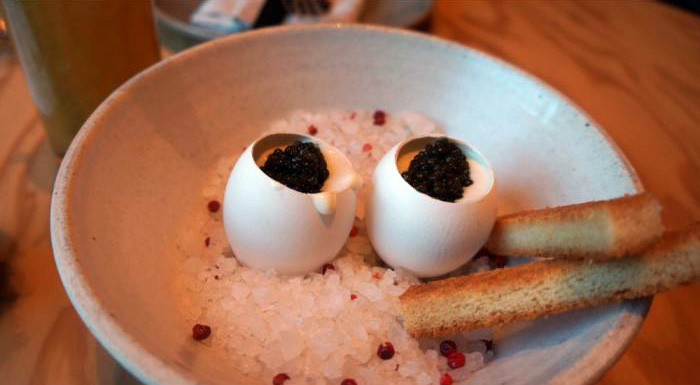 Photo Credit: Susan Kime
Libertine Social offers innovative dishes which showcase Taherzadeh's vast knowledge of diverse cuisines, cooking techniques, and sustainable sourcing. Also, an unusual combination of texture and taste were the shaved Brussel Sprouts with bacon, pear, almonds and cider vinaigrette. His beef short ribs and spare ribs, also combined uncommon tastes, as he added chili glaze and a touch of Pomegranate Molasses, a Persian staple.
"My work is constantly evolving, and I do like to try different taste combinations. My background combines the rich taste palette of Persian food – with a lot of what I grew up with in Dallas, Tex-Mex. So, I love combining spicy with subtle, and much of our menu shows that – our market oysters have a Tequila Mignonette with a Tabasco gel, our spare ribs have a Thai chili glaze, but the taste becomes a little different with with lime. I see our menus as a kind of an ever-changing culinary puzzle, which is taste-liberating, and basically fun."