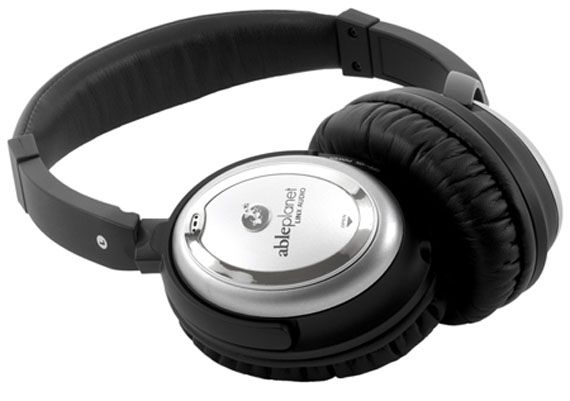 Photo Courtesy of Able Planet
A few years ago, I worked for a high end glossy print publication, where I was asked what three products are necessary for long distance, comfortable travel. I had to think seriously about this, because my immediate answers were those for short trips: a bottle of water, a health bar and Tums.
But for those longer trips, my answers were different: a comfortable, long, dark cashmere or rayon scarf that I could put around my shoulders and neck to block out air conditioning cold; a lumbar pillow that could double as a neck pillow if I traveled economy; and probably most important, a good set of headphones so I could listen to an iPod, or just cancel noise, whether it be airplane engines, or seatmate chatter.
I had heard about Able Planet's Clear Harmony Headphones before, because of their patented LINX audio technology associated with their hearing aids. As I was looking at three upcoming trips, two short, one long, in the near future, I decided to order a pair and test them out. They were expensive - over $300.00 a pair, but so were the others. And this time, finally, I got what I paid for.
When I first used them, I did so only to cancel out airport, airport crowd, and airplane noise. I then wore them consistently on the three trips I had taken - the earcups were firm but not tight, I did not get headaches, and the noise cancelling abilities were exceptional. I discovered later from a tech magazine that noise from the
Able Planet Clear Harmony headphones
is reduced by 18dB, or decibels.
The active noise cancellation can be turned on and off using a switch that can be accessed on the rear edge of the left earcup, so I could switch the noise cancellation function off if I had to communicate with others at the airport or on the plane.
The earcups fold down flat for storage. The included carrying case comes with a 0.25-inch jack and two-prong airplane adapters. The case also includes a molded compartment that perfectly fits a full-size Apple iPod. Which brings me to the music. So, this is the magic part, as I have no idea how this is done, as I am not a sound electrician, or a tech geek. But even with the noise cancellation switched off (and if the two AAA batteries that power the headphones are removed), the Clear Harmony headphones still can play music. And the music had a clarity and crispness that is exceptional, which was really all I wanted.
With these headphones, I received the best of all possible worlds while traveling: peace and quiet or personally selected soundscapes. It is no wonder they have garnered multiple awards:
T+L 2011 Tech Award for Best Headphone
, The European Consumers' Choice, and three awards from International CES. Since 2006, they have garnered 26 awards for the audio technology products, all beginning with the benevolent interest to help the hearing impaired.