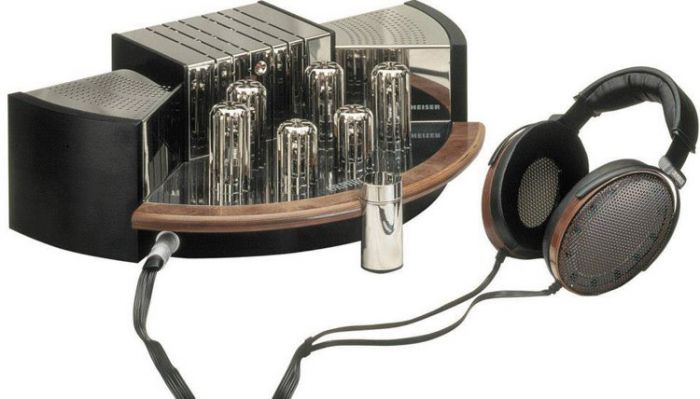 Photo Courtesy of Sennheiser
Those ubiquitous white cords dangling from ears everywhere or even celebrity endorsed earphones may make many forget that there are other options for listening to music — some
very
expensive options. Listed as one of the world's most expensive pair of
luxury headphones
, with some (but not all, of course) saying they are the best they've ever listened to – the elusive Sennheiser Orpheus HE90 headphones were on hand at the 2013
International Consumer Electronics Show
for eager ears wanting to hear if price matches quality.
This was a special occasion for those wanting to experience the capability of these electrostatic headphones, as they were produced in a limited batch, 300 to be exact. Typically sold now for the price of a car, these aren't for your treadmill workouts. The Sennheiser Orpheus is hand assembled and constructed with gold plated contacts, which we might forget in this day and age works as a great conductor. It also comes with an eye-catching 90-tube amplifier which powers the headphones, and with its chrome finish and stylish construction, would alone sit well in any open space.
Reviewers commonly remarked that the comfort of the set is ideal for long-term use. The ovular design and size of the earpieces – covered with a retro metal mesh – is well suited for wear, and the leather cover gives way to cloth where they rest on the ear. With a maximum output of 118dB, reviewers seemed to applaud the mid to high tones of the audio, while commenting that it lacks a strong bass element.
Originally introduced in 1991, the HE90's are only available in a limited edition batch. It is very likely that besides the high quality of the headphones, its small numbers have driven up the price significantly as they are estimated to be between $30,000 - $40,000, and are sought after and owned mostly by collectors and financially endowed audiophiles. Look for them at next year's trade show and hear what the most famous headphones have to offer.