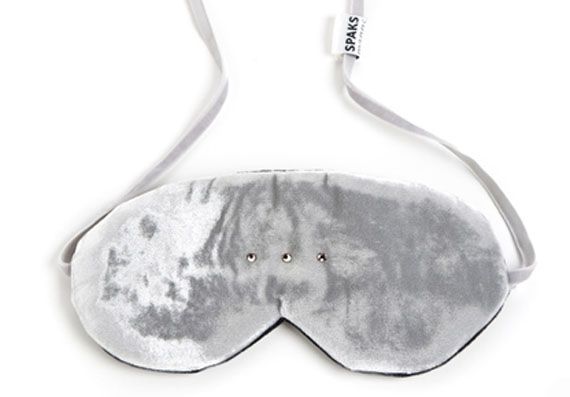 Photo Courtesy of SPAKS
Finding fabulous gifts for moms who seemingly have it all can be a challenge at best. But, one need not spend a fortune to show her your love and adoration on
Mother's Day
. Consider this assortment of glam gifts - traditional favorites in perennially popular Mother's Day categories: accessories, jewelry,
electronics
, home spa and chocolate.
Swarovski Crystal Beauty Sleep Eye-Mask from SPAKS - $69
This ultra-plush Swarovski crystal embellished eye-mask (pictured above) effectively blocks out light, making it easier for mom to sleep or rest at home or while traveling. The mask secures around the head with a soft elastic strap and gives a whole new meaning to the phrase "beauty sleep." The eye-mask will gently conform to her face and forehead while the soft elastic strap stays perfectly in place. The crystal embellishments add a touch of luxury for any sleep-deprived mother.
Fair Trade Thai Silk Scarves $85 - $95
This most talented artisan group in Northern Thailand creates original silk shawls by feeding mulberry leaves to silk worms, unraveling the finest silk threads, then dyeing and weaving this hand-washable silk. These artisans continually experiment with new dyeing techniques and weaving methods to create original and stylish silk
scarves
and shawls that can be worn on all occasions and are eco-friendly.
Lavender Freshwater Pearl Jewelry - $35 - $94
Mom will absolutely adore these near-round, AAA-quality 6.5-7.0mm pearls that have a natural, lavender body color, along with brilliant, rich overtones and smooth surfaces. These lustrous pearls have not been color treated in any way - this lovely hue is only naturally found in freshwater pearls. The stud earrings are mounted on solid 14-karat gold posts. The bracelet features pearls that are individually knotted on silk thread, measures approximately 7.5 inches in length, and is finished with a 14-karat gold filigree clasp. The necklace measures approximately 16 inches in length and is also finished with a 14-karat gold filigree clasp. Operating primarily online, Pearl Paradise has grown into the world's largest online pearl company known for offering prices 80 percent below retail.
Brighton Jewelry - $46 - $62
Brighton's Family Fun 'Mom' Locket Necklace is part of its Family Fun collection. The necklace converts from long (37 inches) to short and features a classic oval-shaped locket. The front of the 2 ¬ľ-inch pendant is etched with the word 'Mom' and accented with
Swarovski
crystals. Inside, the locket is etched with the words: "I love being a mom" and "I love my family." Brighton's Marston Charm Bracelet features eleven openwork charms showcased on a sleek, polished link bracelet creating a delicate yet modern silhouette. Mom will love these wire-like hearts that are irresistibly feminine. Details of architecture from a craftsman estate inspired this curvilinear piece designed for every woman who's a romantic at heart. Matching earrings and a necklace are also part of the Marston collection.
iP37 Portable Speaker System for iPhone/iPod - $79
Mom can take the iP37 with her anywhere she goes and let the music play! iHome Audio's iP37 features high quality stereo speakers and a class D amp for big sound in a compact protective speaker case, and is available in purple, blue and black. The splash proof material and heavy duty zipper protects against weather. It operates on four AA batteries or on the included 100-240VAC adaptor. Perfect for travel or any informal setting. There is also a line-in jack to play any audio source.
Chocolate Layer Cake Spa Set - $67
Doesn't every mom love chocolate? A unique twist on the traditional chocolate cake, this variety will relax and soothe without adding inches to the hips. The Chocolate Layer Cake Spa Set from Edible Gifts Plus is the perfect gift for moms in need of relaxation. The bath and body products wrapped inside all contain shea butter, a wonderful and rich ingredient known to soothe and moisturize dry skin. After she's done with this luxurious spa experience or, perhaps, during, she'll get swept away by the double chocolate truffle hot cocoa mix. This unique towel cake includes a luxurious bath and coordinating face towel, body, cream, body wash, lip balm, chocolate scented tea lights and pure shea butter.
One Dozen Gourmet Chocolate Dipped Strawberries - $49
The best way to mom's heart is with this decadent treat. She'll thoroughly enjoy 12 of Edible Gifts Plus' Famous Chocolate Dipped Strawberries in a variety of chocolates and toppings: Dark, White with stripes, Coconut, Almonds, Sprinkles and Chocolate Chip. Decorated for the special occasion and packed in a beautiful corduroy gift box.