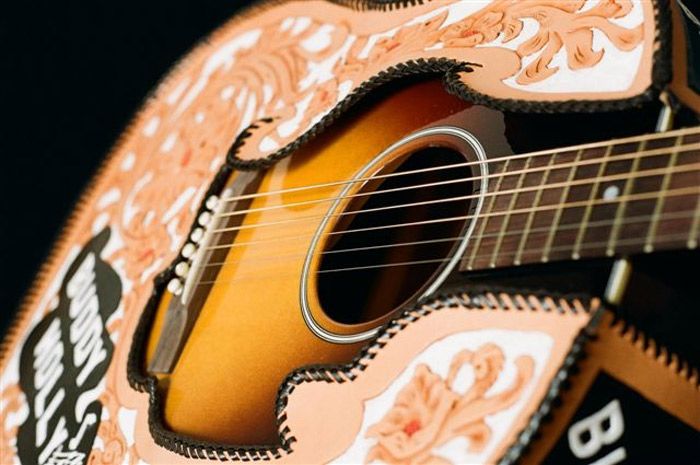 Photo Courtesy of Julien's Auctions
The items to be sold at the upcoming Sports Legends and Music Icons event by Julien's Auctions are likely to interest collectors and enthusiasts alike. The two-day
auction
will take in Beverly Hills, California, from June 23ó24, 2012. A document owned by John Lennon, a signed registration card for a Rolls-Royce, dated June 3, 1965, is projected to fetch $20,000 to $30,000 when called to the gavel.
A replicated J-45 guitar (top) celebrating Buddy Holly's 75th birthday is among the top lots of the auction. The Buddy Holly Foundation created the guitar in conjunction with renowned luthier Alister Atkin. The pre-auction estimated selling price of the musical instrument is between $10,000 and $20,000. Other noteworthy music-related mementos going to auction include a stage-worn vest of
Lady Gaga
.
Designed by Vera Thordardottir, Gaga wore the vest while performing at Elton Johnís 2010 Tie and Tiara Ball. A sleeveless tee-shirt worn by the Rolling Stoneís Keith Richards during the bandís 1981 American tour and the making of the concert film,
Letís Spend the Night Together
is expected to sell between $1,000 and $2,000. Additionally, custom-made jewelry pieces designed for the King of Rock, Elvis Presley, are among the lots.
The top piece is an "E.P." medallion, made of 14 karat gold and loaded with diamonds, which was given to Elvis in 1974 on a stage in Las Vegas. Its pre-auction expected price to sell is between $25,000 and $30,000. The Sports Legends collectibles lineup include a pair of game-worn and signed shoes by Michael Jordan, a 1952 Mickey Mantle Topps rookie card, and a skin suit worn by Lance Armstrong in the 2003 Tour de France.
The Jordan shoes are expected to fetch up to $6,000. The Mickey Mantle rookie card is expected to sell for between $6,000 and $8,000. The Lance Armstrong's skin suit is pegged between $7,000 and $10,000.
To learn more visit
JuliensAuctions.com
.