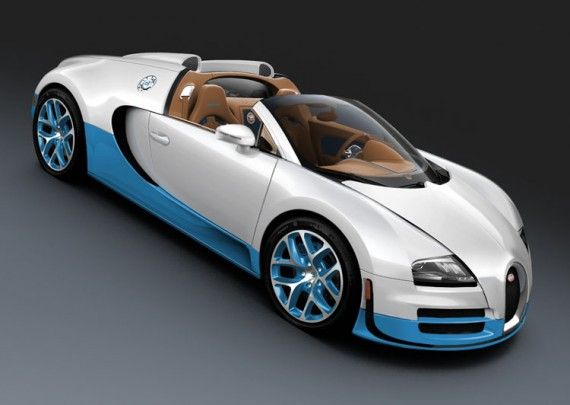 Photo Courtesy of Bugatti
A company like
Bugatti
- and let's face it, there aren't many companies like Bugatti - allows its customers to choose the colors of just about every detail on the car. That results in an infinite permutation of color combinations, and means that not two Veyrons need ever be alike. Still, the Alsatian automaker revels in releasing one-of-a-kind special editions of its record-breaking supercar, and this is the latest.
Unveiled this weekend at The Quail gathering during Monterey Auto Week, this particular Bugatti Veyron 16.4 Grand Sport Vitesse features a Bianco (white) and New Light Blue color scheme that pays tribute to a particular 1928 Bugatti Type 37A that won several grands prix in its day and now rests in the private collection of one
Jay Leno
.
The Vitesse model combines the best attributes of every Veyron model that came before it, pairing the 1,200-horsepower version of Bugatti's epic 8.0-liter quad-turbo W16 engine from the record-setting Veyron Super Sport with the open-roof body-style of the Grand Sport roadster. Together they amount to a 2.6-second 0-62 time and a 233 mph top speed - with the wind in your hair. Or rather, the hair of whoever can afford such an extravagance.
To compliment its heritage color scheme, Bugatti gave this particular example a Cognac leather interior with blue trim to match the exterior. Even the wheels and deployable rear wing are done up in the special shade of blue. And while, as we opened, any Veyron buyer can specify the colors of each and every part of his or her new seven-figure ride, this factory-specified color scheme will ensure that this special edition will remain something of a collector's item. The car is being made available through Bugatti of Beverly Hills for 1.74 million euros.
For more information visit
BugattiOgaraCoach.com