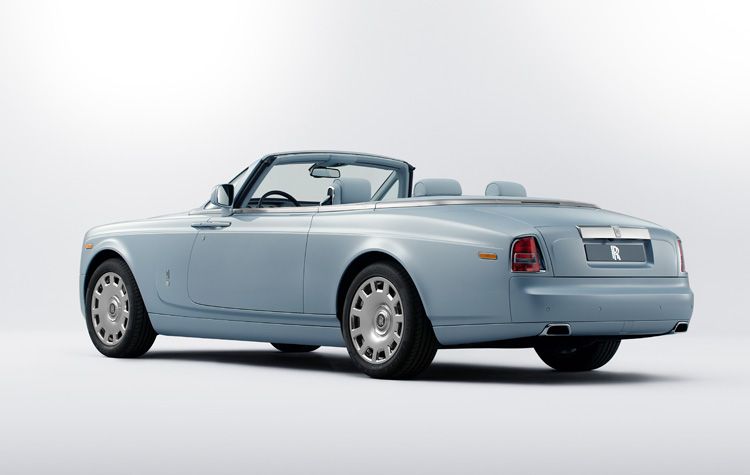 Photo Courtesy of Rolls-Royce
For nearly a century now, Art Deco has been the inspiration for many areas of design, including architecture, interior design, fashion and film, so it should come as no surprise that this glamorous and modern art form has finally infiltrated the world of
luxury automobiles
.
At the
Paris Motor Show
2012, Rolls-Royce proudly presented their selection of vehicles that celebrate the Art Deco era, including the highly personalized Phantom Saloon, Phantom Drophead Coupé and Ghost models. The series celebrates this influential era for art and pays homage to the 1925 Paris Exhibition, or Exposition Internationale des Arts Decoratifs et Industriels Modernes, that first gave the art movement its name.
For the Phantom Saloon, Rolls-Royce designers went with a crisp, white interior with contrasting black accents, with a suite of intricate detailing, stainless steel inlays in the telephone drawer, door cappings and rear picnic table backs that cleverly call to mind Art Deco and the decorative style of the period. The geometric coachline pattern – a design conceived by Rolls-Royce – even further evoke the ornate art style. Customers can choose between exterior colors of infinity black, Arabian blue, powder blue or Arctic white.
Moving over to the Ghost, the company presents us with an effortlessly elegant two-tone vehicle, featuring sleek silver that lies atop a rich, cobalt blue. The interior displays a beautifully crafted wood veneer in both the front and rear, and styled with handcrafted inlays, along with an Olympia-inspired motif on tread plates and headrest embroidery. Finishing off this exclusive collection, the Phantom Drophead Coupé is a true vision of style and sophistication with its mother of pearl onlays that complete the line-up.
"In Paris we have elegantly captured the essence of one of the great periods in 20th century design," said Chief Executive Rolls-Royce Motor Cars, Torsten Müller-Ötvös. "These Art Deco-inspired motor cars stand as a testament to the breadth of the Rolls-Royce bespoke offering, reinforcing the marque's position as the world's leading manufacturer of luxury goods."
In true Rolls-Royce fashion, only the very finest materials were used to craft these modern vehicles, leaving you with a finished product that seems to perfectly combine traditional Rolls-Royce class and style with unique artistic elements.