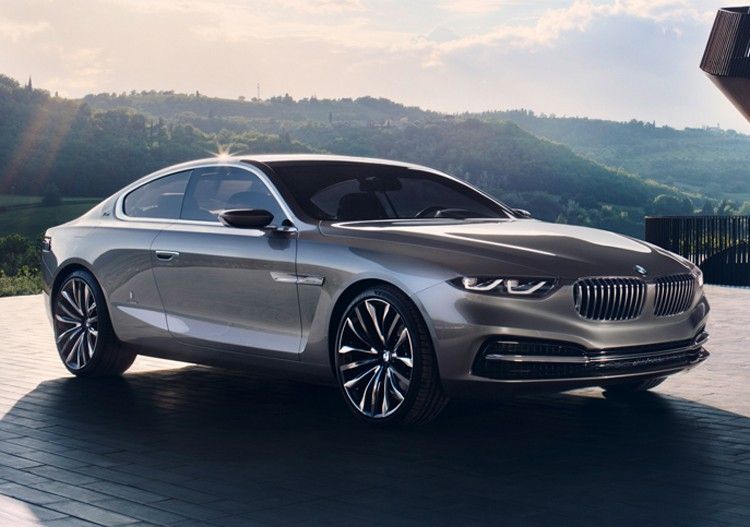 Photos Courtesy of BMW
While numerous luxury automakers turn to Italian design studios to put a fresh spin on their vehicles,
BMW
has traditionally handled its design almost exclusively in-house. It broke with convention with the debut of the BMW Zagato Coupe concept at last year's Concorso d'Eleganza Villa d'Este and the Roadster version that followed at Pebble Beach a few months later. This year it returned to the prestigious Italian concours, which it incidentally sponsors, with their Pininfarina Gran Lusso Coupe concept.
Designed in collaboration with the famed Italian design firm
Pininfarina
, the Gran Lusso Coupe envisions a return of the long-dormant 8 Series model line with an elegant two-door form that blends the best stylistic elements of the Italian firm and the Bavarian automaker — including the latter's trademark "shark nose" with twin-kidney front grille and pillarless side glass.
The elongated form encompasses a long wheelbase, as well as short front and rear overhangs, with oversized 21-inch wheels and a long hood under which sits BMW's V12 engine. Although exact powertrain details were not disclosed, the twelve-cylinder engine in the 760i luxury sedan displaces 6.0 liters and incorporates twin turbocharges to produce 540 horsepower and 550 lb-ft or torque, driven through an eight-speed automatic transmission to the rear wheels.
Perhaps best known for designing a long line of vehicles for the likes of Ferrari and
Maserati
, Pininfarina didn't skip over the interior design, either. The Gran Lusso Coupe incorporates a four-seat cabin with a dashboard canted towards the driver and is upholstered in two-tone Foglizzo leather in black and tan. The upholstery is complemented by kauri wood from New Zealand, deep-pile carpeting, and an Italian virgin wool headliner with white LEDs adorning the inside of the expansive moon-roof.
"The result of this cooperative venture is far greater than the sum of its parts," said Pininfarina chief designer Fabio Filippini. "When two such tradition-rich and experienced brands join forces to turn a vision into reality, something utterly new and exciting emerges. From start to finish, this project was defined by a mutual respect for the identity of the other company."
Although — as with the previous Zagato concepts —
BMW
has not given any indications of the Gran Lusso's production prospects, industry sources are anticipating that the German automaker could incorporate much of the design into a new 8 Series. The last time it offered such a model was in the 1990s, but a new 8 Series could slot in above the current 6 Series to compete with the Mercedes-Benz CL-Class and its successor, expected to be based on the new S-Class luxury sedan.