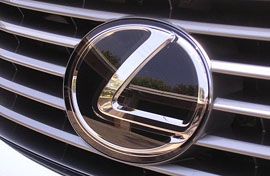 Luxury Car News:
Here's some good news for Toyota. Lexus, its luxury division, ranks highest in customer satisfaction with dealer service among luxury brands. The Hummer ranked highest in the mass-market brands category in the J.D. Power and Associates 2010 Customer Service Index Ranking.
Lexus
also received this commendation last year. Looking at the scoreboard, Lexus beat Cadillac by 10 points with an 837 out of 1,000 rating.
Jaguar
,
Acura
, and BMW round out the top five in the class.
Cadillac
and
Mercedes-Benz
posted the greatest improvements over 2009 statistics.
Criteria used to rate brands are quality, initiation of service, service advisor, and service facility. Overall satisfaction with dealer service increased to 767 from 761 in 2009. The overall gain of less than one percent marks the tenth consecutive year that overall customer satisfaction increased.
Price check: Would a C+ on your report card be acceptable? I'm just saying.