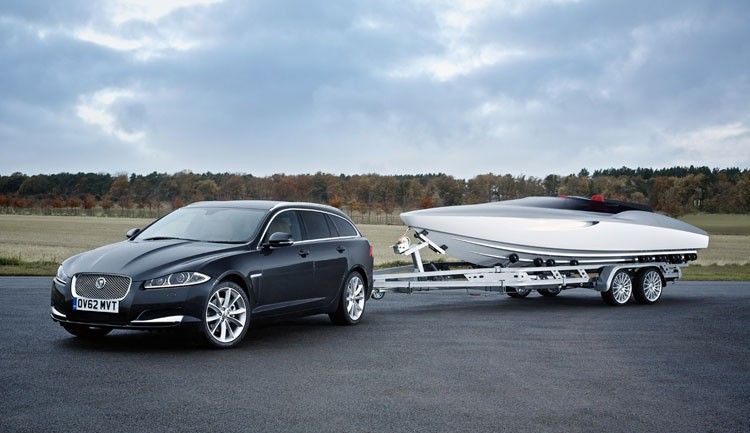 Photo Courtesy of Jaguar
Everyone knows there's more than one way to skin a cat, but it's knowledge no less commonplace that cats don't typically like the water.
Jaguar
, however, is not one to follow convention, braking with it at the press launch of its new XF Sportbrake.
Towed behind the new luxury wagon was the British automaker's take on a
speedboat
design, bearing all the hallmarks of a Jaguar design but in an entirely different form.
Penned by Jaguar design director Ian Callum and his team in Coventry, the Concept Speedboat measures 20 feet overall, with a gel-coat fiberglass hull, teak decks and a unique carbon-fiber fin that extends aftward behind the captain's seat to recall the shape of the classic Jaguar D-Type. Its cockpit envisions a 2+1 seating configuration decked out in red (a rather striking combination against the grey hull and aforementioned teak deck), with exquisite details like a polished aluminum propeller, a finely-crafted fuel filler cap and a pop-up mooring post.
The overall design looks rather striking, but try not to like it too much: Jaguar apparently has no intention of building such a craft, using it instead as a showpiece for what its design department is capable of dreaming up when the road ends and the sea begins.