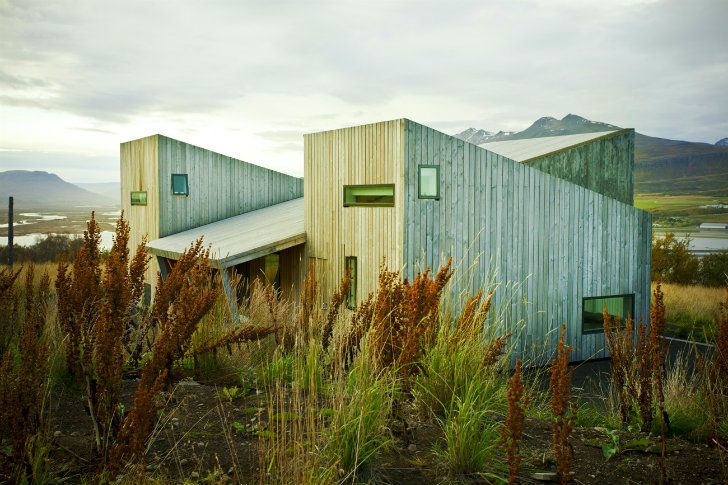 Courtesy of Arkis
If you ever find yourself in a town called Akureyri, Iceland, and happen to wonder across the bay, you may stumble upon a wood structure that nature could have easily constructed herself. Boasting unrestricted views of mountains to the north and south, Villa Lola is a uniquely formed, modern cabin built of low maintenance materials.
According to
Arkis
architect, Dezeen,
"One concrete wall increases the stability of an otherwise wooden stud-framed structure, which is lined with plasterboard on the walls and either wood or concrete terrazzo on the floors,"
This
luxury home
is divided into three separate apartments. Adhering to the clients requests, the architects designed each apartment with the option to enlarge or reduce the space as needed. The roof mimics the natural surrounding landscape with three distinct peaks that point upward forming a valley between the roof slopes.
All three apartments contain a first-floor mezzanine and a living room facing out across the bay. Great care was taken during construction to protect the working space around the building, preserving the natural landscape while ensuring waste was recycled properly.
Japanese solutions in spatial efficiency , a sea ranch in Sonoma County, California and Swiss mountain cabin design all played a part in Villa Lola's
architecture
. The result is an intelligently crafted cabin in a serene and untouched corner of Iceland.