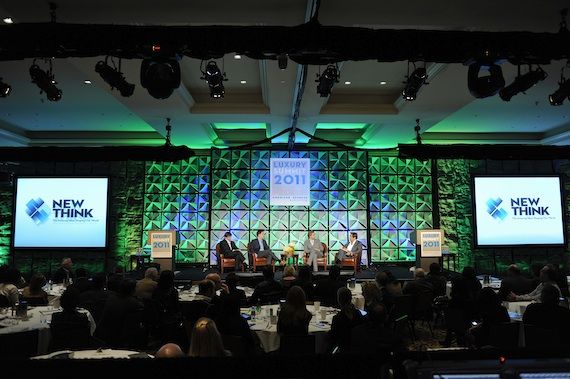 Photo Credit: Riccardo Savi
A Global Youthquake, Business Transformation &
The Myths of Social Media
Similar to creating a real tapestry from diverse, colored threads, creating an ideas tapestry is equally complex yet compelling.
The American Express Luxury Summit
created such a tapestry, consisting of multiple, diverse ideas dealing with the evolution and revolution of the meaning of luxury, as it was felt and known by constant, as well as emerging populations.
The title of the Summit was "New Think: The Amazing Ideas Shaping Our World." JustLuxe has already reported on the luxury research presented by Dr. Jim Taylor at this conference, and have
interviewed Christophe Georges
, President and COO of Bentley Motors, Inc. Here are more,
certainly not all
, ideas that were thought-provoking, challenging, and memorable at this seminal event.
Christopher Dickey, Paris Bureau Chief And Middle East Regional Editor,
Newsweek
. His presentation was entitled
The Revolution This Time: How A Global Youthquake is Turning the World (also luxury) Upside Down.
Chris is a substantial journalist who has covered recent wars in the Middle East and has written many books. He provided some breathtaking statistics about how young the developing world is getting, and how many young people just don't have patience or interest in old regimes anymore. As an example, he said, "Hosne Mubarek, in my opinion, did not know his people anymore. In Yemen, Libya and Egypt, the median ages are between 16 and 20." He went on to say there is a correlation between a desire for regime change, and a desire for luxury after the change has been implemented. "This is the relationship between revolution and luxury," Dickey hypothesized.
He continued to discuss personal examples of how the definition of luxury has changed for him, over the years. After difficult days covering conflicts, a hotel's turndown service defined luxury for him. After a hot day, the taste of Coca-Cola became a luxurious reality. Generalizing further, his ideas on the changing meaning of luxury seemed to resonate with the Luxury Summit delegates, making them ponder on what luxury actually means to them. Many agreed it related to the availability of more time, with family, on vacation, at a spa, being pampered in some unexpected way - personal things, not completely associated with new products, cars, or fashion.
Raymond Bickson, Managing Director, CEO Taj Hotels Resorts And Palaces spoke on
Brand Architecture, Business Transformation.
On a completely different note and on a different day from Dickey's presentation, Raymond Bickson and his colleagues, Ajoy Misra, SVP, Sales And Marketing, Taj Hotels, and Lulu Raghavan, Country Director, India, Landor Associates, discussed the how/why, problem/solution trajectory related to changing the brand architecture of the historic Taj Hotels Resorts And Palaces.
This experience of Taj, was a seven year brand exercise, written about in a recent Harvard University study, where the result was the introduction of a new hotel brand architecture to adjust to the issues of rapid hotel growth, domestic population expansion, and a terrorist attack on one of their hotels, the historic Taj Palace Mumbai, in 2008.
"One of the great challenges was trying to manage the customer experience while trying to rebrand," Bickson commented,. "So, our story is about reinventing tradition. First, the Taj all started with one hotel: the Taj Palace in Mumbai. "From 1903 until 1971, just one. And that one welcomed kings and queens. It was where Ravi Shankar taught the Beatle, George Harrison, how to play the Sitar."
But then, he continued, the Taj brand, evolved quickly with the times. Ajoy Mishra added, that the Taj's growth was moving
too quickly
, often at the expense of the brand. In other words, he said, the new hotels were often not building equity into the Taj brand. And the Taj brand was in danger of losing synonymity with luxury. What was the solution?
It took seven years to move the solution from theory to practice, but with the help of Landor, the international brand consulting firm, they moved the Taj brand from being a monolithic to a more scalable brand, that encompassed three new brands.
"The model," as Mr. Mishra said, "was similar to the sun and planets, with the sun as the major brand, Taj Hotels, Resorts And Palaces, and the new brands being the planets revolving around the sun."
The new Taj brands are:
Vivanta By Taj
- upscale, geared toward the younger, population. A five-star hospitality brand, it is currently comprised of 19 hotels in India and the Indian Ocean region, Vivanta By Taj incorporates hotels in key metropolitan areas as well as popular holiday destinations. The first Vivanta by Taj formally opened this month, though the brand was formally launched last year.
The Gateway Hotels
- This brand is geared toward the upscale/mid-market, it is a pan-India network of hotels and resorts that offers business and leisure travelers a hotel divided into seven simple zones: Stay, Hangout, Meet, Work, Workout, Unwind and Explore.

The Ginger
- This economy brand is an IHCL(Indian Hotels Company) entity, and though it has no obvious linkage with the Taj Hotels, Resorts And Palaces Brand, it is owned by the same company. The Ginger is a brand targeted to travelers who value simplicity, economy and self-service.
These new brands leveraged and expanded the Taj brand identity, and now extend to all segments of the Indian traveler population, 524 million, as well as other members of the world traveling population, in the billions.
Finishing the discussion with a humorous understatement, Bickson said, "Branding exercises are not for the faint of heart."
Curtis Houghland Founder and CEO of AttentionUSA, spoke on
The Myths of Social Media.
His company is a social media marketing communications agency with a significant luxury client roster, including David Yurman, Neiman Marcus, Herman Miller, Hilton Worldwide, Estee Lauder, and many others. He discussed how many myths have emerged with the intense advent of social media, as well as the functions of social media, explaining that understanding social media as an attention-creating device is but one function.
The other is understanding the next functional iteration, is word-of mouth. His assessment is that a major function of social media is spreading the word. Or, as he said, "social media is the plumbing for how word of mouth spreads."
Many have said that luxury consumers do not use social media. Yet, according to the latest research, said Curtis, luxury consumers do indeed use social media, but in different ways from other consumers. They look at brands over time rather than commit immediately to them, and older social media users are among the most active.
"Also," Curtis reports, "luxury consumers are now not visiting luxury websites as much as they used to. They are using social media sites through distributed, not through centralized websites." In addition, he said, "
luxury brands
must create a branded experience across the customer journey, and that in-store and online channels should not be separate."
Finally, the customer journey appears to be a self reflective loop, bringing consumers back to why a major function of social media is word-of-mouth. The beginning of this journey deals with the consumer's product or service awareness, that leads to consideration of purchasing, then to acquisition, then to loyalty, then the advocacy, that brings the customer's experience through word-of-mouth, back to the beginning, to influence others' awareness.
Many more ideas and concepts emerged at this Summit, including redefining inspirational consumers (vs. aspirationals) as sophisticated globals; and discussing the next generation of effective story-telling, or marketing messaging that includes defining global brands as those with deep connections based on heritage and legacy, and by telling a story behind the credentials. Brands must be multi-channel, with traditional media coupled with new media.
There were panels highlighting presentations discussing the multi-dimensional components of the rise of the emerging global super elite and uber luxury populations, in the BRC (Brazil, Russia, China) countries and others, with the wealth dimensions, interests, and most effective marketing strategies regarding this group.
Finally, the Luxury Manifesto was introduced by John T.A. Vanderslice, Global Head, Luxury & Lifestyle Brands, Hilton Worldwide. It is a video series featuring conversations on the changing face of luxury with global thought leaders including restaurateur Danny Meyer and Steve Sadove, CEO of Saks Inc., among others.
{start-jlvideo}851{end-jlvideo}