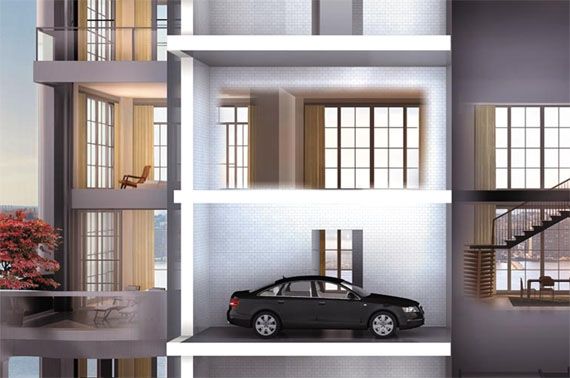 Photo Courtesy of 200 Eleventh Avenue Residences
The Knight Frank Wealth Report 2011 states unequivocally that even in a capricious world economy, there are a few things that do not change. John Styles, head of fund management at Knight Frank Investors, says confidence is returning, and direct investment into residential and commercial real estate is the most favored option.

That said, a perfect example of how well confidence is returning is the news that the Porsche Design Studio, headquartered in Zell Am See, Austria, and prominent New York/South Florida developer Gil Dezer of Dezer Properties and Dezer Signature Brands, recently announced a master licensing agreement to expand the Porsche Design Studio?s luxury brand reach into the Florida residential real estate market.



The venture?s first proposed project will feature a 57-story ultra-luxury tower called The Porsche Design Tower, complete with a sky garage, in Sunny Isles Beach. This tower will showcase a one-of-a-kind robotic parking system, allowing owners to park their vehicles in sky garages directly next to their units. It's a first for Florida, but not so much for New York City.

The sky garage has already become a lucrative amenity in Manhattan. A lavish, 19-story building at 200 Eleventh Avenue is nicknamed 'Sky Garage' for the auto elevator (seen above in artist rendering) that allows residents to drive in, hop the lift and park their cars on their own floors, right next to their town home. The units are two stories each, and if the owner has no car, he or she can use the garage space as storage or a studio.


Because a high profile person can drive right in without being seen in public, this building has drawn in many A-list celebrities; Nicole Kidman, Kelsey Grammer and Domenico Dolce (of Dolce & Gabbana) have already bought in. For how much? The space is 2,360 square feet, the private sky garage is 332 square feet, and as of this posting, the prices range from $6 million to $29 million for the two penthouses. All have been sold and a few are up for re-sale. This New York success is no doubt a major motivator for The Porsche Design Studio and Dezer Properties in Florida.

Plans for the Tower have already been approved by the City of Sunny Isles Beach. Units at the Porsche Design Tower will range from 3,800 to 9,500 square feet. More than one-half of the units feature a duplex layout, with the ocean-facing units including a private pool. Porsche Design Tower units are expected to range in price from $2.9 million to $9 million.



"I could not envision a more exceptional project for our brand," says Dr. Juergen Gessler, CEO of the Porsche Design Group, recently. "The Porsche Design Tower will represent our company commitment to both engineered luxury while delivering technically inspired products, like the state-of-the-art parking system."

The proposed building, to be located on a 2.2 acre parcel at 18555 Collins Avenue, Sunny Isles Beach, Florida, will feature three circular platforms at the building?s center which operate as passenger-speed 'automobile elevators' equipped with sensors that will take vehicles and their owners to their designated floor. The cars will then be parked at one of 284 robotic parking spaces adjacent to the owners? units. The development will come with three robotic car elevators that will take owners and their cars right to their pads, so they won?t have to get out of their vehicle until they are in front of their unit. Once the car is parked, residents will be able to see it through their living room window.

The elevators employ a robotic arm that works like an automatic plank. It places the car on the elevator and delivers the resident and their vehicle to the appointed floor, where the arm parks the car and delivers the resident to their unit. "What this is really doing is taking two technologies that have existed for centuries and putting them together," said Gil Dezer, president of Dezer Properties. "It?s taking the robotic arm and it?s putting it in an elevator."
"We feel honored to partner with such a prestigious enterprise," adds Gil. "Our development team is confident this building will serve as a catalyst for other Porsche Design Towers throughout the world. Also, there will simply be no other building in the world with such unsurpassed technological and design elements. The design team engaged in conceptualizing the Porsche Design Tower has addressed every imaginable detail a potential owner might anticipate."
As an added note, I interviewed Gil Dezer in 2009 for a high-end print publication. He is young, very courteous, and genial, and with a deep affinity for Porsches. I remember he had seven back then. We toured his home, and at the time, he was installing a 911 Silver Porsche in the foyer of his home, as he thought of it as a work of art as well as an automobile. Here is a video of him discussing the installation.
{start-jlvideo}605{end-jlvideo}