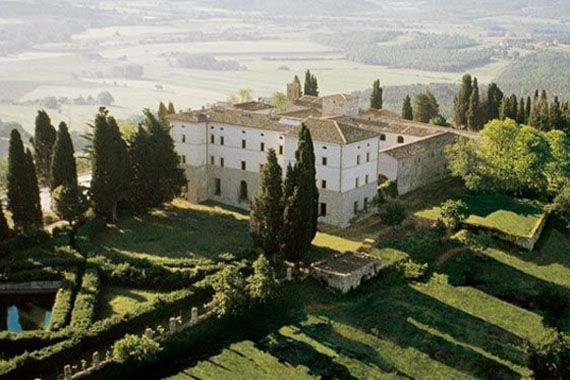 Photo Courtesy of Hotel Castello di Casole
David Burden, CEO and Founder of Timbers Resorts in Carbondale Colorado (43 minutes from Aspen) is no stranger to complex and successful development projects. One Steamboat Place, The Preserve at Botany Bay, The Rocks
Luxury Residence Club
, The Residences At Esperanza, to name a very few, are all dimensions of Timbers Resorts. He is also one of the successful ones, operating a company that did not entropize into ether or ash during the global economic meltdown of 2008-2009. 
I first interviewed David by phone back in 2005 ? seven years ago now ? and though we were discussing the mission and vision of his resorts, he told me about a new project he was considering. It was in the hills of
Tuscany
, and he said it was one of the most beautiful, serene, exceptional places he had ever experienced. It would take awhile, I remember him saying, but it would be worth it, in all ways. It was called Castello di Casole, 4,200 acres in the Tuscan hills, 45 minutes from Florence. It would be a restoration of major proportion.
Having written about the processes of restoration and renovation before, I understood what he inferred. A restoration, in contrast to a renovation is often much more complex, as it is a process that restores the past of a building with materials either taken from that period or materials engineered to appear as if they were from that period. Restoring the sense of the past with an awareness of the present is a complicated architectural and interior design process. And, with the Castello di Casole, there were two parts to the restoration: the Castello (or the Grand Villa or literally the ?Castle?) itself, and the Casali, the 19 farmhouses that surrounded the hills and valleys leading up to the Castello itself. 
Within a few years, the Casali were completed, mixing both modern and traditional ? original stone walls, wood-burning cooking ovens, terra cotta ceilings, glass tiled infinity pools, private patios, all with unobstructed views of rolling hills, olive groves, vineyards, and fig trees. But while the work on the Casali was in process, the Castello was also being transformed. 
The Castello was originally a 10th century villa estate, built by one of the elite families in Siena, but then became home to Luchino Visconti, a famous Italian film director of the 1950s and ?60s. And now, on July 1 of this year, the Hotel Castello di Casole will open to the public. The Castello will offer 41 hotel suites, and will include a 5,400-square-foot Essere Spa with a fitness center and outdoor spa garden; a restored 18th-century chapel, ideal for weddings and private dinners; Ristorante Tosca, for fine-dining; Pazzia gourmet pizzeria; as well as Bar Visconti, an homage to the former owner of the Castello.
I interviewed David Burden recently about this exceptional restoration project.
JustLuxe: What were some of the architectural and design challenges you faced when you first dealt with renovating and restoring the Castello? What were some challenges that came with changing the DNA of the building?
David Burden:
The challenges have been many and arose often, but this rare opportunity for
Timbers Resorts
and our in-house architects and interior design team is one that we would never overlook. Every restoration aspect and detail of this centuries-old magnificent Tuscan property required various layers of Italian approvals. Permits were at times elusive yet the local authorities have respected what we have been doing and in the end have been very cooperative. 
The modern aspects of a very fine hotel needed to be carefully woven into the design and renovation work to ensure a wonderful and authentic environment at Castello di Casole. The result is amazing and provides a true Tuscan feel throughout for our guests to experience, yet with wonderful amenities such as the spa within the arches of one wing of the property, some rooms in the former priests? quarters by the chapel and an Italian designed gorgeous pool reaching out to the hills and towns in the distance. Much of the management team and staff are local, some of whom were born on the property in one of the farmhouses. This is surely a special Tuscan experience that we are proud to present.
JL: How did you and your team conceptualize the interiors so they would remain contemporary, but with an homage to the past? Are there any authentic works of art in the hotel? Etruscan statuary?
DB:
The process of introducing a rich and comfortable interior style that is almost contemporary at times to the Castello while respecting and maintaining the Tuscan architecture that evolved through many centuries at the property was actually pretty typical of what Italian designers often do. Italy is known and respected for an incredible sense of style and good taste. The Italian professionals consistently told us in the beginning of our development adventure here to avoid doing a Disney re-creation of Tuscan life at the Castello. There weren?t bathrooms hundreds of years ago there and no swimming pools and such.
So we let the Italian designers create them with contemporary style and materials such as Carrara marble and their Bisazza tiles. We customized each room or suite with hand-painted chests, utilized rich Italian fabrics and personalized the color schemes in each accommodation. The Castello has been a work full of emotion and appreciation of the Tuscan way then and now by Timbers, and a work of art for the Italians. I think it will be evident to all.
JL: How has the history of the environment become part of the hotel's cachet?
DB:
Castello di Casole has had several owners and residents over the centuries and the fact that the Villa ? now our hotel ? is at the center of the re-assembled several thousand acre property with our restored and to-be restored farmhouses dotting the landscape, its hills, vineyards and olive groves, reminds one of the way such large properties were organized and operated throughout history in Tuscany.
JL: I would also like to know about your favorite components of this hotel: in addition to its substantial history, what do you like best about its renovation?  
DB:
I love Hotel Castello di Casole?s proud and commanding (and almost protective) location on the hill above the overall property. It sits like many of the historic Tuscan towns to be seen from far off and to see a long way in all directions when you are there. It is intimate with its chapels, small pathways and center square, yet it opens to a broad Tuscan view at most turns. It just feels good to be there somehow communicating that you can experience the real pleasures of Tuscan life there.
JL: In your opinion, is this hotel more of a renovation or a restoration?
DB:
 A restoration, absolutely.
Visit
CastelloDiCasole.com
to learn more.
{start-jlvideo}475{end-jlvideo}