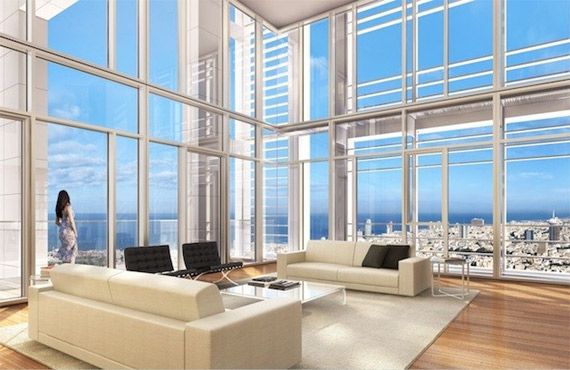 Photo Courtesy of Meier-On-Rothschild
In Alain de Bouton's exceptional book, The Architecture Of Happiness, he argues that the idea of home relates to our own prized internal song. The concept of home, or residence, can be anywhere, but it must serve as a refuge "to shore up our states of mind," and we need rooms "to align us to desirable versions of ourselves, and keep alive the evanescent sides of us."
If this is indeed the case, the concept of residence has grown into a full-blown Wagnerian-like opera from a prized internal song. In a recent (August 31, 2012) article entitled, "Overpriced Real Estate? Well, Maybe It's Art" James B. Stewart discusses the surge in New York real estate pricing where high-end condos, apartments and wholly owned residences have been listed and often sold for multiple millions, the justification being that historically or artistically significant real estate could realistically be considered art.
Photo Credit: Millenium Towers
Mr. Stewart provides both sides of this idea, as many high-end brokers think this is nonsense—they believe real estate is real estate—yet others believe, due to the unusual singularity of a residence often created by great architects and interior designers, that a property could indeed be considered art.

Adding fuel to this emergent UHNW trend are observations and facts quoted by Sophie Doran, in Luxury Society (September 3, 2012). In her well-documented article called, "Luxury Real Estate Prices Reach All Time Heights," she writes, "Back in December 2011, an unfurnished duplex in London's Bulgari Hotel and Residences was purchased privately for approximately £100 million, as a second penthouse unit in the development was listed at £69 million pounds."

"More recently, records have been set in Hong Kong—where an apartment fetched $61 million—and Miami, where an island property overlooking the azure waters of Biscayne Bay sold for $47 million. In New York, a Manhattan penthouse was listed in late July with an asking price $100 million, following a slew of record-breaking trophy apartment sales in the city." Ms. Doran continues to discuss the many extremely high-end residence sales in London, Dubai, and Hong Kong. I have one more.
Photo Credit: Richard Phibbs
I recently interviewed the renowned architect, Richard Meier, the prime architect and interior designer of the Meier-On-Rothschild project in Tel Aviv, Israel. This is a mixed-use project, with retail on the lower floors, and apartments and residences on the upper floors. This project, due for completion in 2014, is 60% pre-sold already. Some are turnkey, fully furnished residences from Sunshine Select Worldwide, created in collaboration with Louise and Paul Sunshine.

They feature limited edition Richard Meier signed and numbered furniture, select vintage antique pieces, contemporary designs from B&B Italia, Bulthaup kitchens, and Frette linens. The penthouse, called the Palace In The Sky, costing $50M, is on the 32ond floor, and as of this writing, the most expensive residence ever for sale in Tel Aviv. From images, location and Meier's reputation, the residences could arguably be considered works of art.

But whatever the definitions and motivations, capricious economics of time and place stick us with continuing question, what is going on here? And why now? Dr. Jim Taylor, Vice Chairman of The Harrison Group, a respected market research firm, spoke at the American Express Publishing Luxury Summit in May of this year. Among the ideas he discussed regarding the motivations and intentions of wealthy consumers, he presaged two concepts that have become quite clear as the strength of the high net worth residence sales numbers emerge.
Photo Credit: Meier-On-Rothschild
First, he said the wealthy consumer needs a sense of welcome and sanctuary. "Part of the job of the luxury industry—in all areas," he said, "is to make the buyer feel comfortable. Whatever and wherever the object purchased, the sales force must create a sense of sanctuary and refuge from the clamor of the outside world." Second, and probably most important, is the high-end consumer's search for worth. Worth was defined by Dr. Taylor as the search for detail, artistry, sublimity, quality and service. "For that," Dr. Taylor said, "there is a willingness to pay full margin."

Though Dr. Taylor discussed other purchasing dimensions, these two appear to relate to the real estate surge mentioned above. The drivers for this surge could truly be the search for worth and sanctuary, yet another driver must also be considered: that of passion investing, one that combines this bifurcated search for sanctuary and worth into a new investment strategy combining both passion and practicality.

In June of this year, I wrote an article for JustLuxe, entitled "The Treasure Trend And Passion Investing." I discussed this trend: purchasing high-end items for the pure pleasure of ownership. I mentioned objects such as art, jewelry, wine, thoroughbred horses, jets, yachts, etc., but not residences. I have come to see that real estate, and in particular wholly owned second, third or fourth high net worth residences, could also be included in any compendium of treasure assets, and especially those mentioned above.
Photo Credit: Harrison Group
Again in my JustLuxe article, I quoted Dr. Taylor, this time from his keynote, two years ago at the 2010 American Express Publishing Luxury Summit. His thoughts pointed once more to a justification of this surging purchase interest, right now, for the high-end residence.

"The purchase of a luxury good is not a casual act. It sends a message about who they (the buyers) are...in that regard, luxury is not a category. It is the point in virtually every category, from soup to systems, that distinguishes the sublime from the merely excellent. There's a moment of sublime luxury where the product symbolizes the way we feel."

If this indeed is the perfect high net worth storm involving the search for worth, art, passion, scarcity and historic/architectural significance that has been found in multi-million dollar residences, then the passion investing will continue, making sales prices even more stratospheric, and at this level, evanescent, priceless.