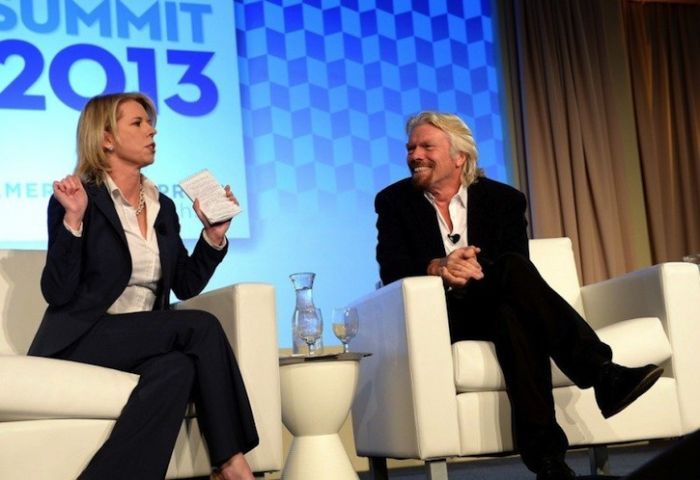 Photo Courtesy of AMEX Publishing
The American Express Publishing Luxury Summit has been in existence for 12 years. It is usually held in the spring, with a multitude of diverse speakers, exceptionally well known in their respective fields, most having to do with luxury. Though conferences on luxury, affluence and the high-net-worth populations have been created since this one originated, the AMEX Publishing Luxury Summit was the one that first dealt with socio-economic, cultural, behavioral, retail, sales and marketing, publishing issues and substantive research. These dimensions were and are presented in conversational interviews, single presentations, panel forums and research discussions. For those of us in the field, the Luxury Summit is a yearly pilgrimage, an anticipatory travel obligation to better understand the visions, ideas, strategies, processes, successes, challenges and operations of many successful individuals on all luxury levels.
Photo Credit: Susan Kime
The next American Express Publishing Luxury Summit is convening from April 6-8, 2014 at the Ritz Carlton in Naples, Florida. This year, the theme is Luxury Without Borders, a subject that Richard David Story, Editor-In-Chief of Departures, says, "addresses the real issues of what it means to produce luxury a) for a global market, b) without forfeiting authenticity, and c) through both old-style marketing and digital wizardry. Along the way, we'll look at real estate, the expanding (or is it tightening?) of the Asian markets and how a brand like Made-in-Italy keeps itself current in the 21st century—or does it even matter?" There is the question, the suspiria de profundis query: what matters in luxury—especially now?
This year, those who are set to answer, discuss, elucidate, investigate, and envision are some well-known luxury thought leaders and visionaries. These include:Umberto Angeloni President and CEO, Caruso; Arianna Huffington, Chair, President, EIC of The Huffington Post; Uwe Ellinghaus, Chief Marketing Officer, Global Cadillac; Arne Sorenson, President, CEO of Marriott International; Norman Pearlstine, Chief Content Officer Time, Inc; Emmanuel Perrin, Cartier North America; Dr. Jim Taylor & Harrison Group; Robert Triefus CMO, Gucci. And these are just a few. Their presentations serve, as usual, to make the delegates think, question, communicate, and ultimately connect to both subject and presenter, on a deeply, transparent and authentic level.
Photo Credit: Susan Kime
This will be my fifth American Express Publishing Luxury Summit. My first was in 2010, and it seemed so exciting as it had not been held the year before, due to the painful, ragged recession of 2009. I was writing for Luxist at the time, and was most interested in the theme of the Summit: Innovation, Intelligence And Excellence, that included ideas on the power of being and doing good, the uncertain future for the global luxury customer, the future of media, rethinking the customer/employee relationship, the balance and imbalance of price and value, and the reworking of the media landscape. As I wrote about luxury research even then, I was most interested in the results of The Survey Of Affluence And Wealth in America, a potent discussion of relevant research provided by Dr. Jim Taylor of the Harrison Group.
Held in Las Vegas at the new Mandarin Oriental, The 2010 AMEX Luxury Summit started at 8:30 a.m. with a keynote by Tony Hsieh, founder of Zappos, on delivering happiness. In retrospect it was one of the best talks I have ever heard, as he spoke about an immediate issue many of us had that morning—getting a timely room-service breakfast. He related the lateness of his breakfast to his beliefs in root systems of great customer service, and how his company spent time and training on being with the customer every step of the way. He believed that the essence of this type of service was responsible for Zappos' success. Delivering happiness for the customer involved offering great service as well as having an empathic and knowledgeable customer service representative on the other end of the phone. Like the rest of us, he did eventually get his breakfast, with apologies from the wait staff.
Photo Credit: Susan Kime
Certainly, after Hsieh, there were many more memorable speakers—Fred Dust of IDEO, Bill Taubman of Taubman Centers, Adam Tihany of Tihany Design—all spoke eloquently about design, luxury, global, green/sustainable and social media trends that would affect the luxury bandwidth in the coming year. Though the Summit was only two days, it seemed longer, due to the variety of experience, diverse profession and deep knowledge the speakers had.
In contrast to the 2010 Summit's home at the new Mandarin Oriental Las Vegas, the 2011 AMEX Publishing Luxury Summit was held in the mountains above Park City, Utah, at the Montage Deer Valley. The hotel is high on the Wasatch/Uinta Mountain front, and at 9200 feet, was little above a comfortable elevation for some. Nonetheless, the Montage was an elegant place for this meeting. From April 10-12, 2011, the Summit's theme was New Think: The Amazing Ideas Shaping Our World, and it stayed true to this idea.
Photo Courtesy of AMEX publishing
On Sunday evening, I heard an exceptional speaker, Christopher Dickey, Paris Bureau Chief and Middle East Regional Editor for Newsweek, give his views on the Youthquake, the Arab Spring, and how these events are changing luxury and the world. We had moved from delivering happiness (still a relevant topic) in 2010 to extrapolating new ideas from world events, and how they could possibly shape the luxury cultures for years to come. He provided some breathtaking statistics about how young the developing world is becoming, and how many young people don't have patience or interest in old regimes anymore. As an example, he said, "Hosne Mubarek, in my opinion, did not know his people anymore. In Yemen, Libya and Egypt, the median ages are between 16 and 20." He went on to say there is a correlation between a desire for regime change, and a desire for luxury after the change has been implemented. "This is the relationship between revolution and luxury," Dickey hypothesized. He continued to discuss personal examples of how the definition of luxury has changed for him, over the years. After difficult days covering conflicts, a hotel's turndown service defined luxury for him; after a hot day, the taste of Coca-Cola became a luxurious reality. Generalizing further, his ideas on the changing meaning of luxury seemed to resonate with the Summit delegates, making them ponder on what the term "luxury" actually means to them.
The next day dealt with other international topics with a major presentation by the McKinsey Company, about Brazil, Russia and China, and their impact on new thinking and purchasing from the luxury customer. On that day also, Raymond Bickson, the CEO and Managing Director of Taj Hotels, India, gave his presentation. He spoke about the transformative nature of brand architecture, and the processes undertaken by Taj to create new brands for their over 100-year-old company. Other panel discussions included The Marketing And Selling of Uber-Luxury, chaired by Richard David Story, SVP and EIC of Departures, with three highly experienced panelists: Christophe Georges, President and COO of Bentley Motors, Inc, Nicolas Bos, President and CEO of Van Cleef & Arpels, and Hamilton South, founding partner the HL Group.
Photo Credit: Susan Kime
Carrying some of these international ideas on, the 10th American Express Publishing Luxury Summit convened at The Breakers Palm Beach from May 6-8, 2012. In attendance were some 250 delegates representing a cross-section of the luxury industry. With What Works Now: Luxury to Believe In as its theme, the Summit examined how—amid growing choice and against an environment of political and economic uncertainty and anxiety— companies can still distinguish their offerings by clarifying messages and strengthening ties to luxury consumers. It was also a practical transition from the last year's theme, that of dealing with new ideas, to the new topic, dealing with ideas that work. The evolution and root systems of the successful brand played a crucial part in this Summit as well.
The successful brand, it was noted, is rooted in its fidelity to its heritage and core values. Adherence to brand DNA, as Estée Lauder executive Maureen Case described it, is the source of authenticity and authority. Everything else—product development, pricing and distribution, marketing, design, customer interaction, local relevance, philanthropy, corporate transformation and innovation—emanates from that.
Photo Credit: Susan Kime
In his conversation with Chanel President and Chief Operating Officer John Galantic, Departures Editor-In-Chief Richard David Story began by asking why no company is more closely synonymous with luxury than Chanel. Galantic said simply, it was because of Chanel's dual focus: heritage preservation and unfettered creativity. He told the delegates that everything goes back to Coco Chanel. Customers appreciated her spirit that combined fashion sense and drive, as well as her accomplishments: Coco was the one who got women out of their corsets and freed their hands by putting chains on purses.
Many presenters heralded the consumer's return to paying full price for luxury goods. And for brands such as Audi, Chanel, La Mer and Patrón, discounting—even at the height of the recession—was unthinkable. Noting that a haute couture dress takes 800 to 1,000 hours to make, Galantic said that when you are driven by creativity rather than the market, "the price will be what it will be. We have an authentic brand. We're about creating the dream." Carrying brand issues into the spirit industry, Patrón was one of the only spirit brands that charged the same price everywhere in the world. "It's as sacred as law that we maintain our premium price position," John McDonnell, CEO of Patrón Spirits, stated. "Protecting the brand's integrity—and I mean globally—is worth much more to us than any short-term volume."
Photo Credit: Susan Kime
Last year, The 2013 American Express Publishing Luxury Summit convened at the St. Regis Monarch Beach, near Dana Point in Southern California, on April 21-23. "This year's theme is Luxury: The Remix 2013, a road map for the future that involves innovative ways of looking at the world of luxury and doing business," said Richard David Story. The Summit concentrated on four key areas: globalism, travel, lifestyle and technology. Speakers included executives from Hermès, PPR (Kering), Tom Ford, Starwood Hotels & Resorts and Hilton Worldwide.
In addition, there was Richard Branson, CEO of Virgin Airways and Virgin Galactic. His lively discussion was with Jane Wells of CNBC. Entitled Building A Consumer Experience: From Social Good To Outer Space, his interview and presentation stressed the importance of being the first to do anything, perhaps referencing his deep involvement in creating the first true consumer space travel experience with Virgin Galactic. He said that the initial price for this type of sub-orbital travel would be $200,000 and his wife and children will be the first people on the flight. These sub-orbital flights are the first step, he said, in making up for one of the things airline travel can't do right now—go from one place to another quickly. Finally, he had two pieces of advice to everyone in the room, and probably beyond: always carry a notebook in your pocket and never get stuck behind a desk.
Photo Credit: Susan Kime
I have written about other compelling ideas taken from last year's Summit, but the most memorable (in addition to Branson's) were the following:
First, Dr. Jim Taylor said that according to his research garnered from The Survey Of Affluence And Wealth In America, three major issues emerged: first, the affluent population is happier and will spend more in 2013. Second, though the individual is happy with his or her personal spending and saving, they are not happy with the national economy. Finally, there are Worth Dominant and Deal Dominant buyers within the affluence bandwidth.
Second, the symbolic Safety Deposit Box will be an active part of passion investing and purchasing. The growth in China and other countries with great emerging wealth is where to put money safely, without government interference. Homes and apartments in New York have become major assets, and if you would want a Lamborghini, there is usually an 18-month wait list. From last year to this year, there has been a 400 percent rise in sales volume for classic cars, and high-end art sales are up 17 percent in the first quarter.
Third, Those who buy high end cars—Lamborghinis, Maseratis, etc., usually don't speak English as their first language. Robert Frank, author, Wall Street Journal writer of The Wealth Report and now CNBC Commentator, said he spent about a month in a Lamborghini showroom in Miami. In the showroom, he asked the sales manager how many of these cars had been sold to English speaking people. He said he hasn't sold any to a native English speaker in two years. Generally, sales went to those from Brazil and the Middle East.
Fourth: There are sunrise and sunset wealthy. Robert Frank also discussed the sunset wealthy "…are the old guard. There are challenges in understanding them, especially with so many of the sunrise wealthy—younger people with great wealth and mobility. But the sunset wealthy believe in history and heritage of the brand. There are one million millionaires in China alone, and more than a quarter of luxury sales are made by Chinese, but not in the US. The challenge for sales people is to learn multiple languages and to make both sunrise and sunset wealthy feel comfortable.