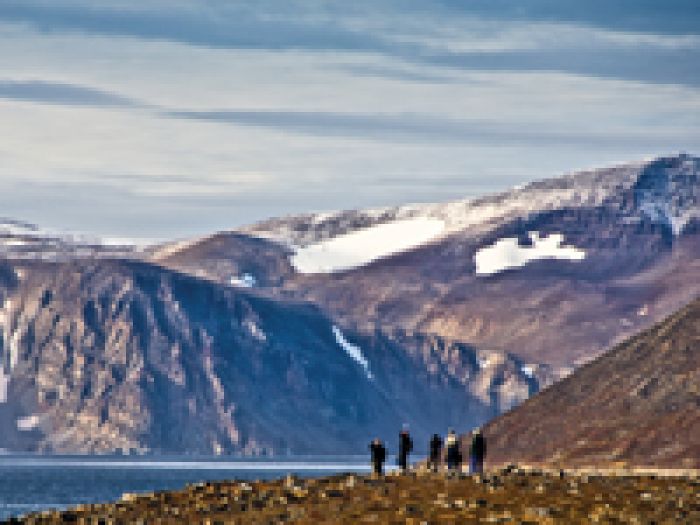 Luxury Adventures:
For more than 20 years, Adventure Canada has been taking guests into the less traveled areas of the Earth's northernmost areas. In celebration of being one of the first companies to offer "sustainable tourism," Adventure Canada is furthering its reach into some of the world's last untouched territories.
In 1987, Adventure Canada was founded to allow Canada's "blank spaces" to be explored. As a continuation of that, Adventure Canada is constantly finding new ways to see "beyond the binoculars" and find new places for their guests to enjoy the landscape, wildlife and culture to the history, art and archeology that is unique to every destination.
Using a fleet of small vessels, Adventure Canada boats allow 45-100 passengers the chance to explore some of the most amazing and remote places on earth, from polar opposites in the Canadian Arctic and the Antarctic, Greenland and Iceland and beyond.
As Adventure Canada continues to seek out new destinations, now available around the globe, they have announced new expeditions open in 2009 for the 10th anniversary of Nunavut. The Heart of the Arctic expedition gives visitors an up close and personal view of the newest Canadian territory. As with all Adventure Canada explorations, the trip is led by a team of experts that give guests special inside information on the area. The Heart of the Artic will focus not only on the Inuit stewardship of the land, but also issues surrounding global warming, hunting, and wildlife conservation.
The Heart of the Arctic takes place aboard the 122-passenger Adventurer ship. The vessel's special construction and relatively small size make it the perfect way to get up close up and personal to the distant northern lands covered by the tour, with the same comfort and style afforded by larger ships. On board the ship, guests can enjoy Scandinavian décor as well as a Main Lounge, bar, Clipper Club, library/card room, gymnasium, sauna, gift shop, and beauty salon in addition to dining on American and Continental cuisine.
Beginning in Kangerlussuaq Fiord, West Greenland, guests aboard the ship will visit hamlets, participate in sports and cultural events as they continue into Northern Canada's Nunavut and Nunavik territories. Guests will have the opportunity to see the largest ice cap in the world from their airplane window and from then on engage in a wide range of activities, from playing soccer with locals to witnessing some of the most amazing animals in their native environments.
Available from September 16 - 26, 2009, The Heart of the Artic tour is presented in association with the Institute of American Indian Arts and gives guests the opportunity to see firsthand the inspiration of the Inuit arts that many have seen, but never witnessed firsthand. Prices for the exciting voyage range from $3695-$10,595, with a portion of the proceeds going to back to the Institute of American Indian Arts.
For LxM Carly Zinderman