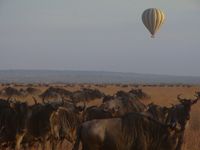 Luxury Adventures:
Singita has introduced spectacular Balloon Safaris on site in Tanzania's Singita Grumeti Reserves, to present guests with one of the most extraordinary game viewing experiences in the world.
The exhilarating, one hour Balloon Safaris are chartered by professional, commercial balloon pilots from Serengeti Balloon Safaris. Situated in one of Africa's most pristine wilderness areas, Singita Grumeti is renowned for the exclusive, five-star safari experience on offer at its three lodges: Singita Sasakwa, Singita Sabora and Singita Faru Faru. Taking game viewing to another level, balloon flights offer the most awe-inspiring wildlife photographic opportunities imaginable, traveling at tree top level, and up to approximately 1,000 feet above the ground. Here at Singita Grumeti Reserves guests are afforded extraordinary perspectives of the vast and wonderful panorama of this untouched wilderness reserve, scene of Africa's thrilling annual wildebeest migration.
On-site Balloon Safaris are available to four and eight people, with charter options available for larger groups. Pre-requisites are that guests should be over the age of seven and fit to fly.
Balloon Safaris begin at 5:30 a.m. when guests leave their respective camp for a pre-dawn, 20 minute game drive from the camp to the balloon launch pad on the reserve. The large green and gold balloon -- reflecting the colors of the Serengeti plains, is then inflated, while the pilot delivers a short briefing covering different facets of the flight. At dawn, when the winds are most calm, the hot air balloon is released, and, all passengers aboard, ascend skywards, rising with the sun. Here it floats gracefully above the plains, moving in the direction of the wind, expertly controlled by the pilot who is able to regulate the altitude of the balloon. Initially providing guests with a treetop level eye-view of the dense concentration of game, seemingly no more than an arms length below, the balloon is then lifted to 1000 feet, affording an unparalleled view of the sheer enormity of the mighty Serengeti. Astoundingly, the balloon is utterly silent, barring the short intervals when the pilot heats the balloon with powerful whisper burners. Allowing guests to absorb the natural sounds of the landscape below, it also affords a sense of flowing into the natural environment. Depending on the weather conditions, the exhilarating flight lasts for an exciting hour, before touching down in a beautiful clearing for a celebratory glass of sparkling wine. Then it's time to return to camp where a delicious full English breakfast awaits, before embarking on the next thrilling adventure in the wilderness.
Details are available on the Singita Web site:
www.singita.com
By Gabriele Klink
JustLuxe
Contributor
Photo Credit: Singita Grumeti Reserves
Singita Grumeti Reserves