By Kellie K. Speed Sep. 19th, 2011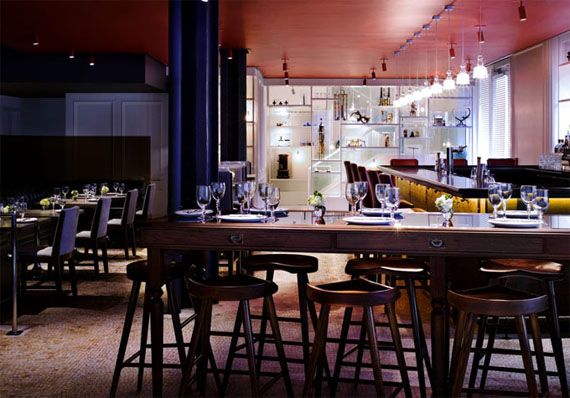 Photo Courtesy of Woodward Tavern
There has been a lot of buzz surrounding the Ames Hotel and Woodward Tavern since they opened just outside of Government Center – and for good reason.
Executive Chef Mark Goldberg has prepared a menu here that focuses on all things seasonal New England (think Maine lobster rolls and New England clam chowder in the summer).
We recently visited Woodward and had a few laughs at some of the fun names of their cocktails. My husband had to order the Big Eddie – a can of Narragansett served alongside a shot of Jack Daniels. The Pickle Back sounded intriguing with a shot of Jameson Irish whiskey and a bread and butter pickle brine chaser. I loved the summery Yellow Peugeot, a crisp concoction of yellow Chartreuse with muddled mint, simple syrup and fresh lemon, which we enjoyed on the outdoor patio on a warm end of summer evening.
Because it was so nice out, we couldn't resist starting the night off with a dozen Island Creek oysters. The briny bivalves were accompanied by a flavorful ginger mignonette along with a side of spicy cocktail sauce.
The winner of the evening here just may have been the fried clam flatbread with maple-cured bacon, leeks and thyme. Who would have thought something so quintessential New England could be so incredible? The clams were lightly fried and not greasy sitting atop the crisp flatbread – simply delicious.
I ordered the sea bass special, a deliciously fresh fish arrived perfectly seared atop fresh vegetables. The Tavern steak was extraordinarily tender and juicy topped with crispy ranch onion rings and smoky chipotle hollandaise. The side of mac and cheese was just the right amount for sharing. Although we were too full for dessert, our server tried to tempt us with a peppered chocolate ganache, which sounded interesting, but we'll have to save that for our next visit.
There is entertainment on Friday and Saturday nights inside the two-story restaurant. The first floor features a bar area with a lounge-y feel while the upper level continues on with a classic-yet-modern New England style.
For more information, visit WoodwardBoston.com or call (617) 979-8200.
Kellie K. Speed
As the Boston city guide editor for JustLuxe, Kellie Speed is a native Bostonian and a freelance writer/editor/copywriter with more than 20 years expe...(Read More)