By Carly Zinderman Jan. 13th, 2011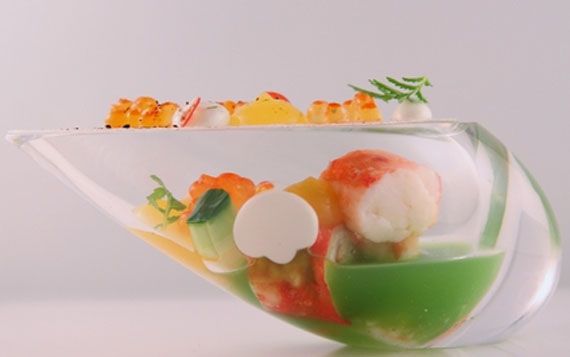 Dining:
Walking into Avenues at the luxurious
Peninsula Hotel
in Chicago, you'd expect to be dining on traditional stuffy French fare. But don't let the traditional, old-world style dining room fool you; the food Chef-de-Cuisine Michael Duffy serves up is anything but traditional.
Our dinner began with an amuse of egg and caviar. This was set on a flat, modern, Asian-style soup spoon with a gelled quail egg. It was topped with ink black caviar that offered the quintessential caviar "pop". The single elegant bite of a very classic combination had a modern twist in technique that made it unique and fun. It was a very bright way to entice the diner and establish Avenues' style of classic cuisine, with modern methodologies.

Our first bread of the night came next with the inclusion of three spreads: A goat's milk butter, olive oil lemon emulsion and herb emulsion. The pretzel bread was out of this world; especially with the sweet creamy goat butter that had just a slight, much needed tang. It was to be the first of a succession of breads served with precise timing alongside various courses.




Now the real dinner began. The first course was Chef Duffy's signature dish. Alaskan King Crab, golden brook trout roe, kalamansi and lemon mint. The crab sat at the bottom of the glass in a cucumber consommé. Atop was a translucent neutral sugar tuile garnished with trout roe and aromatics. This was an unbelievable start. So complex yet so simple in flavor, it was easy to see how this has become Chef Duffy's signature dish.

Not being a fan of seafood, my dining companion was offered Tom Kha Gai, an exquisite Thai soup with finger limes, lemongrass and coriander blooms, with a very modern interpretation. A bowl filled with purees, gels and powders all precisely scattered in an organic swirl, a contradiction in and of itself, each representing a new form of the classic components of the soup. A fragrant chicken consommé poured tableside completed the dish. The finger limes, tiny cylindrical limes with cells that break apart when crushed between the fingers, added a unique touch. Roulades of sous vide chicken rounded it out and added substance to the soup. This was one of the greatest Tom Kha Gai versions I have ever had.

Faroe Island Salmon, brandade, pommery mustard and fennel blossom was presented for the second course. The salmon was beautifully cured and tender. Bright green Absinthe foam gave the dish a striking appearance while a rich black licorice added a contrast in color. Curled shaved fennel lifted the salmon complementing the fattiness of the fish.




Round three was up. Entitled Grains, Seeds, Nuts; a combination of amaranth veil, sultana and sunflower made for a very hearty fall soup. The broth, poured tableside, added a level of drama and performance to the dish's presentation. The different grains, seeds and nuts provided several variant textures throughout the dish. The depth of flavor developed within the broth was amazing, just as it was in the Tom Kha Gai, but in a completely different way. The flavors and textures changed with each bite and created a level of excitement for our palates. A very engaging dish indeed.

The fourth course was Hamachi, lardo, yuzu and purslane. The fish was wrapped in lardo to add extra moisture and sat neatly on a bead of bacon compote. Little pearls of yuzu gave the dish a splash of tartness while toasted neutral marshmallow countered with a touch of sweetness. A wonderful bacon flavor permeated the dish; and what doesn't go well with copious amounts of bacon? Tender turned carrots and a carrot emulsion brighten the dish both visually and texturally, while the hamachi itself was a perfect medium rare.

For the fifth course, meat was on the menu. Beef Short Ribs, lime, pine nuts and cilantro flowers. This was one of the most beautifully presented dishes of the night. A perfectly butchered short rib sat squarely on the plate dressed with a thin line of lime gel down the center, garnished with pine nuts and cilantro flowers. A disc of spiral sliced fried potatoes covered half the rib. Dotted with radishes, cilantro and other aromatics, the fried potato enhanced the dish with a little crunch. Texture was further explored with a dehydrated pine nut mousse that resembled a meringue complementing the creative plate. Young potatoes on a garlic broccoli puree finished the dish. Another truly phenomenal plate.




Then came dessert, which was to be several courses. Crabapple, croissant, pere Jacques and sage opened the two-part course. First, spheres of crabapple juice encased in flavored white chocolate were served on a custom designed service piece that looked like a tree branch. In one bite, we ate the crabapple and the sweet chilled nectar woke our palates to get us ready for the next dessert courses. The second part of this dish was a plate of croissant crusts, crabapple sorbet, ice cream and crunchy toffee pieces.

Strawberry, Thai black pepper, mascarpone and opal basil blossoms came out next. A pink and white cylinder filled with strawberry, strawberry meringue chips and black Thai pepper syrup dotted the top of the strawberry while dehydrated strawberries and a mascarpone sponge completed the dessert. This was a very bright and refreshing course.

Finally what really mattered was here. Chocolate! Ocumare Chocolate, brown butter chamomile and stevia. Liquid nitrogen-frozen bittersweet chocolate mousse was served tableside. The plate was composed of a chamomile powder, stevia cream, berries and a dollop of creamy caramel. The mousse was so rich and chocolatey it just melted away, leaving a creamy, decadent taste. This was a perfect end.

Just as we thought it was all over, three different chocolate bon bons, containing various levels of chocolate intensities, from different places around the world were brought out. These were perfectly creamy, deep chocolates. A nice thin, crisp chocolate coating and a silky smooth interior created a fabulous little bite. We were past full capacity at this point, but the service was already ahead of us and offered to wrap them up. Two hours later, these little guys were a delightful bedtime treat.

Avenues is a true find. The classic elegance of the dining room and the innovative cuisine offers a unique contrast to one another in this fine dinning establishment. With flawless, attentive and friendly service, it is no surprise that Avenues received two stars from the recent Chicago Michelin Guide. A very well deserved accolade.

Avenues at the Peninsula Hotel
108 East Superior Street
Chicago, IL 60611
312.337.2888
www.peninsula.com
Carly Zinderman
Carly Zinderman is a Senior Staff Writer for JustLuxe, based just outside of Los Angeles, CA. Since graduating from Occidental College with a degree in English and Comparative Literary Studies, she has written on a variety of topics for books, magazines and online publications, but loves fashion and style best. In her spare time, when she?s not writing, Carly enjoys watching old movies, reading an...(Read More)