By Carly Zinderman Jan. 26th, 2011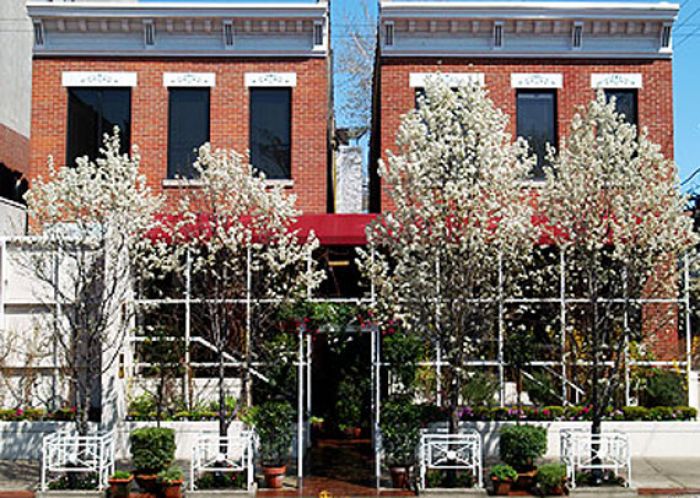 Chicago Dining:
Located amongst residences in family-friendly Lincoln Park, Charlie Trotter's has long given Chicago cabbies a run for their money-occupying space in two converted townhomes with very discreet signage. Once inside, the
neighborhood
feel evaporates as the welcoming staff invites diners to have a drink at the open and airy bar before their meal.
Before the meal, we toured the establishment, drinking in the sunlight that came through the large windows and exploring the dining rooms that make up Charlie Trotter's.
The Studio Kitchen is where Charlie Trotter has filmed many of his television appearances and is a great spot for special occasion parties. The setup is like being inside a home kitchen. We sat next to a stunning collection of magnum wines and marveled as our meal was being personally prepared right before our eyes.

My guest and I had the privilege of sitting at the coveted Kitchen Table, right inside the kitchen for a lunchtime look at the hallowed establishment. This table seats only very small parties and gives an inside glimpse at what goes on in a world class restaurant kitchen, even encouraging diners to ask questions and pitch in, if they are so inclined. As this was a vacation, my guest and I chose to sit back and watch as Charlie Trotter and his elite crew of young chefs bustled around preparing the best meal of our lives.

First up was Tasmanian Ocean Trout with Grapefruit and Fennel Blossom, accompanied by a Jean Vesselle "Oeil de Perdrix" Brut Rose NV. Gently sous-vide, the ocean trout was a brilliant fresh orange hue that practically melted in the mouth, while the grapefruit and fennel blossom accents were so delicate that they only lightly whispered flavor, rather than overwhelming the superb freshness of the fish.


Next came Alaskan Sablefish with Young Leeks and New Potatoes, accompanied by a Chablis Gilbert Picq 2007. The fish was perfectly cooked and had heaps of delicate mussels and orange segments to keep it fresh and away from standard territory.

The transition from fish to fowl came in the form of Bobwhite Quail with Toasted Faro and Red Russian Kale, served with a Priorat "Les Brugueres" Conreria d'Scala Dei 2007. I'm not usually a fan of quail, the tiny bones scare me just a little, but this quail had a crisp skin and rare center with such a robust flavor that my misgivings were instantly forgotten. In addition to perfectly executed faro and vegetables, the quail was garnished by snails. Usually when faced with escargot, I skip the chewy snail meat and head for the garlic butter sauce typically served with the protein. Without the garlic butter, I was forced to try the snail, and I'm so glad I did. The snails proved to be not at all chewy and actually had a very pleasant mouthfeel that added great texture to the dish.


Our final course before dessert was Milk Fed Poulard with Grilled Radichio, Cipollini Onions and Parmesean, served with a Barolo Giacomo Grimaldi 2006. Despite my initial hesitations about eating rare chicken, the melt-in-your-mouth texture and rich creaminess of the sauce instantly won me over. With the meal over, a refreshing and bright Plum Sorbet with Sake Granite and Plum Wine made the transition from savory to sweet.

As a die-hard chocolate lover, I was initially flummoxed by the Michigan Raspberries with Young Coconut and Green Peppercorn that was placed before me for dessert. Then I bit into the creamy coconut and instantly yearned for more. The fresh raspberries were the best I have ever tasted and the fruit pairing instantly made sense as they swirled together.

As a finish, Plantains with Milk Chocolate and Hemp Seed Ice Cream served with a Bodegas Toro Albala "Gran Reserva" Pedro Ximenez, Montilla-Moriles 2007 proved to be the most unexpected dish of the entire meal.
Thanks to Charlie Trotter's emphasis on flavor, the dish was beautifully done, especially the spectacularly executed marshmallows. Somehow the marshmallow managed to be firm enough to be picked up, but not so soft that they were unmanageably gooey.

The true final finish came as a trio of pate de fruits were placed before me. The gummy fruits were a departure from chocolate, but so well executed that I didn't even miss my beloved cocoa bean.

After an exquisite meal, I felt privileged to have enjoyed the creative foods and well-regarded wine program of Charlie Trotter's. Getting to meet the man himself, and have each dish personally served by a member of the well-trained kitchen staff, was an unbelievable experience that I will never forget. Not to mention, the freshly prepared food from a menu that changes frequently, depending on that day's bounty. Each course seemed to be better than the last, and as an added bonus, I even received a signed copy of Charlie Trotter's latest cookbook on the way out.

Shortly after our visit, the first ever Chicago Michelin Guide awarded Charlie Trotter's with an impressive two stars. It is an amazing accomplishment, yet not nearly enough recognition for an establishment that has been serving such fresh, innovative cuisine with superb service for decades.

Charlie Trotter's
816 West Armitage Avenue
Chicago, IL 60614
773.248.6228
www.charlietrotters.com
Carly Zinderman
Carly Zinderman is a Senior Staff Writer for JustLuxe, based just outside of Los Angeles, CA. Since graduating from Occidental College with a degree in English and Comparative Literary Studies, she has written on a variety of topics for books, magazines and online publications, but loves fashion and style best. In her spare time, when she?s not writing, Carly enjoys watching old movies, reading an...(Read More)