By Sara Cardoza Nov. 15th, 2012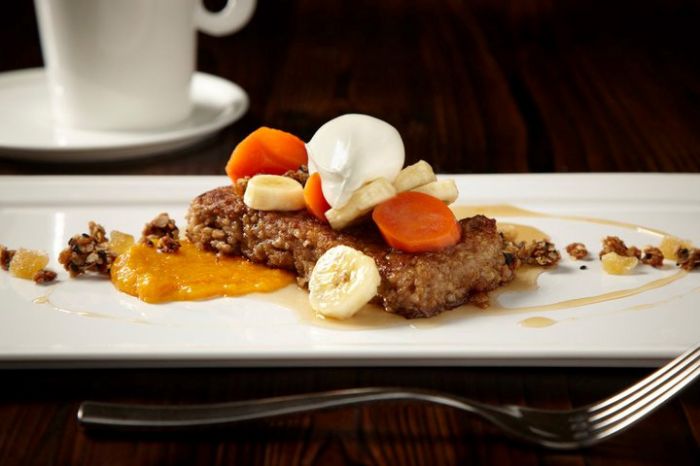 Photo Courtesy of Sprout Restaurant
If you think the Windy City is just known for its deep dish pizza and hot dogs, think again. While Chicago may be outshone by culinary metropolises such as New York or Los Angeles, this urban hotspot, nestled on the banks of Lake Michigan carries a weight all its in own in the world of gastronomy. In fact, some of the world's most popular chefs hail from the city or have decided to claim a bit of Chicago real estate and set up shop. Take a look below at a few fantastic celebrity chef-owned restaurants that can only be found in the city of Chicago.
Takashi
1952 North Damen Avenue Chicago, IL 60647
(773) 772-6170
Located on North Damen Avenue, Takashi is the eponymous restaurant of world-renowned chef Takashi Yagihashi who gained popularity on the PBS show Great Chefs. More recently he has been featured on Iron Chef America and Top Chefs Master. A James Beard Award-winner, Chef Yagihashi was named Best Chef: Midwest during the 13th annual event. Yagihashi is known for his French-Asian fusion, combing European culinary techniques with traditional Asian flavors. Menu items at Takashi include both hot and cold plates, Omakase (chef tasting menu), a Japanese Kaiseki Dinner offering, and a dessert menu. Mains include dishes such as Chicken in Clay Pot, featuring Amish chicken, Shimeji mushrooms, eggplant, haricot vert, and Yuzu juice or the seared loin of veal with lemon-caper brown butter. The Japanese Kaiseki Dinner includes seven courses and optional wine and sake pairings, complementing the subtle flavors of the malaspina oysters and soy-braised pork belly.
Photo Courtesy of Takashi
Les Nomades
222 East Ontario Street Chicago, IL 60611
(312) 649-9010
Under the direction of Chef Roland Liccioni, who alone has racked up a shelf full of culinary nods, acknowledgements, and awards, has led Les Nomades to culinary greatness. In two years, Chef Liccioni earned the restaurant four-stars. With a Vietnamese mother, a Corsican father and an upbringing in France, Chef Liccioni's background is as varied and complex as the flavors he infuses his dishes with. Starters at Les Nomades include lobster ravioli, grilled calamari, and escargot served with yellow tomato coulis and Roquefort cheese, while mains include roasted duck breast with green peppercorn sauce, braised Wagyu beef, and roasted partridge served with grilled bison, sage grits and roasted carrots.
Photo Courtesy of Les Nomades
Sprout Restaurant
1417 West Fullerton Avenue Chicago, IL 60614
(773) 348-0706
In 2006 Chicago-native Chef Dale Levitski was the first Chicagoan to compete on
Top Chef
, ending the show as a finalist and later being nominated by the James Beard Foundation for Best Chef: Great Lakes Region in 2011. When Chef Levitski took over the kitchens at Sprout Restaurant his culinary artistry took over as well, resulting in a menu that incorporates innovative flavors, surprising combinations, and classic good taste. Sprout Restaurant is only open for dinner and also features a special Sunday menu as well as a tasting menu. Start your meal off with the foie gras, prepared with banana, cocoa nib, miso, and mushroom or sample the veal, served alongside taro, turnip, escargot and ramp. Mains at Sprout range from corvine and salmon to lamb and rabbit, while Chef Levitski consistently keeps the palate guessing utilizing kumquat, truffle, fennel, and nicoise olive. Sunday Dinner features a four-course menu of French classics with wine pairings, while the tasting menu is an eight-course affair (wine pairings optional) that features bites of many of Chef Levitski's most popular dishes.
Photo Courtesy of Sprout Restaurant
Read The Whole Story: See Which Celebrity Chefs & James Beard Award Winners Call Chicago Home
Sara Cardoza
Sara graduated from the University of Mary Washington in Fredericksburg, Virginia with a degree in creative writing. As a military child she spent her childhood living and travelling overseas which shaped her passion for travel, language, food, and intercultural exchange. She has recently joined the JustLuxe editorial team....(Read More)