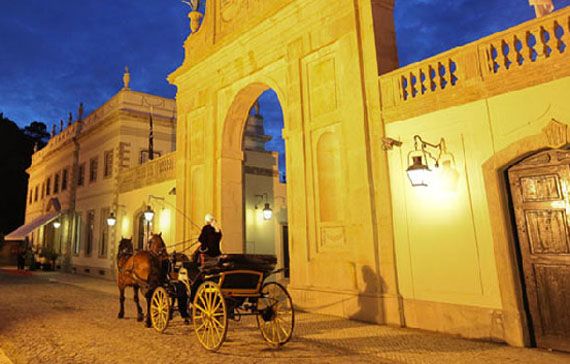 Luxury Hotels:
With a year of renovations and
unique design
work complete, the Tivoli Palácio de Seteais in Sintra is reopening its palace doors once again. While it has brought in more modern comforts of the 21st century, the palace still maintains the elegance of the 18th century.

During the 19th century, several distinguished Portuguese families lived at this Palace including the fifth Marquis of Marialva, who built the triumphal arch linking the two wings of the Palace to commemorate a visit by King D. Jo?o VI and Queen Carlota Joaquina. With a privileged location, the central arch provides perfect framing for the Moorish Castle and Pena Palace.

It was transformed into a luxury hotel in 1953 and the Tivoli Palácio de Seteais combines the majesty and traditions of the 18th century with all of the comforts of the 21st century. A perfect balance between elegance and excellence of service.
The richly decorated rooms and the ballrooms' magnificent paintings, tapestries and frescos of rare beauty make this hotel quite unique.

Ricardo do Espirito Santo Silva Foundation (FRESS) creatively and carefully restored the palace furnishings which involved 13 art worships and the skill of around 40 different specialists over the year. As guests step into the new Palace, they will be enriched by the nearly 2,000 pieces of art within its walls ranging from tapestries, paintings and easel paintings, to engravings, murals and porcelain.

Some of the renovations also include modernizing guest rooms to support the modern-day traveler's needs. The Palace has 30 spacious rooms and uniquely decorated "Salles de Bain" which now offer greater comfort through items such as LCD televisions, ADSL internet connection, air conditioning, coffee machines, iHomes and Tivoli Collection amenities.


Inside the Palace, The Seteais Restaurant awaits with its superb views and direct access to the gardens, serving traditional Portuguese cuisine. A new feature of the Palace is its introduction of afternoon tea. The restaurant will be offering a Portuguese style afternoon tea every weekend from 4 p.m. to 6:30 p.m. The included buffet offers home-baked cakes made with genuine traditional recipes, almond cakes made with freshly whipped cream, fresh country bread and the best of Portuguese cheeses, hams and jams.

Fun for the whole family, The Tivoli Palácio de Seteais also offers horseback riding for its guests to experience the world of equestrianism. Take a ride through the breathtaking Sintra Mountains or enjoy beginner lessons through obstacle courses. For the young riders in your family, The Equestrian Centre has a pony available for lessons or birthday parties.


The Tivoli Palácio de Seteais is more than just a five-star Sintra hotel; with its fully renovated rooms, beautifully resorted art pieces and its luxurious activities and amenities, it is a retreat to the old days of elegance and romance of the 18th century. The Palace provides a higher level of quality through personalized service, comfort and well-being, sophistication and unique style. On the mountainside of Sintra awaits your spectacular hotel ready to make your vacation an unforgettable experience.

Tivoli Palácio de Seteais
Rua Barbosa do Bocage, 8
2710-517 Sintra, Portugal
(+351) 21 923 32 00
www.tivolihotels.com