By Deidre Woollard Aug. 15th, 2011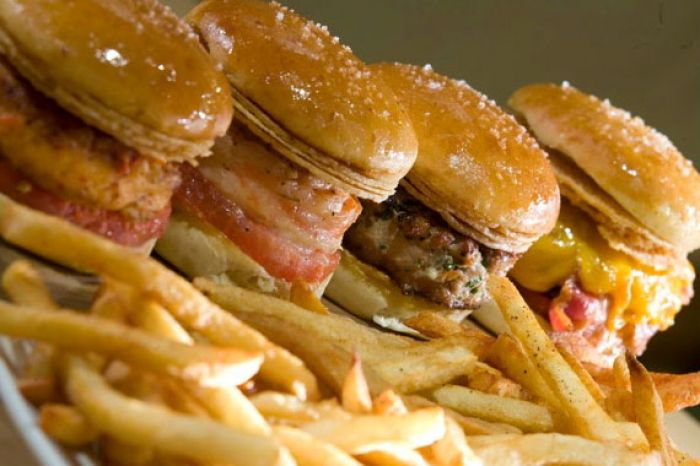 Photos Courtesy of Central Michel Richard
One of the best things about Las Vegas is that you can take your stomach off the clock. Want waffles for dinner? Steak and shrimp cocktail for breakfast? Done and done. In addition to leaving your inhibitions outside the state lines, you can also let those gastronomic fantasies run wild. But amid the deep-fried Oreos and the endless buffets there is also a lot of fine dining by some of the country's top chefs, many of whom have outposts at
Las Vegas resorts
.
Fine dining and round-the-clock temptations merge next month when Central Michel Richard opens at Caesars Palace. It is the first-ever round-the-clock restaurant to be helmed by a James Beard award-winning chef. Central Michel Richard will be open 24 hours a day, serving breakfast, lunch and dinner. That means you can get your paws on some of Michel's finest creations whenever the mood strikes. Late night diners might be particularly grateful to get their hands on some of his famous burgers including the lobster burger with potato tuile and the hamburger with bacon, cheddar and potato tuile. The potato tuile satisfies anyone who has ever experimented by topping a burger with potato chips or french fries.

Other delicious creations that fans have already enjoyed in the Central Michel Richard in Washington D.C. include rotisserie chicken with garlic roasted potatoes; 72-hour short rib with pappardelle and syrah sauce;
macaroni and cheese; crabcake with leek tartare and the famous charcuterie tower with "faux gras." Save room for dessert. It's definitely not an afterthought with Michel's chocolate bar, chocolate mousse, chocolate lava cake á là mode, strawberry-rhubarb crisp, banana split and the celebration cake with chocolate lady fingers topped with an eye-catching sparkler.

For more information and upcoming announcements of "Only in Vegas" dishes check out the restaurant's Facebook page. For reservations, call (702) 650-5921.


Deidre Woollard
Deidre Woollard has been writing both fiction and nonfiction for years. She has a Master of Fine Arts from Spalding University and her short fiction has been published in literary magazines and anthologies. She served as the lead editor on Luxist.com for six years writing about real estate, auctions, jewelry and luxury goods....(Read More)