Mar. 6th, 2012
Las Vegas Motor Speedway Offers Dream Racing Experience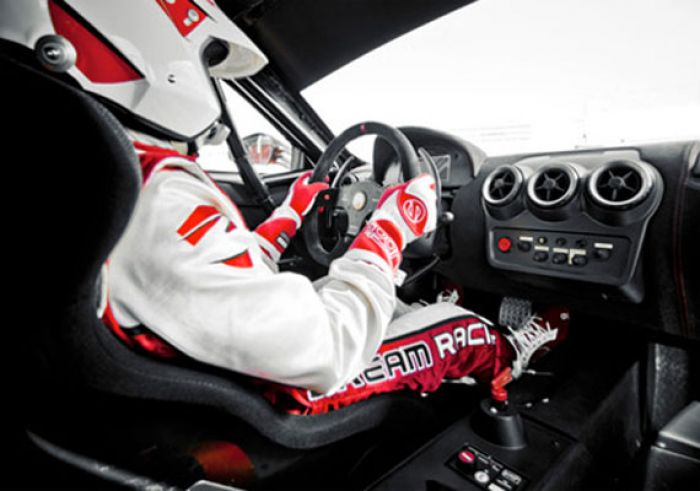 Photo Courtesy Dream Racing
For anyone with a taste in the best adventure travel, or for anyone who has fantasized about being a professional racecar driver in control of a sleek, high-powered automobile, fantasize no longer. Dream Racing, now open at the Las Vegas Motor Speedway, is offering a five-star luxury, racing experience. Behind the idea are former racecar drivers Enrico Betaggia and Adriano De Micheli who designed this three hour, all-inclusive package to provide the ultimate adrenaline-pumping opportunity behind the wheel of a 2700 pound, F430 GT Ferrari. The day begins with a private shuttle to the Las Vegas Motor Speedway from an exclusive pick-up location inside Crystals at CityCenter. Upon arrival at the track, guests will be greeted by hostesses who will help guide participants through each step of this exhilarating opportunity.


Before suiting up and hitting the racetrack, guests will have a fifteen minute instruction session in a specialized theater to learn the proper handling of the automobiles. Afterwards, a 3-D virtual simulation experience, powered by iRacing, lets the participants get unique familiarity with the Las Vegas Motor Speedway before even getting behind the wheel. Transition onto the track begins when visitors are given the chance to change into authentic racing gear before a professional driver accompanies guest drivers as they prepare for a one-of-a-kind chance to whip around the motorway. A personal pit crew will be standing by to ready these powerful machines, which have the capacity to accelerate from 0-60mph in 3.5 seconds.


When talking about the Dream Racing experience, former race car driver Adriano De Micheli said, ?Taking control of a racing car specifically built for the track is an unmatched experience that delivers indescribable emotions to drivers and passengers.? He continued saying, ?There is simply no comparison to a street car, much like there is no comparison between a jumbo airliner and jet fighter plane.? Despite the Ferrari F430 GT having the capacity to whip around hairpin turns while travelling at speeds as fast as 120 mph, these vehicles are built with expert craftsmanship making them easier to handle and safer than most road cars.


For $499 dollars, guests will complete five laps with a professional driver around the 1.1 mile course. However, an additional five laps can be purchased for $399. A supplementary $179 allows guests to sit as a passenger while a professional driver takes the wheel. Higher end packages are available for purchase as well. After the race, relax in the motorway lounge while reveling in the experience with other guests. The lounge includes a gift shop, bar, and flat screen TVs that let visitors tune into live action from the racetrack.

For more information visit DreamRacing.com


.

Las Vegas Map

.
.

Luxury Hotels in Las Vegas

.



Bellagio Las Vegas

Romantic, Business, Family Friendly, Spa, Casino, Wedding, Resort, Luxe Superior, Tourism, Nightlife, Culinary