By Sally Farris Feb. 20th, 2013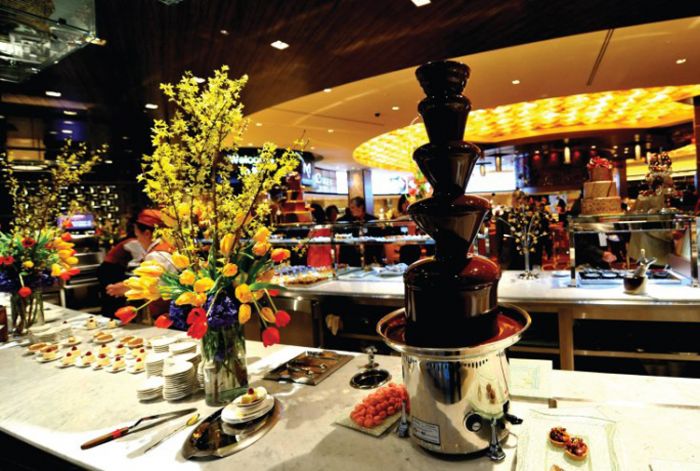 Photo Courtesy of Studio B at the M
Nothing says over indulgence like a good buffet, and if
Las Vegas
is anything, it's indulgent. After a weekend of partying in some of the city's hottest clubs and bars you'll want to make sure proper restoration is in order before the trip home. Next time you find yourself in Vegas, take a cue from our guide and discover some of the most extravagant, glutton-friendly buffets in all of Sin City.
The Wicked Spoon Buffet
at The Cosmopolitan
3708 Las Vegas Boulevard South
Las Vegas, NV 89109
702.698.7000

Price: Around $40
The Wicked Spoon inside
The Cosmopolitan
adds a pinch of quirkiness to the typical Vegas buffet. Artful details and impeccable presentation include adorable mini serving dishes and pots. The luxurious atmosphere and well-portioned meals almost completely removes the buffet aspect from the dining equation. The restaurant includes several made-to-order stations, such as the Macaroni and Cheese Bar where guests can choose from a selection of cheeses and request additions like shrimp, bacon, sundried tomatoes and asparagus. The Wicked Spoon is also renowned for its use of truffles in some of its dishes, a delicacy that is not often seen at buffets. Other signature selections showcase the chefs' meticulous effort to create a unique, yet customizable menu. Creations such as salty peanut caramel gelato and sundried tomato mashed potatoes are just a few of the inventive dishes the buffet regularly features. Other customer favorites include pork belly buns and the Wicked Spoon's succulent prime rib.
Photo Courtesy of The Cosmopolitan
The Buffet at Wynn Las Vegas
3131 Las Vegas Blvd. South
Las Vegas, NV 89109
702.248.3463

Price: Around $39
Voted
"Best Buffet"
by
USA Today
, the Wynn Las Vegas offers a luxury dining experience that provides both a beautiful dining setting as well as high quality, fresh food. Comfortable, organized and cozy, the dining area is complete with towering floral arrangements that give the space an elegant yet whimsical, Wonderland quality. The Buffet at the Wynn is vegetarian-friendly, with a decent variety of meat-free dishes. Because the quality of the food is so well-reviewed, lines can be long during peak lunch and dinner hours. The buffet's salad cups are a big hit with guests as well as the crab legs. However, there are certain dishes that just don't seem to work as well when served buffet-style and sushi is one of them. The Wynn's sushi offerings have not received the same praise as the rest of the dining options.
Photo Courtesy of The Buffet at the Wynn
Texas de Brazil
6533 South Las Vegas Boulevard
Las Vegas Nevada, 89119
702.614.0080

Price: Around $45
This restaurant, unlike the Wynn, is an establishment that vegetarians should probably steer clear of. As a Brazilian steakhouse, Texas de Brazil is a meat lover's paradise. The restaurant was honored in 2008 with award of "Best Brazilian Steakhouse" from
Las Vegas City Life
and in 2006 Texas de Brazil won the
Wine Enthusiast Award of Distinction
. Before their meal, guests are granted access to the impressive 60-item salad bar, which includes sushi and their famed lobster bisque. Guests are given a table card and once flipped to "green," the real feast begins. Waiters march out bearing a variety of meat, which is cooked to order. The bacon-wrapped filet mignon and palate-cleansing fried bananas are favorites among customers. Keep in mind that desserts and beverages are not included in the price of the smorgasbord, but after all of that meat, you may want to skip the cheesecake anyway.
Photo Courtesy of Texas de Brazil
Bacchanal Buffet
3570 Las Vegas Boulevard South
Las Vegas, NV 89109
866.227.5938

Price: $40+
Offering a view of the
Garden of the Gods Pool
complex, The Bacchanal Buffet reflects a $17 million renovation project, situated within Caesars Palace. The buffet is set-up with nine different kitchens, each showcasing the culinary traditions of regions throughout the world. Famous for its massive selection of quality food, the Bacchanal Buffet is one the largest in Las Vegas. However, some have complained that the dishes were "unoriginal" and that the lines were impossibly long. But considering the size of its menu, cycling 500 items spread between nine cooking station, there's bound to be something to appease most appetites. The seafood and dessert stations are particularly adored; the oysters, pho and maple glazed sweet potato tots are known for needing regular replenishment.
Photo Courtesy of the Bacchanal Buffet
The Buffet at the Bellagio
3600 Las Vegas Blvd South
Las Vegas, NV 89109
888.987.6667

Price: $20-$37
While some may argue that the decor of
The Bellagio
buffet may not be as elegant as others in Las Vegas, it still offers a high-end buffet experience. Their vast selection of dishes include unique creations such as pesto mashed potatoes and calamari salad, which are consistent fan favorites. They also offer traditional dishes like mac and cheese, prime rib and crab legs. The freshly rolled Ahi tuna rolls and lamb chops have also been named as customer favorites; however diners have cited that desserts are hit or miss. Dinner lines get very long after 6 pm, but if you prefer to spend an extra $15 you can cut through as a VIP. The Buffet also provides a decent amount of vegetarian options. During gourmet Dinner Service on Fridays and Saturdays from 3:30-10pm, The Buffet Bellagio pulls out all the stops. A new addition to the buffet, the caviar station provides guests with fine caviars (Ikura, Tobiko as well as traditional offerings) paired with a number of other delicacies such as Ahi tuna cones and house-made blinis.
Photo Courtesy of The Bellagio
Le Village Buffet
at Paris Las Vegas
3655 Las Vegas Boulevard South
Las Vegas , NV 89109
877.796.2096

Price: $25-$40
Le Village Buffet inside
Paris Las Vegas
is best known for its interesting atmosphere. Designed to imitate a French village, a faux-sky ceiling brightens the main eating hall. The buffet also features numerous side rooms decorated as cozy, European dining rooms, succeeding in creating a homelike culinary experience. The French theme overflows only slightly into the food selection; however there is a commendable crêpes station and a few other French-inspired offerings such as their brie and bacon macaroni and cheese. Meals are made-to-order in live-action stations themed to mirror France's five regions, while the staff is dressed in traditional French costume. Overall, the restaurant offers a variety of culinary options, which won the dining destination
"Best Buffet 2008"
from Las Vegas Review Journal.
Photo Courtesy of Paris Las Vegas
Studio B at The M Las Vegas
12300 Las Vegas Blvd S
Henderson, Nevada 89044
702.797.1000

Price: Around $16-$40
About fifteen to twenty minutes off the strip, Studio B at
The M Las Vegas
is certainly not the most convenient of buffets. However, the distance from the hustle and bustle of the main street means slightly less upsetting lines and a calmer atmosphere in general. It is one of the area's larger buffets and offers comfortably spaced seating and TVs which live broadcast the chefs' cooking techniques throughout the facility. The true selling point of the establishment is the unlimited beer, pear cider, wine and specialty coffee that is included in the price of the buffet. You can even ask for liquor in your coffee and the barista will gladly spice up your cup of joe. The buffet offers a wide selection of worldly cuisine and is especially well-known for their warm crab legs and diverse culinary options. Studio B seeks to make no two menus the same, constantly evolving their selections on a daily basis.
Photo Courtesy of Studio B at the M
Sally Farris
A recent English graduate from Liberty University, Sally Farris has a passion for all things beautiful. Her upbringing in a Coast Guard family has allowed her to live in some of the most popular vacation destinations in the U.S. Currently based in San Diego, she writes for Creativeedgemusic.com, and recently began working as Assistant Travel Editor at JustLuxe. ...(Read More)