By Donald Herrera-Fairbairn Aug. 1st, 2014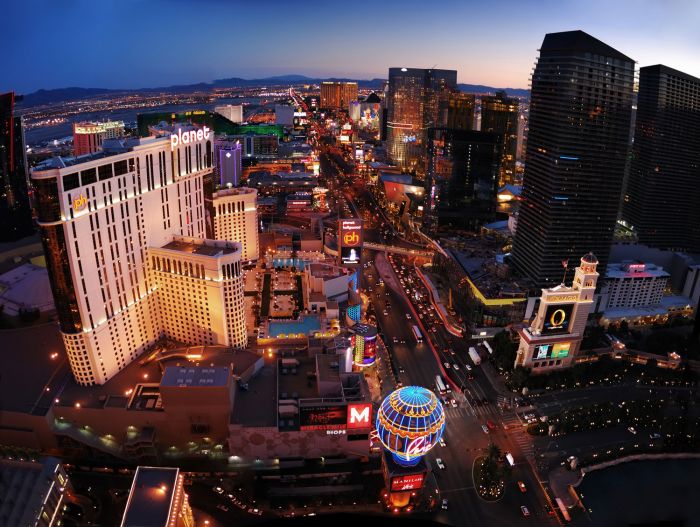 Photo Courtesy of Songquan Deng/Shutterstock
As the rare Italian, blueberry-infused beer slid flavorfully to the back of my throat, the cicerone for Public House at The Venetian in Las Vegas described the undeniably unique and especially bold flavors of the aptly named My Blueberry Nightmare. Hints of oak barrel aging and a spicy kick from hot chili confused my taste buds unlike any beverage I've ever experienced before. Imagine expecting a semi-sweet brew only to be confronted with a savory bitter flavor followed up by a punch of heat and a tart blueberry finish. It was nowhere near what I expected, yet I ended up thoroughly enjoying the new combination of tastes, which now stands as a perfect analogy for my entire trip to Las Vegas.
Practically everywhere I found myself, both on and off the strip, the sights and sounds of the city offered something new to savor with every turn of the head. But one can't wander in the heat of the desert forever, so we headed to THEhotel at Mandalay Bay to cool down from the unforgiving Vegas sun.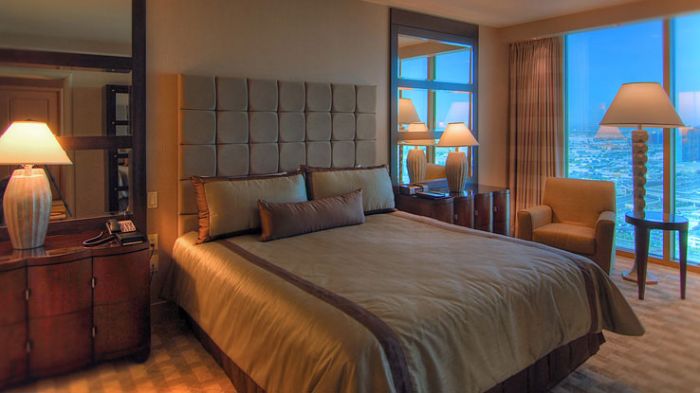 Photo Courtesy of THEhotel at Mandalay Bay
THEhotel at Mandalay Bay
As of September 1, 2014, THEhotel will become the Delano hotel and renovations and updates have already been made to the current property. As THEhotel, the hospitality is impeccable, as you might expect of a suites-only Vegas hotel (even with some unobtrusive construction happening in the lobby). Upon arriving in my room, I was pleasantly surprised by how impressive the accommodations were. The living area offers a deep, comfy couch and large coffee table as well a large flat-screen TV and entertainment center, a dark-wood work desk and some of the most reliable complimentary Wi-Fi I've encountered.
In the bedroom, a dramatic contrast between light-white linens and dark, hard materials makes for a dramatic entrance to the large space. The restroom has a large soaking tub to relax in and a separate glass-enclosed shower.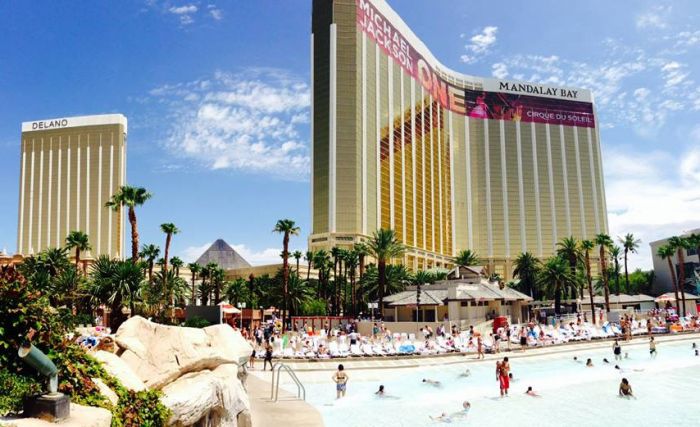 Photo Courtesy of Mandalay Bay
One thing guests to this chic hotel shouldn't miss out on, is the beach area, which is complete with waves, real sand and cabanas. Especially through the warmer months, the 11-acre artificial beach area plays host to a large number of popular DJs, lyricists, musicians and bands.
Although THEhotel doesn't have a casino to call its own, Mandalay Bay's casino is a brief walk through a corridor from THEhotel's lobby. However, the gaming floor is notably more subdued than those found on the rest of the Las Vegas Strip. Still, there's nothing wrong with the casino itself, the Mandalay Bay is just the southern-most casino resort on the strip. Depending on how you like to spend your time gambling, this noticeable quietness can be either an advantage or disadvantage.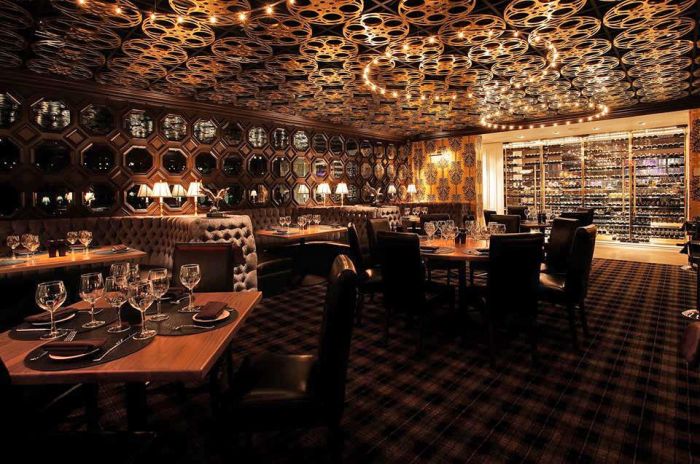 Photo Courtesy of The Barrymore
Dining Around Las Vegas
The primary purpose of my trip to Sin City was to visit and dine at a number of restaurants created and managed by restaurateur Block 16 Hospitality Group. Of the six Block 16 properties visited, none left me wanting more or regretting a meal or bite.
Over the course of three days we visited Holstein's, The Blind Pig, Haute Doggery, Flour & Barley, The Barrymore and Public House. Each of the properties excels in their own atmospheres and culinary paths. They are so individual from each other that patrons would be hard pressed to discover on their own that any two of the locations are operated by the same team. The only possible shared theme between Block 16's various restaurants is the use of whimsy décor as well as a handful of street-influenced pieces of artwork. On second thought, I suppose the large, expertly prepared meals are another linking facet between the hospitality group's wonderful eateries.
Photo Courtesy of The Public House
Nevertheless, with so many restaurants being given a good word here, you may be wondering which stood out amongst this group of exceptional places to dine. Without a doubt, Public House was the kind of place you could head to with friends or family and have a great time. In addition to Public House's chill atmosphere and tasty foods, the restaurant's most popular crowd-builder comes in the form of their gigantic list of 300+ beers available.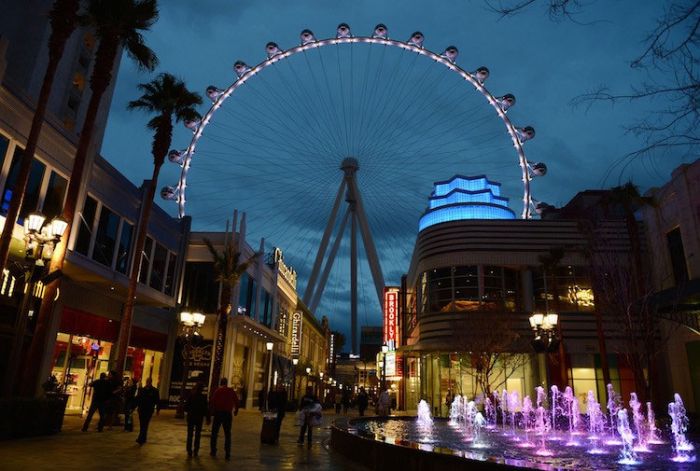 Photo Courtesy of The LINQ
Leisure and Entertainment
Postulating itself as an entertainment capital of the world, Las Vegas can easily compete with cities like New York City or New Orleans for travelers' hard-earned cash. Building after building on The Strip there are plenty of opportunities to keep you busy while visiting.
The LINQ is a cool shopping area that features boutique shops, ice cream stands, road-side bars (with to-go cups, of course) and many different activities for anyone in a group. Regretfully, I was unable to view a single show while in Vegas this time. However, I did get a chance to go on the newly opened High Roller observation wheel.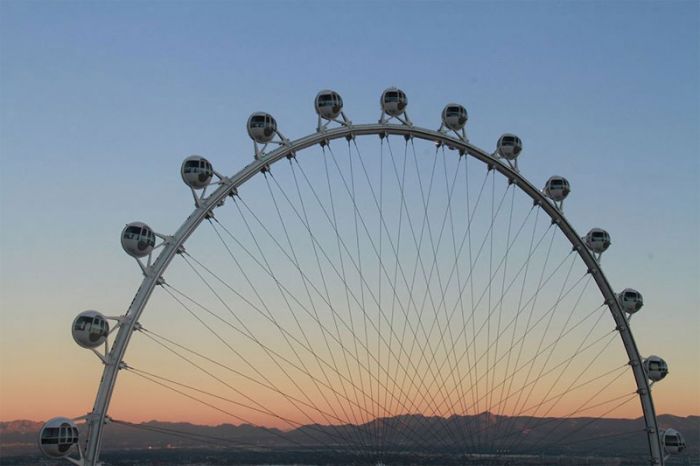 Photo Courtesy of The LINQ
Sitting incredibly tall at 550 feet, The High Roller is the world's tallest observation wheel at the LINQ. The view from the top is remarkable, to say the least, and the pod-like passenger observation vessel is large enough to easily and comfortably hold at least a dozen people. Also, the line leading up to the ride has a full-service bar, and purchased beverages are allowed on the wheel.
While Vegas is notably a party city, there are definitely facets of it that are great for those who aren't into nightclubs or pool parties. On this last trip, I discovered the other side of the lively city that is perfect for travelers of any age and was grateful to have experienced a different version of it.
Donald Herrera-Fairbairn
Donald lives in San Diego County with his wife and three children. He has written for a number of organizations in addition to JustLuxe, including Remy Martin, Yahoo!, Oh!Facts and more. Donald spent five years in the U.S. Navy where he discovered his knack for writing through creating instructional materials and standard operating procedures. Since his honorable discharge in 2009, he has embraced...(Read More)