By JustLuxe Team Aug. 12th, 2009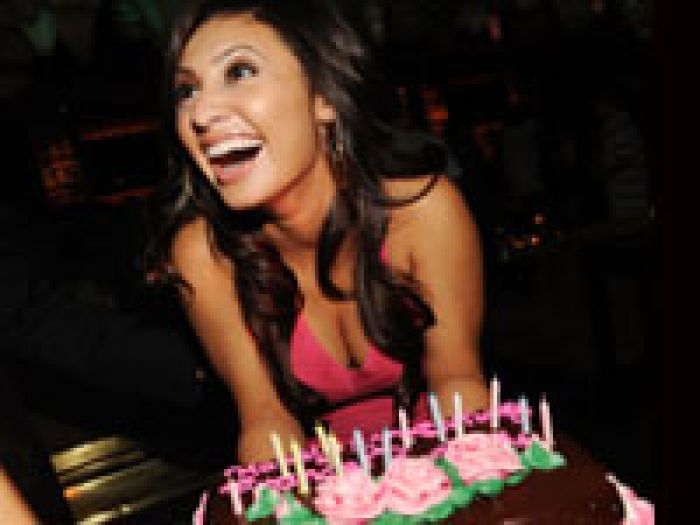 Insider:
Francia Raisa knows the secret to a great birthday, have it in Las Vegas! "The Secret Life of the American Teenager" star flew into town in early August with a group of gal pals for her 21st birthday. After taking in the beauty of "Le Reve" at Wynn Las Vegas, Raisa and her friends moved to the hotel's Blush Boutique Nightclub.
They spent the entire night dancing and Raisa was presented with a large chocolate cake from the Blush staff. She didn't seem to have any worries, particularly over boys. Raisa broke up with her guy Shane Sparks recently, who ironically made a night of it at
Blush
just the week before when he was in town.
Dancing Star Gets Pulled Into Show
Cheryl Burke of "Dancing with the Stars" took time off her busy schedule, and feet, to fall in love with Vegas again. The pro looked gorgeous on a hot late July night with her boyfriend on her arm. Not surprisingly she decided to see the new "Peepshow" at Planet Hollywood Resort, which features lots of dancing and co-stars Holly Madison and Broadway babe Shoshana Bean.
Burke relaxed in the audience with friends until she was unexpectedly pulled onstage to shine with Madison and show off a few dance steps. She later dined late night at First Food & Bar. Burke ordered the tortilla soup and shared with her yummy boyfriend.
Politicians Love Las Vegas
Many of the political pundits and heavies were in town mid-August for the Clean Energy Summit 2.0 at UNLV.
Bill Clinton had an early birthday at Craftsteak at MGM Grand with about 60 of his close friends. After talking about energy and the environment, Clinton restored his reserves after a long day with ribeye steak, salmon, chicken and French fries at the elegant Tom Colicchio restaurant.
That same weekend over at The Shoppes at The Palazzo, Sean Hannity found First Food & Bar for a late night meal. The TV talker and a few friends walked in to the hot spot around 2:30 a.m. They enjoyed steak and eggs and the new menu item, cheese fondue. Hannity and friends returned for a late night munch on Saturday choosing to sit at the chef's table, where they topped off their night with house made donuts.
UFC Brings Stars to Vegas
Vegas is becoming known for its Ultimate Fighting Championship parties, as well as the A-listers they attract. The Ultimate Fighter UFC finale at the Palms was a huge event in mid July that attracted odd couplings of celebrities.
Chace Crawford settled in with pals close to the action with friend and comedian Harland Williams. Close by was the new co-star of "Peepshow" at Planet Hollywood Holly Madison with friends as well as Benji Madden and NHL players Chris Chelios and George Parros, who hung out in a VIP skybox.
Also enjoying the fights, "Celebrity Rehab's" Ricco Rodriguez, Quinton Rampage Jackson, Rashad Evans, Stephan Bonnar, Dan Henderson and Michael Bisping.
For LxM Kimberly McGee
JustLuxe Team
The JustLuxe Team strives to bring our members and readers the very best in luxury news and conversations. We love to hear your opinions and suggestions, but most of all, we love to interact with you. ...(Read More)