By Carly Zinderman Aug. 28th, 2009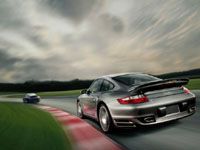 Racetracks:
When the casinos and clubs of Las Vegas start wearing thin, Supercar Life offers a special opportunity to experience extraordinary luxury.
Based in Las Vegas, Supercar Life gives interested participants the opportunity to drive some of the world's most exclusive cars, under the watchful guidance of a team of decorated and experienced race car drivers.
Spending a day at a premier racetrack is a great way to enjoy the thrill of some of the world's most prized driving machines. The fleet of Supercar Life vehicles includes the world's biggest brands, Ferrari, Lamborghini, Aston Martin, Mercedes and Porsche, all ready to be pushed to the limits they were designed for. All cars are equipped with paddle shifters or automatic transmissions, so you don't have to worry about stick shifting while you race around the track at amazingly high speeds.
The Supercar Life experience doesn't just take place on the track. Events at Supercar Life can be customized any way you want and can be arranged to include trackside meals, an end-of-the-day Champagne reception and exclusive Supercar Life gear in addition to transportation to and from the track as well as special in-car footage to share with friends and family. Many of the Supercar Life experiences also give guests a Supercar Life Certificate of Completion and graduation ceremony.
The elite supercar company offers an assortment of adventures, that can be customized, whether you want to experience the thrill of one-hour Supercar Power Sessions or the more extensive two-day Driving Academy. Whether you're a party of one or 200, Supercar Life will make sure that your experience is perfect for you. VIPs can even enjoy a special one-on-one driving session with one or more of Supercar Life's pro drivers. Supercar Life offers standard prices for their driving experiences, but they may offer special discounts depending on the size of the group or scope of the event.
Supercar Pro Drivers ensure that guests are totally comfortable in the car, no matter what their previous skill level or racing experience. Each Supercar Pro Driver is an expert in their field, coming from a racing series like IRL, Grand-Am, NASCAR and ALMS.
Supercar Life events are held at either the Las Vegas Motor Speedway in Las Vegas or Spring Mountain Motorsports Park in Pahrump, Nevada. Both are short enough to learn in a day, but challenging enough to test the power of both car and driver.
For business or pleasure, Supercar Life is a great way to experience something new in Sin City. Supercar Life offers a change from the usual business outing to the golf course, whether you want to impress clients or use Supercar Life as part of a sales incentive program, to reward customer loyalty, sway key prospects or boost employee morale. Supercar Life also makes a great outing for pleasure as well, from private parties to bachelor parties. Use the track as the starting point for your product launch, charity event or any other event you can think of.
Supercar Life offers a variety of events to make the unique experience truly spectacular. Whether you just love supercars, luxury vehicles, racing or the thrill of driving really, really fast, your own Supercar Life adventure is sure to be an event you won't soon forget.
For
JustLuxe
Carly Zinderman
Carly Zinderman
Carly Zinderman is a Senior Staff Writer for JustLuxe, based just outside of Los Angeles, CA. Since graduating from Occidental College with a degree in English and Comparative Literary Studies, she has written on a variety of topics for books, magazines and online publications, but loves fashion and style best. In her spare time, when she?s not writing, Carly enjoys watching old movies, reading an...(Read More)