By Katherine Bond Oct. 7th, 2009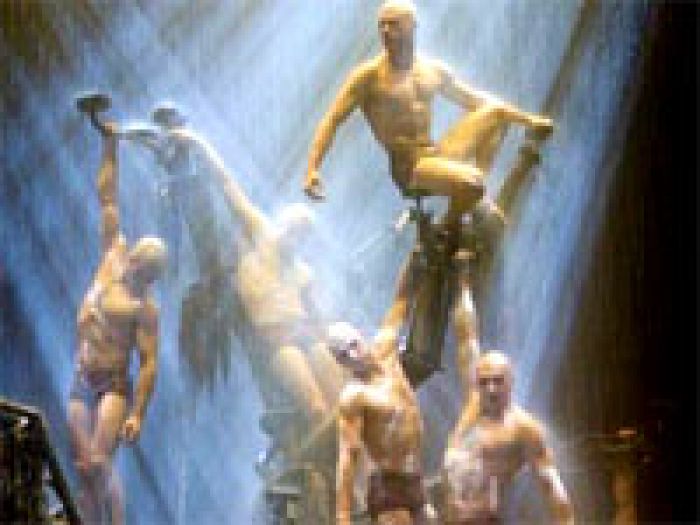 Vegas Attractions: Indulgence- that's one word to epitomize Vegas, perhaps the most elaborate adult playground in America. On a recent trip to Sin City, I enjoyed whirlwind sampling of the Strip's latest offerings. Here's my roundup on entertainment, spas, and restaurants in 72 hours.
Entertainment
Le Reve
This is your must-see show on the Strip, without doubt. A whimsical unfolding of stunts, dance, and mesmerizing scenes, Le Reve shows exclusively at the Wynn in an eye-catching aquatic theater-in-the round. A cast of 85 enchants the audience for an hour and a half through "a small collection of imperfect dreams." You'll never wish this dream-like show to end. Franco Dragone, Cirque du Soleil's former creative director, is the mastermind behind Le Reve. This show projects a more mature and less playful theme than Cirque performances with romantic twists and triumphs.
O
One of Cirque du Soleil's masterful mantras is: there are no boundaries. "O," performed at the Bellagio, is perhaps Cirque's strongest showcase of this philosophy. Using a stage and massive pool, both with seemingly infinite and dynamic depths, O's collection of woodland nymphs, zebras, clowns, butlers, and more "perform in, on, and above" water. It sounds inconceivable, and that's the mystic of a Cirque show, "O" being no exception.
Phantom of the Opera
I admit: I know every word to every song of Andrew Lloyd Webber's most prolific musical work. Still, seeing the Phantom played out in the Venetian's $40 million custom theater with the most advanced theater effects on the Strip reignited my delight for this timeless performance. From costumes to cast, songs to scenes, this is the Phantom at its richness. Many of the show's original cast, its director Hal Prince, and choreographer Gillian Lynne, didn't want to disappoint Vegas with a less than spectacular premiere of the Phantom. Even non-Phantom diehards are sure to enjoy the performance as well-the show lasts just 95 minutes but includes every song of the full-length version.
Spas
Encore Spa
Perhaps the most originally designed spa I've visited yet, the Spa at the Encore is a glimmering shrine, combining Indian and Far East inspiration that only Steve Wynn could create. Hallways leading to one of the 45 treatment rooms are lined with stone and 3-foot-tall golden lanterns and birdcages. My favorite touch was a massive wall water fountain, accented with columns of tin and copper buckets that chimed like a small symphony. What a change of pace from the usual serene spa music! Attendants were draped in an Orient inspired robe, one of many touches that epitomize Wynn's attention to detail.
The Grand Spa at the MGM
The 2nd largest hotel in the world doesn't skimp on its Spa. The MGM's Grand Spa is notably expansive and popular, full of girlfriends, tourists, and hotel guests enjoying the sea green colored saunas, hot tub, and locker areas. One of the Grand's Spas most attractive features is its exotic service menu. I was impressed by offerings like the Amazon Rainforest Ritual and Japanese Yuzu Ritual, although the most intriguing service was the Ayurveda ("science of life") massage, an East Indian wellness tradition using Shirodhara hot oil placement, hot stones, a cool eye mask, foot balancing massage and customized music. Sounds marvelous!
Although tempted to be daring, my face looked a little worn, so I sprung for the Traditional European Facial. My knowledgeable esthetician worked in perfect rhythmic strokes and suggested (as it turns out, correctly) zinc supplements to improve my breakout prone skin.
Well Spa at the Platinum Hotel
Sometimes, a little time off the Strip serves your spirit (and your over indulgent self) well. The Platinum Hotel, a rare non-smoking, non-gaming sanctuary of sorts, houses the WELL Spa. Lofty and unassuming, the WELL Spa isn't packed with throngs of guests, as if often the case for spas along the Strip, and I enjoyed a true tranquility while waiting for my service. Although the WELL Spa offers some spa goodies, like the Chocolate Chip Body Scrub and the Stillet-Toe Pedi, I picked a good 'ol Swedish massage given by a seasoned therapist who radiated the spa's calm demeanor. Rushed and ruffled from my ongoing packed schedule, it was such a treat to be wrapped up in the peace the WELL Spa offered.
Restaurants
Lavo
Why stop with one hit? From the creators of TAO, one of the Strip's most successful nightclubs comes LAVO, a glimmering Italian restaurant and nightclub appropriately housed in the Palazzo. Already apparently favored by celebrities including Fergie and Paris Hilton, LAVO isn't anything demure. The outdoor patio, lounge area, bar, restaurant and upstairs nightclub can make the massive LAVO a one-stop shop for the entire night. My guest and I had to dash early to catch Phantom (mentioned above), but enjoyed the restaurant's surprisingly non-frilly menu of classic pastas, brick oven pizzas, and meatballs (though made with A-5 Kobe beef.) Next time you and your closest 1,700 friends have the hankering for some meatballs (and the budget to take over the entire venue), then LAVO is your spot.
The Country Club at the Wynn Resort
One thing many Vegas restaurants lack is a sense of intimacy. It's nice to know that you and your dining guests can share a quiet conversation, chat at lengthen with your server, and meet the actual chef. The Country Club at the Wynn Resort masters dining intimacy like few others on the Strip, complete with waterfall views of the resort's 18th hole and a genuine staff eager to please. A "New" American Steakhouse, Wynn's concept for a Country Club is predictably modern and bold, but still honors "country club" touches like dark leather booths, regal fireplaces, and handsome plaid carpets. The menu, created by Carlos Guia, is rich and satisfying. Love is an overused term, but I loved the side of cream corn topped with apple bacon, the Kobe Beef Capriccio, and a Kobe beef steak topped with truffles. Most share love for Guia's dishes-the executive chef is a James Beard Foundation Award Nominee for Best Chef in the Southwest, quite an encomium.
Dos Caminos
It's a tad odd to be sitting next to a stylist bar with its wall of artistic skulls while noshing on omelets and zesty guacamole, but this is Vegas, isn't it? The Dos Caminos in the Palazzo Resort, the fourth location of the Manhattan-based Mexican restaurant, is as vibrant as a piñata and as sophisticated as its Frozen Prickly Pear margarita. The menu, created by Executive Chef Scott Linquist, stays true to authentic Mexican flavors but adds some novel twists. For brunch, the Chilaquiles, a baked tortilla casserole with sunny-side up eggs, along with Hamburger Torta with Angus beef and guacamole, were satisfying and filling, too. Dos Caminos must have quite the fan base too (now including me), as you can purchase the restaurant's latest cookbook, Cooking Vibrant Fiesta Flavors at Home.
Coming soon: I can't wait to return to Vegas to see the finished City Center, the most prodigious project the Strip has seen yet. On a private tour, I learned the 67-acre city-within-a-city, developed by the MGM Mirage empire, is the collaboration of eight internationally recognized architects. The finest caliber of shops, residences, hotels, restaurants and more will fill the massive space, all to be LEED certified. City Center opens later this year.
Katherine Sutton
Freelance Writer
JustLuxe
Contributor
Katherine Bond
Katherine Sutton Bond is a freelance travel and luxury item writer for Justluxe.com. She's traveled the world and sampled some of the leading hotels and destinations of the globe. She often covers luxury events and technology. ...(Read More)