Feb. 17th, 2010
Vdara at CityCenter: New Luxury Boutique Hotel in Las Vegas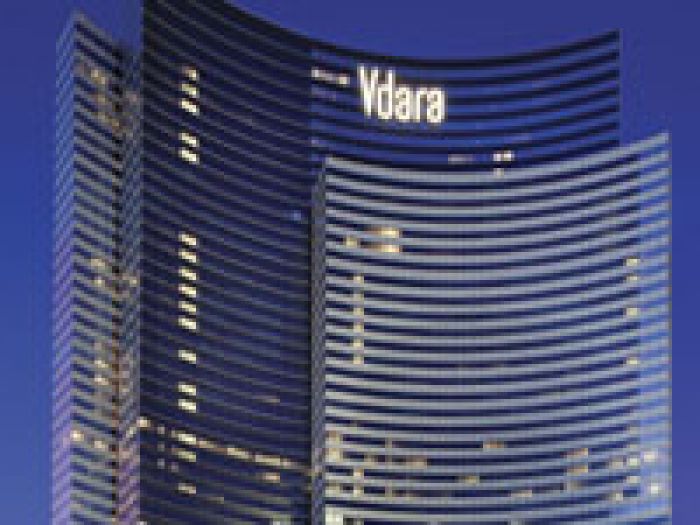 Hotel Review:
We were not kidding when we said Vdara is a breath of fresh air in Las Vegas. This luxury boutique hotel is a perfect escape from its smoky casino counterparts. We were surprised to find that even the lobby and spa facilities were scented with a unique blend of fragrances, which will soon be available for sale in the spa. The first of it's kind; Vdara is a breathtaking sustainable, non-gaming, non-smoking, all-suite hotel and spa with exceptional service and attention to detail.
As part of the MGM/MIRAGE™ Empire, Vdara is a sophisticated alternative for guests who love the energy and excitement of Las Vegas, but who are looking for a slightly less busy atmosphere in their down time. Directly connected to Bellagio® and adjacent to ARIA Resort & Casino™, Vdara offers the best of both worlds.

Commitment to Sustainable Luxury: As part of the City Center, Vdara reflects a vision of the future that combines quality of life with commitment to sustainable design. Vdara is committed to maintaining elevated green standards for both today and tomorrow. Taking steps to achieve this goal, including the use of wood products from responsibly managed forests; high efficiency water use, both inside the building and outdoors; "all off" power switches in every suite, alternative fuel options for limousines; and an improvement of more than 30 percent in energy efficiency over standard building codes.

Guests can rest assured that sustainability at Vdara does not mean unkempt guests and less than luxurious amenities. In fact, every comfort we expected from a luxury boutique hotel was provided, including plush pillows, luxury linens, spacious bathrooms, gourmet kitchens, and expansive views of the surrounding mountains, the City Center or the Strip.




Vdara consists of more than 800 spacious, one- and two-bedroom suites ranging from 582 to more than 1,400 square feet. We were installed in a one-bedroom Deluxe Suite with custom designed Sealy king-size bed (we couldn't get out of bed for hours), plush robes, living room with a pullout queen-size sofa bed, expansive picture windows, high speed interned, media hub for Mp3 players, cameras, DVD players, and game consoles, and 42" flat screen television. The kitchen boasted an under-counter refrigerator, fully stocked mini-bar, convection microwave, a custom wood and glass dining table for two, and of course, cookware is available upon request. But of course, our favorite part of the suite, other than the bed, was the bathroom. The backlit vanity mirrors made for great "getting ready" lighting and the Aveda bath amenities were welcomed, considering we forgot our own products. The large spa-style soaking tub and frameless glass-enclosed walk-in shower with built-in seat each use low-flow fixtures to ensure water conservation, which does affect the water pressure. The hotel management assured us this was intentional, and in our opinion, it is a small price to pay in an otherwise phenomenal bathroom.

Added Touches: It is worth mentioning a few other aspects of this fabulous hotel. First, Silk Road, the restaurant where we were fortunate enough to eat on our first night. Created by Executive Chef Martin Heierling, who created acclaimed Sensi in Bellagio. Here his culinary creations are expanded across cultures with a taste of eclecticism. The colorful space is a mix of contemporary seating and sleek private dining booths. Then there is the food! We were blown away by the delicate flavors. Everything from the complimentary baba ganoush to the filet mignon was exquisitely prepared and presented. Conveniently located adjacent to Bar Vdara, it is the perfect place to grab a bite to eat and a cocktail before a night on the town.




Second, the spa and fitness facilities, entitled Vdara Health & Beauty™. This 18,000 square-foot, two-level, spa, salon and fitness center is located on levels 2 and 3 of the hotel. Amenities include luxurious men's and women's locker rooms each with a sauna, eucalyptus steam room and hot plunges. The Salon at Vdara includes a full menu of services for men and women, including a Jet Lag Relief Massage, Wild Black Cherry Peel, and professional hair design. The Fitness Center features a variety of state of the art cardio equipment with personal entertainment centers, exercise machines and free weights. They even employ a full time personal trainer who is available to all guests of the hotel.

Third, Sky Pool & Lounge, which is set above Harmon Circle on the rooftop of the grand entry. This cutting edge pool and lounge includes world-class DJs, private retreat and spa cabanas with semi-secluded plunge pools, phenomenal views, made-to-order cocktails, appetizers, and gourmet tapas. We were fortunate enough to tour the Sky Pool & Lounge, which is set to open in spring of 2010. It is an intimate and playful experience unlike anything else on the Las Vegas Strip.

By Katelyn Lehman
.

Las Vegas Map

.
.

Luxury Hotels in Las Vegas

.



Bellagio Las Vegas

Romantic, Business, Family Friendly, Spa, Casino, Wedding, Resort, Luxe Superior, Tourism, Nightlife, Culinary