By Carol Driver Dec. 2nd, 2010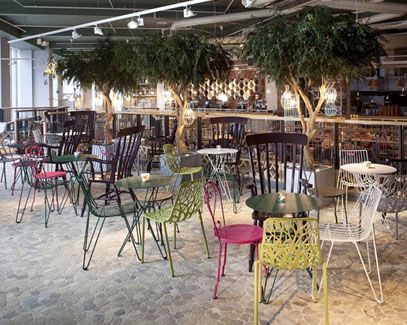 Food and Spirits:
The Folly bills itself as London's secret
garden
, but it's clear this little gem is no secret. It's packed the Friday night my friends and I decide to pay it a visit.
The bar and
restaurant
has a botanical theme, there's a garden lounge and a flower shop. It's funky without being pretentious. And it's classy whilst being filled with suits - well, it is in the City.
An eye-catching center-piece, the eight-meter-high Norwegian Spruce tree trunk, 'grows' from the basement through the floor above to the main bar, while plant-pot lampshades and a bee hive-inspired back-bar work together to create a venue that instills a sense of the outdoors.
The large dining room contains heavy-set wooden bench tables set against contemporary bar stools to create an open-plan feel where guests can watch the theatre of the kitchen and seafood bar. For a little more privacy, the chunky kitchen-style chef 's table is ideal for 14 guests.
Toward the rear of the first floor, the library is great for a quick coffee with friends, where books are read, borrowed and replaced at leisure.
We decide to head straight to our table, and we're looked after by our super friendly waitress Isabel, who is also the manager. She helpfully suggests we start the night with a
cocktail
, which sounds like a good idea to us.
A Skinny Blueberry Sour, a Skinny Honey Passion and a Mango Bellini (from £6.95) arrive at our table and soon disappear as we chat over a platter of fresh bread while looking at the menu. It's overloaded with delicious suggestions, the modern European menu champions local and seasonal produce with an emphasis on comforting dishes.
Choose from a range of "nibbles" for light bites, sharing boards, gourmet sandwiches and burgers as well as hearty main dishes and punchy salads.
I opt for the Courgette Fritters with Garlic Dip, Jo orders the Prawn and Lemongrass Lollipops and Claire tries the Chicken Satay with Peanut Sauce (from £5.25) - each presented like a work of art. You can tell the food is good, as the table falls silent.
Suitably impressed, we open a bottle of deliciously crisp Sauvignon Blanc Pencarrow Estate (£22.95) and get caught up in the lively atmosphere of The Folly, which is a huge venue, based over two floors.
Our main dishes arrive. The presentation of each is unique, using wooden blocks as plates. The Open Chargrilled Vegetable Sandwich served on fresh focaccia (£7.45) and the Fishfinger Sandwich (£6.95) are both delicious. Claire is more than impressed with her Folly Seafood Board (usually for two £34.95), which boasts fresh shellfish and oysters. After food of particularly high standards, we couldn't leave without trying the desserts.
The homemade brownie was the ideal treat for chocolate lovers. The cheesecake, with a unique twist - Frangelico, with liquid creme de fraise in a bottle to pour over berries - was delicious. However, the clear winner was the good old fashioned Knickerbocker Glory.
If the Folly is aiming to appeal as London's secret garden, it might have to think again. With food as good as this, it won't be long before everybody knows about it.
Carol Driver
Carol Driver is a journalist with more than 13 years' experience writing, subbing and editing at national and regional publications and websites in the UK. Carol is currently the group editor at TNT Multimedia, which has magazines in London, Australia and New Zealand. She previously worked at national newspaper website the Mail Online well as writing for a host of other publications. She has also ...(Read More)