Feb. 2nd, 2011
London Restaurants: The Best of 2010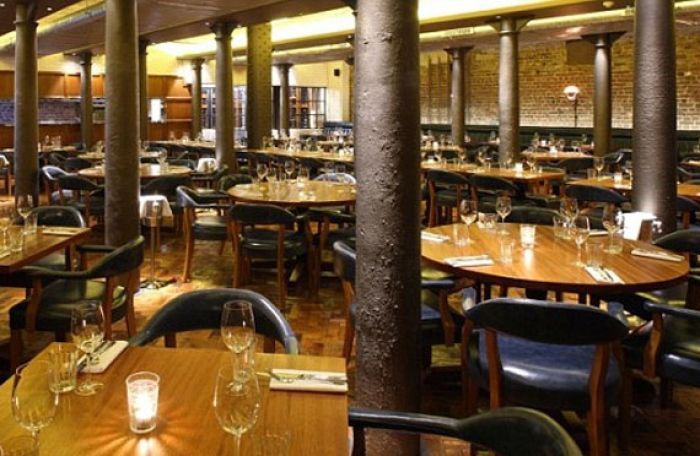 2010 has been a great year for London food enthusiasts with a wealth of
new restaurants
; a large proportion of which have been of an excellent quality. Here's our guide to best new openings of the past 12 months.
Hawksmoor Seven Dials, Covent Garden
While the original was already widely regarded as London's best steakhouse, the arrival of Hawksmoor Seven Dials has secured domination on the London scene. Like the original in Shoreditch, the menu reads like a meat eater's dream. However, it's the look that makes all the difference with the new venture, along with the great bar area with ample space for pre-dinner cocktails.

Les Deux Salons, Covent Garden

Situated in Covent Garden on William IV Street, Les Deux Salons is a spacious, traditional French brasserie with a mix of brasserie fare and other European classic dishes. Les Deux Salons is the sister restaurant to Arbutus and Wild Honey, both of which have a Michelin star for their modern European cuisine.



Koffmann's at The Berkeley

Pierre Koffmann made a triumphant return to the kitchen with his eponymous restaurant, Koffmann's, at the former Boxwood Café site at The Berkeley Hotel in mid July. They are offering hearty, robust French cooking, bringing back old favorites such as the pig's trotter and the pistachio soufflé.



Polpetto, Soho

Polpetto is the new venture from the team behind Polpo, the successful Venetian 'bacaro' in Soho. Polpetto is located above the French House pub on Dean Street and offers 'cicheti,' small plates of classic Venetian dishes. Like its sister restaurant, Polpetto has a no reservation policy for dinner, so expect to queue as this place is always busy; or you could try to secure a much coveted lunch booking.

Bar Boulud, Knightsbridge

Daniel Boulud, one of the most coveted chefs in the U.S., has opened his first restaurant in the U.K. It is located at the Mandarin Oriental with Bar Boulud, which was already a big success across the pond. The room may lack real character, but the mix of rustic French brasserie fare and a New York style buzz has been an instant hit. With almost universal praise for the charcuterie boards and the burgers, Bar Boulud has certainly made its mark.

Caravan, Clerkenwell

From the former chef at The Providores, Caravan has been the surprise hit of the year. Offering a weekend brunch menu to rival any in London, along with an excellent evening menu that is ideal for sharing, Caravan is a relaxed and effortlessly cool newcomer on Exmouth Market. The New Zealand influenced restaurant has its own coffee roaster, so flat whites are very popular too.

Viajante, East London

Following the success of The Loft, his supperclub in Dalston, Nuno Mendes opened Viajante in Bethnal Green's new town hall hotel earlier this year. Nuno's cooking is described as experimental with echoes of the grand master, El Bulli. While not every dish gets it just right, Viajante is seen as a breath of fresh air from a chef with real passion. He was recently awarded his first Michelin star.

Bistrot Bruno Loubet, Clerkenwell

The Zetter Hotel in Clerkenwell has welcomed Bruno Loubet back on to the London scene with his restaurant, Bistrot Bruno Loubet, having spent the last eight years in Australia. The space may be a bit crammed, with tables packed in next to each other, but the crowds keep flocking here for the rustic French cooking with intense flavors.


Gauthier Soho, Soho

Alexis Gauthier, who achieved a Michelin star at Roussillon, has opened his eponymous restaurant at Lindsay House, once occupied by Richard Corrigan. Gauthier's cooking is classic French with a large focus on vegetables. Despite the rather sedate mood, the restaurant brings a touch of refined class to Soho.


Zucca, Bermondsey

Zucca is a bright and bustling modern Italian restaurant in Bermondsey, described by many as a River Café at half the price. The reasonable prices and generous portions mean that the restaurant is usually booked up. You need to book far in advance or try your luck on one of the stools at the bar. Zucca was closely followed by many other high quality mid-priced Italian restaurants, including Tinello in Pimlico, Trullo in Islington and Tempo in Mayfair.

Late Arrivals
The last few weeks of 2010 saw the arrival of a few new restaurants that could be the ones to watch for 2011. We thought it was too early to include them in the "Best of 2010" list as they have not had enough time to establish themselves properly. These include Brawn, the new venture from the team behind Terroirs, which is already receiving great reviews; The Savoy Grill, Gordon Ramsay's latest venture at The Savoy Hotel; and Roux at The Landau at The Lagham hotel.

Coming Soon
Heston Blumenthal's first foray into the London restaurant scene will be at the Mandarin Oriental from January 2011 with "Dinner" by Heston. Marcus Wareing will open The Gilbert Scott, a British brasserie at the St. Pancras Renaissance Hotel in February, and Jason Atherton (formerly of Maze) will open Pollen Street Social in March, which will have its own dessert bar.
.

London Map

.
.

Luxury Hotels in London

.



Claridge's

Spa, Wedding, Boutique, Tourism, Culinary



Carol Driver

A journalist with more than 12 years' experience writing, subbing and editing at national and regional publications and websites in the UK.