By Carol Driver Mar. 31st, 2011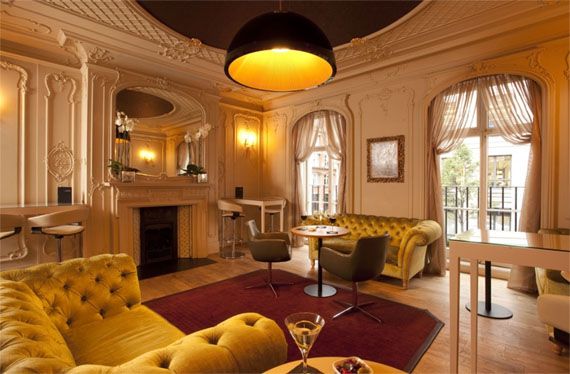 Photo Courtesy of Tempo
There's a warm golden glow emanating from the tall windows of Tempo restaurant on to the dark Mayfair streets of
London
. Inside, emerald colored green chairs add a touch of elegance to their cream and pine-style surroundings.
It's a lively Thursday night, with almost all the tables filled with couples or small groups chatting over food and wine. Located in the prestigious area of classy Mayfair, expectations are high for this fine dining Italian eatery.


My fiancé and I are welcomed by the friendly staff and taken to our table at the front of the restaurant. There is a stylish bar upstairs serving everything from cocktails to coffee as well as a mix of bar food. The decor is a stunning mix of modern combined with 19th century sophistication, boasting Rocco revival wall and ceiling moldings and chic lime green velvet sofas.

Downstairs, we place our order – with some help from our waitress for the evening. The owner, Henry Tongna, is wandering around, holding doors open for his customers and chatting with everyone. He wishes us a good night while we dive into the soft, homemade bread before our meals arrive.

My burrata cheese, tomato and basil salad is divine. The fresh Italian cheese, made with mozzarella and cream, is soft, creamy and delightful, contrasted against the tanginess of the warm tomato. I'm definitely impressed. Rich is served two carpaccio dishes – succulent Manzo Scottish beef, served with hazelnuts and parmesan as well as fresh organic salmon with an intriguing choice of grapefruit and fennel. The ingredients of the two dishes work together perfectly – especially the salmon, an explosion of complimenting flavors.


This is top-class quality food. The creations by the chefs are confident and sometimes risky, but they work exceptionally well. Our meal is accompanied by a fruity, but light, Italian red – a 2009 Merlot, Cortegiara, Venteo, which is perfect for our selections. Two small bowlfuls of gnocchi and tortelli are served. The gnocchi is cooked to perfection – it's melt-in-the-mouth delicious and is served with a rich tomato sauce, fresh mozzarella and a hint of chilli.

My companion deems the tortelli the best pasta dish he's ever tried. It's cooked al dente and is flavorsome, stuffed with ricotta and spinach and served in a buttery nutmeg sauce. Delicious! Our mains arrive and the outstanding standards continue.

The chef has whipped up a vegetarian treat for me – a creamy artichoke risotto. It's off-menu and sublime. Rich's Petto d'anatra also gets the thumbs up. The dark pink aromatic meat is served with a light and fluffy wild garlic mash, green kale and a blood orange and red wine jus. Everything is exceptional.


Given we've enjoyed such an extensive meal, we probably shouldn't order dessert, but we can't resist. Rich's lemon tart is bursting with sharp, tangy flavor and my dark chocolate fondant with vanilla ice cream is warm and gooey – perfect for chocolate lovers.

I can't recommend Tempo highly enough. Our experience has been one of the best I've ever had in London. Situated in Mayfair, restaurants run the risk of becoming ostentatious in terms of design. But Tempo has the balance just right. Its decor is an understated elegance while the superiority of its food speaks for itself. We'll definitely return.

Tempo
54 Curzon Street
London W1J 8PG
+44.20.7629.2742
www.tempomayfair.co.uk
Carol Driver
Carol Driver is a journalist with more than 13 years' experience writing, subbing and editing at national and regional publications and websites in the UK. Carol is currently the group editor at TNT Multimedia, which has magazines in London, Australia and New Zealand. She previously worked at national newspaper website the Mail Online well as writing for a host of other publications. She has also ...(Read More)