By Carol Driver Jun. 20th, 2011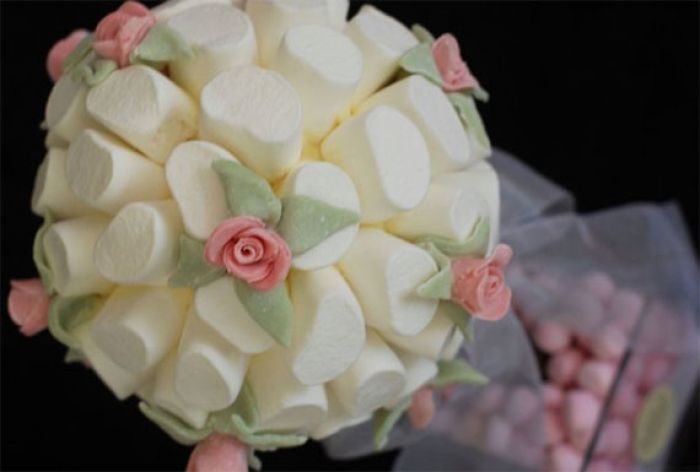 Photo Courtesy of Sweet Tree by Rivera
Do you know someone with a sweet tooth? Or are you looking for a unique wedding gift or a one-off dinner party present that's bound to be a conversation starter? If so, Sweet Tree By Rivera has the answer. The London company specializes in high-end sweet trees, which are made from a range of candy and chocolate.
The handmade delights look like a cross between a pot plant and a bouquet, and look stunning as a wedding centerpiece or are perfect for an indulgent present.

You can have a "tree" made from "mint milk chocolate truffles" or "strawberry truffle hearts" or even one made from marshmallows in a terracotta pot. The trend is beginning to take London by storm. Sweet Tree By Rivera's luxurious products are now available through esteemed retailers, such as Harrods, Selfridges and Fenwicks.

The London-based business also created a bespoke British range in honor of the royal wedding of Prince William to Kate Middleton. These stunning trees combine a range of red, white and blue jelly beans to form a circular Union Jack flag, on top of a "trunk" made from chocolate. The colorful sweet or chocolate trees, which are finished with a bow and stand an impressive 2.5 feet to three feet tall, make them an impressive addition to a dinner party.


Company spokesman Charlee Hutchins explains how the family business, which started in October 2010 by a mother and daughter, felt when they managed to secure a bespoke deal with Harrods. "When our products first arrived at Harrods, we were so proud. Fifteen members of our family went to the store to have their photo taken with the trees!" she tells JustLuxe.com. "We have been very lucky to hold a few exclusive designs with Harrods and make bespoke trees for some wonderful, exclusive locations and events."

And Charlee explains how Sweet Tree By Rivera is "branching out" into new designs: "Waitrose Food Halls currently have a vegetable and fruit bowl tree that stands 2.5 feet high, with each fruit or vegetable being handmade from sweets or chocolate." Sweet Tree By Rivera also has plans to reveal a new collection, which will be unveiled at the National Wedding Show in London in September.


"Our sweet trees are all individually handmade with precision, love and care to bring all who receive them to enjoy them as we do," Charlee added. "We believe that the sweet trees are a great way to share a passion of sweets with friends and family. Sweet trees are a fantastic way to say thank you, I love you or happy birthday. The great thing about them is that they can be shared (although its been known some recipients don't like to share them!) and look impressive as a dinner party centerpiece."

Since making their first trees last year, Sweet Tree By Rivera has seen demand soar - so much so, they are also discussing expansion in Europe and South America. Sweet Tree By Rivera's products range from £25 to £80. For more information, visit their website SweetTreeByRivera.co.uk.
Carol Driver
Carol Driver is a journalist with more than 13 years' experience writing, subbing and editing at national and regional publications and websites in the UK. Carol is currently the group editor at TNT Multimedia, which has magazines in London, Australia and New Zealand. She previously worked at national newspaper website the Mail Online well as writing for a host of other publications. She has also ...(Read More)