By Jared Paul Stern Jul. 11th, 2011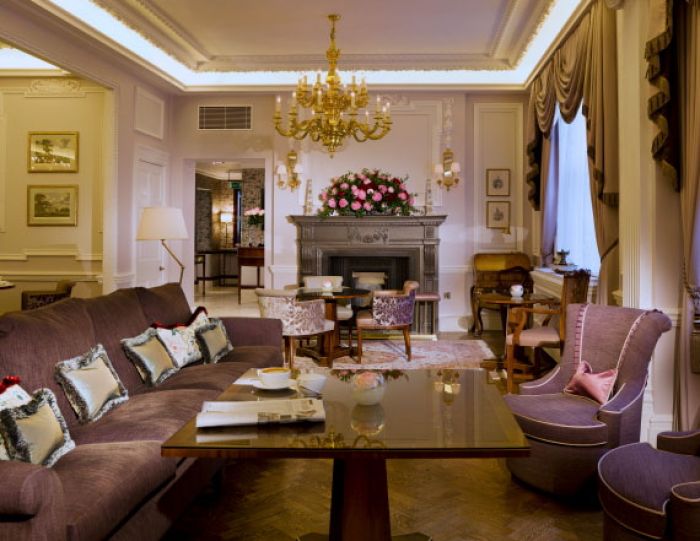 Photo Courtesy Stafford London by Kempinski
The five-star Stafford
London
by Kempinski hotel, located steps away from Buckingham Palace and said to be frequented by the Royal Family themselves, has just unveiled the results of a $10 million renovation.
London-based RPW Design focused the overall renovation concept on bringing a new sense of spaciousness and arrival to the hotel, which dates from 1912, though portions of the building are far older. The reception, lounge, and restaurant areas now flow into one another, while new interior fittings and furnishings create a sophisticated townhouse feel.

A new restaurant, The Lyttelton at The Stafford, has been designed to evoke the feeling of dining in a friend's posh home. Casually elegant décor complements Executive Chef Brendan Fyldes' rustic British cuisine. To further showcase his culinary creations, an "open stage" has been designed for the heart of the restaurant displaying distinctive dishes. The adjacent Lounge with its large fireplace will prove equally inviting for those in need of refined refreshment, from high tea to cocktails.


Twenty-four guestrooms along with all corridors in The Stafford's Main House have also gotten a makeover. Guestrooms each feature completely new bathrooms, carpets, and furnishings that evoke a lighter atmosphere, but still feel decidedly English. New air conditioning, television, and entertainment systems have been installed as well. Of course, the hotel still retains its signature touches including 380-year-old working wine cellars, thought to have once been underground passages to the Royal palace.
Jared Paul Stern
Jared Paul Stern has written for the Wall Street Journal, New York Times, the New York Times' T magazine, GQ, WWD, Vogue, New York magazine, Details, Hamptons magazine, Playboy, BlackBook, the New York Post, Bergdorf Goodman magazine and Luxist among others. The founding editor of the Page Six magazine, he has also served as a judge for everything from the International Best Dressed List to the Fo...(Read More)