By Carol Driver Oct. 5th, 2011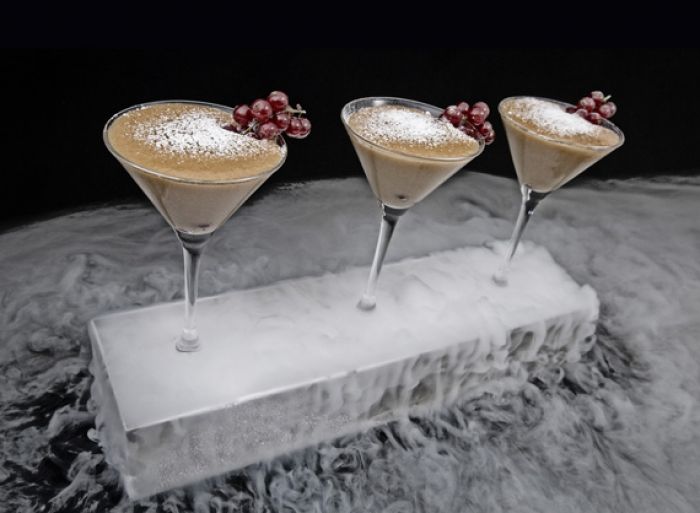 Photo Courtesy of Bubble Food
First making headlines with its "Colombian Asparagus" powder, now food design and
events company
Bubble Food has unveiled its Christmas menu. The winter wonderland reveals a selection of culinary masterpieces.
Alongside an extensive choice of canapés, bowl food and fine dining, it is debuting a molecular selection: an unprecedented gastronomic and sensory experience that aims to bring the "wow factor" to any gathering.


Festive fare is transformed into such works of art as Caviar and Crème Fraîche Eclairs; Turkey Roulade with Cranberry and Chestnut Stuffing; Thai Red Snapper and Mango Salad Served in Tear Drop Spoons; Beef Stewed in Christmas Beer; Green Tea and Chestnut Tiramisu and Individual Seasonal Trifle Shots.

Bubble Food's master mixologists have been equally busy in the kitchen-come-laboratory, concocting an unparalleled range of traditional, contemporary and futuristic molecular cocktails. For something special, try the Mince Pie Soda, which sees home-baked mince pies treated to a fermentation process that transforms them into soda. Served with dry ice, to give the appearance of the cocktail being steaming hot, it is consumed by sipping through a straw.


Bubble Food has also announced its partnership with The House of St Barnabas this Christmas. Located on Greek Street in the heart of Soho, this Grade I-listed Georgian building, complete with its chandeliers, silk-lined walls and stunning rococo plasterwork, provides an elegant and evocative backdrop to any yuletide event.




What's more, the venue gives party planners an opportunity to give back; all profits support the charity's work providing refuge and accommodation for the homeless. For more information visit BubbleFood.com.
Carol Driver
Carol Driver is a journalist with more than 13 years' experience writing, subbing and editing at national and regional publications and websites in the UK. Carol is currently the group editor at TNT Multimedia, which has magazines in London, Australia and New Zealand. She previously worked at national newspaper website the Mail Online well as writing for a host of other publications. She has also ...(Read More)