By Jared Paul Stern Nov. 16th, 2011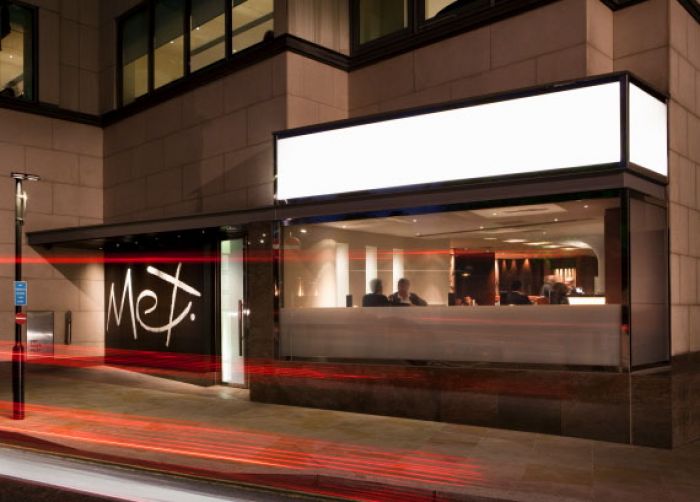 Photo Courtesy of COMO Hotels
The Met Bar in London's hip, modern
Metropolitan London hotel
grabbed headlines in the late '90s when the likes of Kate Moss and rock star Liam Gallagher made it their second home.
Following a major renovation, the Park Lane hangout, formerly members only, has re-opened without restriction and a sophisticated new look with a refreshed menu to match. Dominating the new interior design scheme is a sleek black lava-stone bar top snaking through the space with a leather-clad front. Accents of rich natural wood are set off by banquettes and chairs finished in burnt plum and butterscotch fabrics.

Adding a high-tech touch, the glass wall separating indoors from out is electro-technically treated to become etched at dusk, obscuring revelers from the gaze of passersby. Tables are made of back-painted glass with golden highlights, and a raised private VIP booth sits beside the staircase with views through to the main bar area.

Renowned British artist Giles Miller, known for his Stella McCartney pop-up store in Paris, created a bespoke corrugated cardboard relief for the space. The new cocktail menu is a "fusion of the classical and innovative" using exclusive vintages and limited edition Champagnes, paired with seasonal British classic cuisine. Visit Metropolitan.London.Como.bz to learn more.


Jared Paul Stern
Jared Paul Stern has written for the Wall Street Journal, New York Times, the New York Times' T magazine, GQ, WWD, Vogue, New York magazine, Details, Hamptons magazine, Playboy, BlackBook, the New York Post, Bergdorf Goodman magazine and Luxist among others. The founding editor of the Page Six magazine, he has also served as a judge for everything from the International Best Dressed List to the Fo...(Read More)