By Jared Paul Stern Dec. 9th, 2011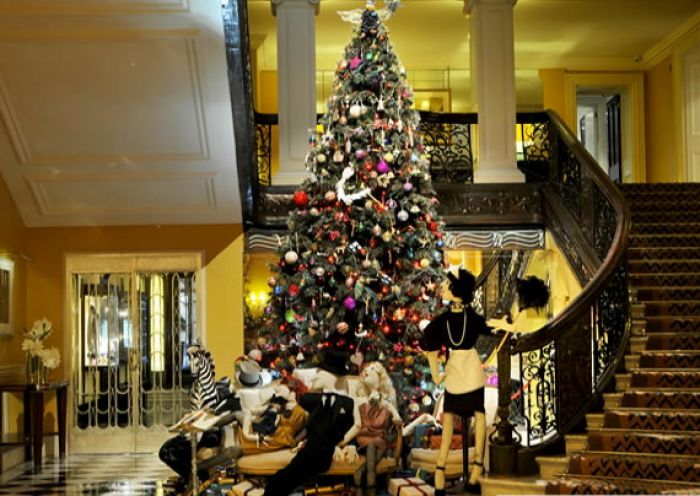 Photo Courtesy of Claridge's
Claridge's, the ultra-luxe Art Deco landmark in London's Mayfair, considered by many to be the world's most glamorous hotel, has unveiled the latest in its seasonal interpretations of Christmas trees from famed
fashion designers
.
The 5-star hotel, long a favorite of boldface names from Audrey Hepburn, Cary Grant and Katherine Hepburn to Nicole Kidman, Jude Law and Mick Jagger, commissioned Lanvin's Alber Elbaz for this year's creation, a tableau using fashionable mannequins. The scene features the designer's holiday fantasy: Mr. and Mrs. Lanvin and his mistress in a decadent domestic scene.

The trio is gathered around the traditionally-decorated tree to open Christmas presents at Claridge's after a number of festive cocktails with a Claridge's butler and chic maid in attendance. And Elbaz himself sits at the top of the tree looking out over the lobby, a sort of haute couture angel complete with wings.

The tree itself features ornaments in shades of fuchsia, magenta and pearly whites, handmade in Lanvin's Paris atelier, and colored lights that change every few minutes. Last year John Galliano of Dior created the Claridge's tree. 
Jared Paul Stern
Jared Paul Stern has written for the Wall Street Journal, New York Times, the New York Times' T magazine, GQ, WWD, Vogue, New York magazine, Details, Hamptons magazine, Playboy, BlackBook, the New York Post, Bergdorf Goodman magazine and Luxist among others. The founding editor of the Page Six magazine, he has also served as a judge for everything from the International Best Dressed List to the Fo...(Read More)